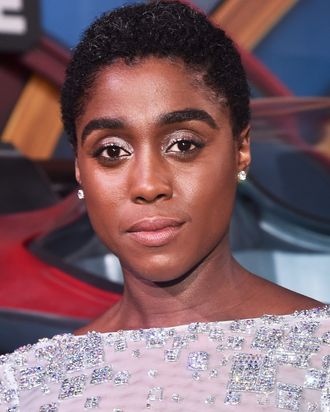 Lashana Lynch. That's 007, to you.
Photo: Alberto E. Rodriguez/Getty Images for Disney
Virulent trolls are emerging from basements, fastening their fedoras, and embarking on the long trek from Endor to the U.K. Yes, the legions of fanboys devoted to ancient, hulking chunks of IP are back at it, and this time, they're coming for James Bond. Or rather, they're coming for 007, who is not James Bond. And that's kind the point. Earlier this summer, the Daily Mail reported that that the upcoming 2020 Bond film No Time to Die features a "popcorn-dropping" reveal: After Bond's retirement, MI6 didn't hang up the 007 jersey. Instead, it assigned the code name to a new character: a black, female agent named Nomi, played by English Captain Marvel actress Lashana Lynch. This decision felt like a weak concession to fans who'd been begging for a female Bond, even though producer Barbara Broccoli said that would "never" happen.
Still, racist, sexist trolls took the news of Lynch's assumption of the 007 title as an excuse to rage on Twitter. And in an interview with The Hollywood Reporter, Lynch admitted that she broke the internet's cardinal rule: Don't feed the trolls:
She said every once in a while, she has messaged a hater back, usually saying something very nice. "Then they've been like, 'Oh my gosh, thank you so much!' But it's an interesting test because it reminds them that they definitely wouldn't say that to someone's face," she says, though she adds that she doesn't plan on interacting with trolls anymore.
"It doesn't dishearten me," Lynch added. "It makes me feel quite sad for some people because their opinions, they're not even from a mean place — they're actually from a sad place." Counterpoint: Sometimes things can be both mean and sad, but it's good that Lynch has chosen to ignore the trolls, as she has much bigger things to worry about, like starring in blockbusters and fangirling over No Time to Die writer Phoebe Waller-Bridge: "I thought, 'Oh my gosh, British girl just like me. She's going to know how to actually take care of women onscreen.'"