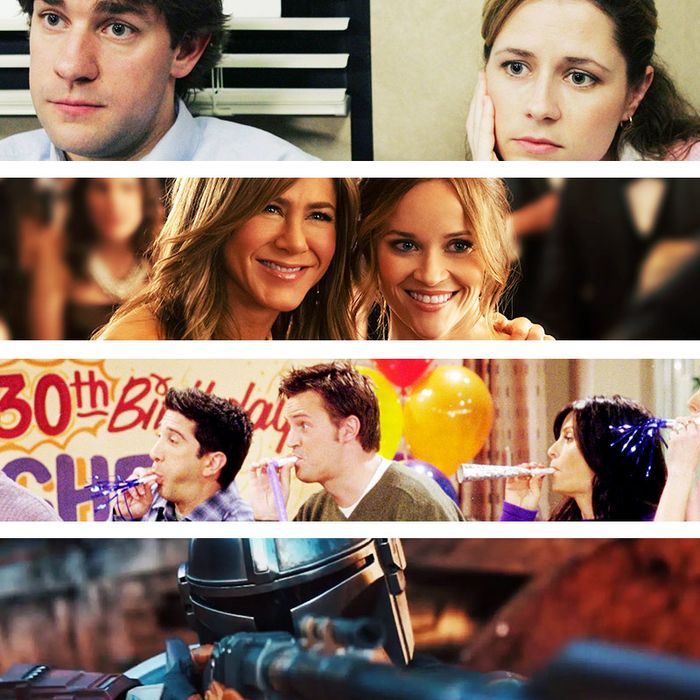 The Office
will be on Peacock,
The Morning Show
is on Apple TV+,
The Mandalorian
will be on Disney+, and
Friends
is jumping to HBO Max. Got all that?
Photo: NBC, Apple and Disney
To paraphrase Gladiator, "Are you not overwhelmed?" Thanks to a glut of new streaming options, the days of getting your entertainment fix from a couple services are over. Including last week's debut of Apple TV+, there are a half-dozen new ones launching by next summer to go on top of whatever combination of Netflix, Hulu, Amazon Prime, and cable that you're already paying for, meaning you have three choices on where to spend your money: Pay over $100 a month to access all these content libraries, stick closer to the U.S. average of having three to four services, or hop around subscriptions on a monthly basis, depending on what you want to binge. To help you decide how to proceed, here's everything you need to know about the new streaming services that are competing for your time and money.
Apple TV+
Launch date: November 1
Price: $4.99, or free for one year with the purchase of certain Apple devices
Key titles: The Morning Show, Dickinson, See, For All Mankind
Apple's strategy out of the gate: You'll get a selection of star-studded projects with the promise of bigger things to come (Spielberg! Oprah!) for the cost of a Frappuccino or IPA, depending on your beverages of choice. And as Vulture's Josef Adalian reports, the tech giant may ultimately decide to bundle Apple TV+ with subscriptions to its music, gaming, and news subscriptions. There's no back catalogue of licensed shows or movies here, but the price makes it a low-risk investment to see what the fuss is about with Hailee Steinfeld as a young Emily Dickinson; Jennifer Aniston, Reese Witherspoon, and Steve Carrell as rival anchors in The Morning Show; and Jason Momoa as a blind warrior in the sci-fi series See, along with several dozen other programs set to premiere soon.
Disney+
Launch Date: November 12
Price: $6.99 (or bundled with Hulu and ESPN+ for $12.99)
Key titles: Disney classics and most of the Star Wars, Marvel, and Pixar catalogues, The Mandalorian, High School Musical: The Musical: The Series, The Simpsons
At a price designed to complement other streaming services that offer R-rated or TV-MA content, Disney's family-friendly offering will be pretty hard to resist. Down the line, you'll get a number of Marvel TV series featuring returning characters (Falcon, the Winter Soldier, Scarlet Witch, Loki) and new ones (She-Hulk, Moon Knight, Ms. Marvel), plus the ability to stream all the future MCU flicks after they're out of theaters, including Avengers: Endgame in December. At launch, Disney+ will have the live-action Lady and the Tramp as well as the big-budget Star Wars series The Mandalorian, starring Pedro Pascal and overseen by Jon Favreau. It'll serve as the ultimate digital babysitter, especially for long trips, thanks to the ability to download the content for offline viewing.
HBO Max
Launch Date: May 2020
Price: $14.99 (free for many AT&T and DirecTV customers, and likely for anyone who gets it via cable)
Key titles: HBO's original catalogue, Friends, The Big Bang Theory, South Park, the DC Comics movies
With over 10,000 hours of content, HBO Max is going for a depth-and-breadth strategy à la Netflix, giving you a slate of original programming with a vast amount of comfort-food reruns and blockbusters from multiple TV channels and Warner films. The originals show that HBO Max is positioned as the most direct new competitor to Netflix with a bit of something for everyone: multiple animated series, unscripted home-renovation and dance competitions, young-adult programming (including a new Gossip Girl), documentaries, half-hour comedies and stand-up specials, and, of course, all the programming that's coming to HBO proper, such as the upcoming Game of Thrones prequel House of the Dragon, limited-series adaptations of the books Station Eleven and I Know This Much Is True, and the horror series The Outsider and Lovecraft Country, among much more. It's the same price as HBO Now, but you won't be directly moved over to the new service if you purchased that subscription from a third-party like Apple or Hulu, so you'll need to do a little bit of digital housekeeping to make the switch.
Peacock
Launch date: April 2020
Price: TBA, but an ad-supported version will be free to most TV homes
Key titles: The Office, Parks and Recreation, The Amber Ruffin Show, revivals of Saved by the Bell and Battlestar Galactica, Universal movies
Having The Office all to itself was the biggest news for NBCUniversal's Peacock, even if the sitcom won't be on the service until January 2021, as it's one of the most popular shows on Netflix. But this newbie will also get a bunch of other NBC staples, such as Parks and Rec, 30 Rock, Brooklyn Nine-Nine, Cheers, Frasier, and Saturday Night Live, plus movies like Back to the Future, Jaws, Shrek, and The Fast & Furious franchise in its library of 15,000 hours of programming. (Some of those titles, like Cheers, won't be exclusive to Peacock.) Its original slate includes revivals of Saved by the Bell, Battlestar Galactica, and Punky Brewster, a new season of the briefly canceled A.P. Bio, the Michael Schur comedy Rutherford Falls starring Ed Helms, a talk show with Late Night standout Amber Ruffin, a Christian Slater drama based on the podcast Dr. Death, and a Real Housewives spinoff. Your mileage will vary depending on the pricing and number of ads, but it'll be hard to pass up if you're among the millions who turn to the crew from Dunder Mifflin when you need something reliable to watch.
Quibi
Launch Date: April 6, 2020
Price: $4.99 with ads, $7.99 without
Key titles: Spielberg's After Dark, Chrissy's Court, Kill the Efrons, The Fugitive
This nontraditional streamer is all about watching short-form videos on your phone or tablet, with its odd name being a portmanteau of "quick bites." With most episodes of each show running around ten minutes, Quibi is designed for viewers on the go or with short attention spans, and the range of programming is appropriately broad and experimental. Spielberg's After Dark is a horror series that you can only watch when the sun sets, Chrissy's Court will feature Chrissy Teigen settling small claims à la Judge Judy, The Fugitive is a reboot of the movie (itself a reboot of the TV show), and it boasts revivals of Punk'd and Singled Out. The rest is a mix of genres, both scripted and unscripted, with celebrities like Zac Efron, Idris Elba, Jennifer Lopez, Don Cheadle, and Sophie Turner. There are also plans for millennial-geared daily news and sports shows from NBC, the BBC, and ESPN, and interactive offerings in the vein of Black Mirror's Bandersnatch. A bunch of major studios are betting on this viewing style as a viable alternative to traditional programming — Quibi got over $1 billion in funding from Disney, NBCUniversal, Sony, WarnerMedia, and others — so it's probably worth checking out. You might find it too frenetic, or you might get hooked to the point that shows with 50-minute run times feel longer than The Irishman.
Discovery/BBC
Price: TBA
Launch date: 2020
Key titles: Planet Earth; Blue Planet
This one has the most mystery surrounding it, as Discovery Networks has so far only said it will feature "factual" natural-history programming such as Planet Earth for audiences outside of the U.K., likely for under $5 a month. According to The Wall Street Journal, Discovery also has plans for more subscription options for specific niches, like Food Network Kitchen ($6.99 per month) and the programming of Chip and Joanna Gaines from HGTV's Fixer Upper, that won't be served by other streamers, at least not with the catalogue, expertise, and reach of these two media giants. If that sounds up your alley, stay tuned.