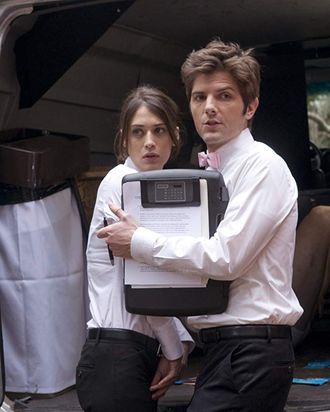 Photo: Starz Network/2010
Are we having fun yet? The answer to that perennial question was a resounding "yes" when the cast of Party Down reunited for the first time in years (maybe ever?) at Vulture Festival this weekend. Stars Adam Scott, Lizzy Caplan, Megan Mullally, Jane Lynch, Martin Starr, Ryan Hansen, and Ken Marino took the stage with show creators Jon Enbom, Dan Etheridge, and Rob Thomas. The catering crew gushed about their time on the show, many remarking that it was the crown jewel of their acting careers. Starr and Etheridge even busted out the classic pink bow ties.
"I want to do the show again," said Mullalley. "Can we do it again?"
This raised the topic of the long-rumored Party Down film that fans have been clamoring for since the show ended nearly a decade ago.
"I don't think a movie's in the cards," remarked Thomas, "but in the next year or two we'll explore some ways to bring the gang back together."
The reunion offered far more than this tantalizing bit of news. The cast members reflected upon their favorite episodes and guest stars — bet you forgot that Stormy Daniels tries to fellate Ken Marino in an episode. Etheridge also revealed that Starz executives initially took issue with the caterers' signature pink bow ties, worried that they were "too gay."
The highlight of the show came when beloved Party Down guest star Steve Guttenberg made a surprise appearance. The gobsmacked cast members regained their composure and started sharing anecdotes of the times they ate with Steve in the years since that episode. Turns out the Gutt makes a mean spaghetti and meatballs.