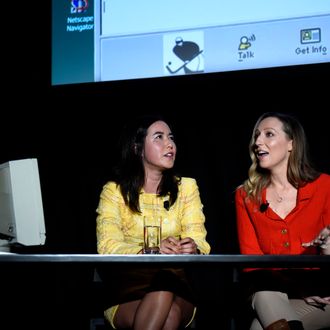 Photo: Vivien Killilea/Getty Images for New York Magazi
Maya Erskine and Anna Konkle, the creators and stars of Hulu's R-rated middle school comedy, Pen15, sat down for an AIM-based interview to close out day one of Vulture Festival.
Over the course of the panel, the women elaborated on the similarities between their IRL tween selves and the on-screen Maya and Anna, but they also graciously indulged the audience's pleas for season two teasers.

"The first part of season two is about exploring identities," said Anna, after Maya listed "wrestling" and "witchcraft" as forthcoming episode subjects, noting that the leads would come full circle back to their true selves in the tail end of the season after these personality experiments. But those who found the show's unrelenting exploration of pubescent sexuality unnerving in the first season had better strap in. The middle school versions of Anna and Maya will be "exposed to more mature content," in this next batch of episodes.
When asked to recall their own first kisses, Anna explained that her character's first kiss on the show was a fairly true-to-life reenactment of her own. Maya, however, launched into a bizarre story about "a mafia fight" at an Italian nightclub that set the scene for hers. She acknowledged that these elements make the story sound entirely fabricated.