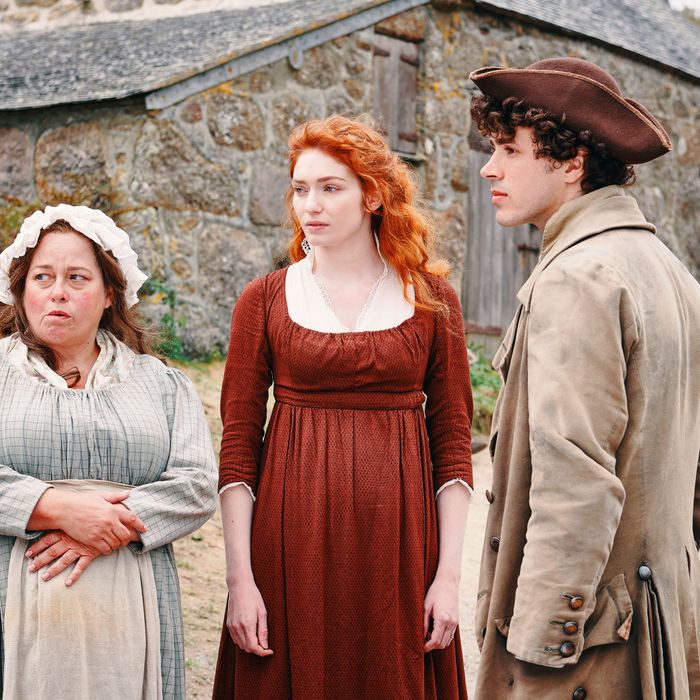 Photo: Courtesy of Mammoth Screen
When will people in the Poldark universe learn that asking Ross to be emotionally detached from anything is like asking the people of Truro to stop gazing pensively at the sea as the wind whips through their hair in an aesthetically pleasing manner? It can't be done. Not while there is injustice in the world (says Ross, nobly).
Ned Despard is dead. Let's just get through that right now. They thought there might be a reprieve, but the system is rigged and he is condemned to a traitor's death, which if you don't watch a lot of Tudor dramas is when you are hanged, drawn, and quartered. By the turn of the 19th century, it wasn't often carried out, and Ned's sentence is commuted to hanging at the last moment.
His earlier trial features the testimony of Ross and Dwight, the former of whom calls him "a patriot of the highest order," which is kind of hilarious because it feels like just yesterday that Ned got drunk in a tavern, basically shouting "down with the crown." Ross's testimony is very inspiring until he goes too far and accuses the court of inventing crimes. Ross, what did we tell you about ending your speeches one sentence earlier?
Dwight thinks Ned has permanent brain damage due to a number of head injuries (seems plausible). This doesn't sway the bribed jury. Something the show leaves out, most likely due to pacing, is that no less a personage than Lord Horatio Nelson testified as a character witness on Ned's behalf. If that name sounds familiar, it's probably either because you know of his death at the extremely famous Battle of Trafalgar, or you are a fan of Kate Beaton's excellent comics. Anyway, Nelson was a very good "get," but Ned Despard is condemned to death all the same.
Ross and Dwight attempt a prison break, and they almost make it, but Ned stops them as he is moments from freedom. He tells Ross he can't let him get in trouble on his behalf, because Ross is everything Ned has sought to be. Okay. Here's where I have some qualms with the show, because this is a real historical figure who was really executed, possibly unjustly. I kind of hate that they're having him be like, "Ross, you're so much better than I am; go forth and finish what I cannot." But anyway. He and Kitty say "good-bye," and if you retained your heart after this scene, good job, because mine has exploded with sadness. Good job making me finally care about Ned right before his execution, show.
Ross is crushed by Ned's death. Just very sincerely crushed. His friend is dead, and he discovers afterward that Crooked Magistrate (Mr. Merceron) is not only crooked, but also in charge of the terrible prison where Ned has been kept, and Ross has been trusting him this whole time.
But before our protagonist returns from the ethically bankrupt city of London, what has been going on in Cornwall? Well. If we don't want to say "more ethically bankrupt things," we can at least say "things of dubious moral standing." Someone is stealing ore from the mine! I know, you are saying "is it definitely Tess and that man who's always stirring up trouble?" Yes! There is absolutely nothing surprising about who's stealing it!
Before Demelza knows for sure, though, she is on the case. Along with my now-desired Poldark lawyer spin-off show for Caroline, I would like a crossover spin-off with Demelza where she is a Bow Street Runner who solves crimes in London. She'll come to Caroline and say "we must arrest the butcher immediately" and Caroline will slam her fist down and say "but there is no concrete EVIDENCE!" and I will sit there delighted.
For now, though, Demelza is crouching behind sea grass and being spotted by ore thieves, who then give chase. I was extremely anxious this entire scene about her not having brought backup, and I had to keep reminding myself that this was not a cop show but rather a period drama set in 18th-century Cornwall that focuses on mining and sadness. Which turns out to be a boon to Demelza, because walking those cliffs day after day gives her the stamina to escape her pursuers.
Elsewhere, everyone hates George now because of his speech defending slavery. His marriage to Cecily is moving forward, despite Cecily trying to stop it. She and Geoffrey Charles decide to elope, but are rounded up by her father's men and brought to the church so she can immediately marry George. George is delighted to make his stepson watch him marry Cecily, which is so terrible, it's almost unbelievable. But if anyone has a proven track record on this show of doing awful things, it's George, so add this to the list. Geoffrey Charles and Cecily pull a one-two punch to save the day, though. First Geoffrey Charles announces that Elizabeth only ever loved one man (it is Ross); then Cecily says that she already "gave herself" to Geoffrey Charles (earlier established not to be true), which means George will always wonder who the father of her first child will be. He stalks out because old wounds, etc. Cecily is locked in her room like it's a Gothic novel.
Drake and Morwenna appear to have indeed immediately had sex after she wrapped up those "sexually abusive relationship and loss of her son" feelings in a single afternoon, and now she's saying things like "must you leave this bed so soon?" to Drake. This makes me genuinely angry at the showrunners, who had been doing so well at portraying the aftermath of trauma and then decided to just wrap that all up real quick and move on. Boo, show. Boo.
But we end with Ross, sadly trodding back to Demelza across the windswept cliffs of Cornwall. They sit down, and she asks him if he cried when Ned died. He asks what good it would have done. That's not how sadness works, Ross. Which Demelza understands! She leaves him alone to his feelings, we get a beautiful shot of the setting Cornish sun as Ross finally cries, and then what happens? He gets whapped on the head and tossed down a hole. Nothing's ever easy for Ross Poldark.
Questions for Next Time
• Will anyone realize that the new school is being built at the edge of an extremely windy cliff? It seems like no, and I am concerned.
• Will Demelza bring backup when she inevitably confronts the ore thieves?
• What if for the final two episodes, Ross is just stuck in this hole? While things happen in Truro, every now and then someone will say "has anyone seen Ross?" And then the series will end.