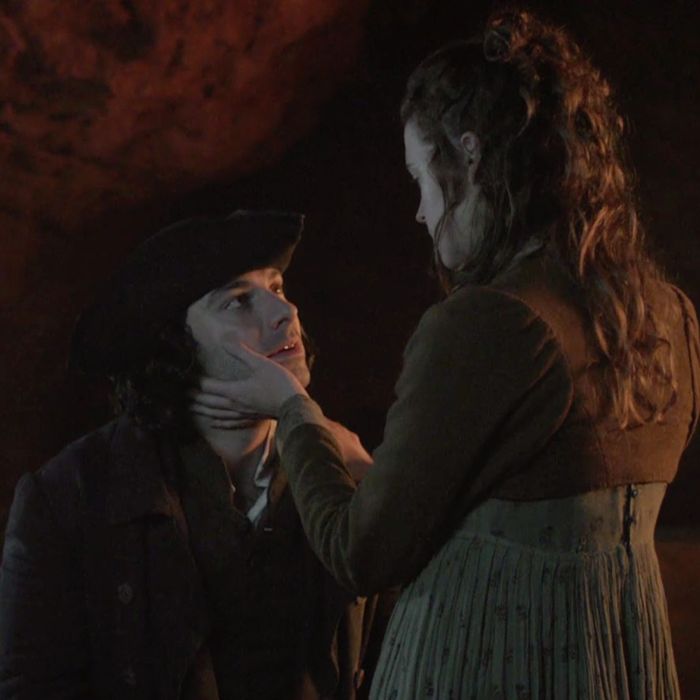 Photo: Masterpiece and PBS
Poldark is over. Nevermore will we see its protagonists standing on the Cornish cliffs, gazing pensively into the sea. Which, honestly, the sea is probably relieved about, because who would want that much pensive gazing directed at them? Gone are the days of Shirtless Wheat Threshing — Poldark has forgotten the source of its power and decided that instead of a bronzed Aidan Turner tossing his hair back in the fading light of day as he holds a weathered scythe, the viewing public would prefer a hastily thrown-together French invasion plot featuring a new character no one cares about.
Look. Let's be real. This finale wasn't handled well. It's rare that fans are unanimously happy with a series' ending, but it takes a special kind of boldness (is boldness the right word?) to introduce a whole new plot two episodes before the very end and try to neatly tie up every major character with a Shakespearean marriage and/or pregnancy bow. If you're thinking the weirdness of this final season, with its French invasion and curious dependence on Honduras, was due to the series being based on the Poldark books, prepare to be confused! This was the first season that was completely new! The showrunners literally could have done any plotline, given us all the character development we could have wanted, made Ross the only man responsible for bringing in an emergency wheat harvest — thresh, man, thresh! — but instead we got Ned Despard shouting in a tavern.
I held out hope that the women of Poldark would finally get their due come the finale, but good Lord, y'all. I cannot. Everyone is pregnant or about to be! Women of Poldark who either have a baby in the finale, announce they are pregnant, or express interest in having a baby are: Morwenna, Demelza, Caroline, a.k.a. all our primary woman characters. In one episode. It's heavily implied that a baby is the sign that Morwenna and Caroline are ready to relieve themselves of their misery (yes, it's weirdly portrayed as a choice they have made) and move on to happiness. The only woman not made happy by the prospect of a baby is Elizabeth, who died last season having hers.
The effort made by the women on this show to fix the absolute garbage the men get themselves into makes me want to time travel to the fictional Poldark universe and throw feminist literature at its men. How dare — how DARE you, Ross Poldark, not tell Demelza that you are faking out being a spy for the French and flirting with Tess the Firestarter? HOW MANY TIMES have you told her something along the lines of, "OMG I was so wrong, I'm so sorry, I'll always include you forever henceforth, you are the greatest," only to immediately do the same idiocy immediately after!
Ross doesn't tell Demelza what he's up to, so Demelza thinks he's cheating on her, which makes her almost move to Lisbon "or the Americas or Jamaica" with the children. Let's remember this is just after 1800, so you can't just jet right back from that journey. Fortunately for Ross, even though he doesn't deserve it one single bit after his behavior this episode and in almost every prior season, Demelza tells Caroline of her plans, and Caroline knows from Dwight that Ross is in fact a big undercover dummy. So Caroline tells Demelza, whereupon Demelza immediately feels bad for Tess because Demelza is a sainted cinnamon roll who is too good, too pure for this world. By contrast, Ross's behavior is what you would expect from one of those Home Depot garden gnomes if they came to life and you married one.
Ross's life is saved by Demelza knowing about his stupid schemes, because of course it is. Well, it's initially saved by her, and then it's saved again, in my favorite moment in this entire episode, when George Warleggan steps in tentatively and shoots not only the very confident General Toussaint, but also Cecily's dad. With two guns!! George!! This was my only moment of sheer delight in this whole finale. Ross and George have a brandy by the fire and talk about reverting to their usual animosity after this rare moment of camaraderie. It was so cute! I enjoyed it so much! That kind of thing could have been happening this whole season. Bring in an outside threat and make Ross and George work together to fight against it, and every now and then George narrows his patrician eyes and says, "I don't like you," but you can tell he's definitely starting to, and then at the end of the series they all co-parent Valentine (I'm worried about that child).
We end on a very "The End (?)" note with Ross slow-motion walking to the boat that will begin his journey to France. He and Dwight are spies now, I guess. Demelza is going to have a baby. The creators have left open the possibility of further series, so if you are feeling ready to plunge into despair like those people who got really into Avatar, don't worry too much just yet. Poldark will probably be back in some form or another.
Questions for Maybe Never Again
• What are the odds anyone will burn Geoffrey Charles's terrible hat? In my dreams, they are good odds.
• Will Ross ever remember that he told Demelza five minutes ago that he would never keep anything from her again? (Haha jk, I know the answer is no)
• Where on Earth are we supposed to turn now for our Georgian dramas? Is it Sanditon? Will it give us better hats?
• Can WE write the next Poldark series?