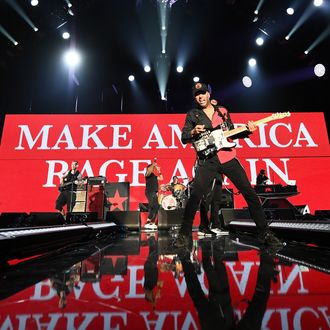 Photo: Emma McIntyre/Getty Images for KROQ
On Friday, Billboard confirmed that Rage Against the Machine will reunite to headline next year's Coachella Festival. The band's verified Instagram account has since posted several other spring shows at the end of March in Texas, New Mexico, and Arizona, which you can see below, but the long and the short of it is this: Now that the Machine is back in working order, Prophets of Rage is headed to the recycling bin.
The semi-supergroup, which formed in 2016, was comprised of RATM members Tim Commerford, Brad Wilk and Tom Morello, in addition to Chuck D of Public Enemy and Cypress Hill's B-Real. Rage Against the Machine frontman Zack de la Rocha has reportedly been working on his solo career since the last time RATM reunited for Coachella in 2007. According to Pitchfork, the band hasn't performed together since July 2011. Rage Against the Machine's upcoming Coachella dates are April 10 and April 17, 2020, which is great, since you'll definitely need something new to scream about during the last seven months leading up to the election.