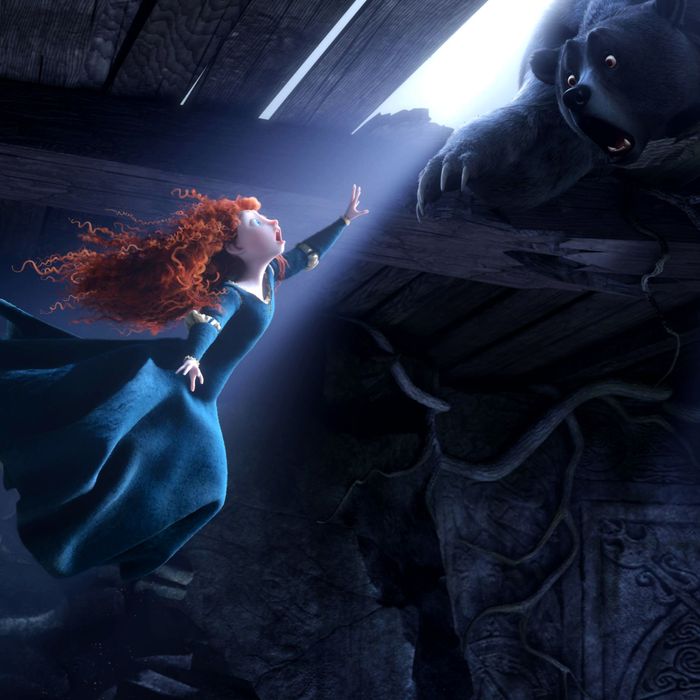 When she applied to Disney, Brenda Chapman was told, "If you don't work out after six weeks we'll just hire another trainee."
Photo: Disney/Pixar
In many ways, the story department of Walt Disney Feature Animation in 1987 was not very different from its counterpart in 1940. The group still hand-sketched drawings and pinned them up on corkboards with pushpins. They still stood up in front of one another and acted out the scenes, pointing at each drawing as they sang and sometimes danced. They still criticized one another, often harshly, in an effort to improve the story. But a component was missing — there were almost no women. The story department of nearly fifty years earlier had benefited from the brains of Bianca Majolie, Grace Huntington, Mary Blair, Retta Scott, Mary Goodrich, and Ethel Kulsar, among others, but in 1987, one woman stood alone. Her name was Brenda Chapman.
Chapman was a new graduate of CalArts when she applied to Disney. The man interviewing her was not enthusiastic about her future at the studio, telling her, "If you don't work out after six weeks we'll just hire another trainee." Yet, from this inauspicious beginning, Chapman was about to accomplish what the women who preceded her could only dream of.
Filmmaker Brenda Chapman carried a business card that jokingly listed her title as "Token Female Pixar Story Artist" when she moved to that company in 2003. She explained the discrepancy between the two studios. "At the start of my career, I was the only woman in the story department at Disney, but at that time we were working on 'princess movies' with strong female leads, so at the time there didn't seem to be any need to strengthen other female roles … Most of the funny characters were guys," she said. "But now I'm at Pixar, and their films are very much for the boys. I don't think it's a conscious thing, I just think they're making films they want to see … Joe Ranft asked me to come up to Pixar to work on the female character in Cars to make her ring more 'true.' Pixar is something of a boys' club, and little thought seems to have been given to female characters, even when it would have fit naturally. For example, why couldn't the Slinky or the T-Rex in Toy Story have been women?"
The differences Brenda noticed between Pixar and Walt Disney Feature Animation were about to shift considerably. In 2006, the company that had spurned Ed Catmull on numerous occasions finally bought Pixar, an acquisition worth $7.4 billion. The move was made possible by Roy E. Disney, who once again had decided to shake up leadership at the Walt Disney Company, resulting in Michael Eisner leaving and Robert Iger taking the helm as CEO in 2005. The animation studios, although now merged financially, were still separate creatively, with Pixar headquartered in Emeryville and the Walt Disney animation studios remaining in Glendale. Yet with the merging of the two companies, Brenda Chapman found herself once again under the roof of the House of Mouse, nearly 20 years after she first began at the Walt Disney Company.
The role of female characters in film had new importance for Brenda. She saw the princesses of the Disney renaissance era — Ariel, Belle, Pocahontas, and Jasmine — as stepping-stones between the heroines of the 1940s and 1950s and the future animated women she wanted to create. The women of Pixar's present — Boo in Monsters, Inc., Dory in Finding Nemo, Colette in Ratatouille, the robot Eve in WALL•E, and Atta in A Bug's Life — were lovely but lacking in dimension. Brenda was now making movies not just for herself and her employers but also for her daughter.
Motherhood was a whirlwind of responsibility and fatigue, especially during the morning rush when Brenda was trying to drop her 3-year-old, Emma, off at preschool before heading to work. It seemed her toddler was a mini-teenager, unwilling to eat breakfast, get dressed, and put on shoes no matter how insistently Brenda urged her. Every day, when Brenda arrived at Pixar, her head was still full of the morning's tussle, and she wondered what the years to come would look like. How would her relationship with Emma change when her daughter actually became a teenager? From these questions, a movie began to take shape.
The film was called Brave and told the story of Merida, a strong-willed Scottish teenager. Her appearance was different from that of previous princesses; she had a strong, athletic body and unruly red hair. Her story was different, too. Here was a princess who did not rely on a single male character. Shockingly, unlike Snow White, Cinderella, Ariel, Belle, Jasmine, and Pocahontas, this female heroine had a mother who was still alive. In fact, the story focuses on the complex mother-daughter relationship and how a magical curse ultimately heals it. Brenda made up a new business card: "Token Female Director." Unfortunately, she did not last as long in the position as she should have. Before the film was released, Brenda left the studio due to creative differences. The experience was infuriating.
"Sometimes women express an idea and are shot down," she explained, "only to have a man express essentially the same idea and have it broadly embraced. Until there is a sufficient number of women executives in high places, this will continue to happen."
Brave faced other challenges. Many forecasters did not believe the movie would do well. Part of their cynicism was based on the reception to the studio's last two princess movies, The Princess and the Frog (2009), which featured Tiana, the studio's first African American princess, and Tangled (2010), which told the tale of Rapunzel and was loosely based on the German fairy tale published by the Brothers Grimm in 1812. Both films did moderately well at the box office. The Princess and the Frog earned $104.4 million in its first domestic run, but it also drew reproach for its portrayal of race; as the New York Times noted, "We finally get a black princess and she spends the majority of her time on screen as a frog?"
Tangled fared somewhat better, receiving largely positive reviews and earning more than $200 million domestically in its first run. However, its success was dampened by its exorbitantly high production budget, a reported $260 million, making it the most expensive animated film of all time. Neither of the princess movies could compare with the string of Pixar hits that dominated the landscape, such as Finding Nemo (2003), which made $334 million in its first run, and Cars (2006), which brought in $244 million.
With these precedents, some in the movie industry were ready to write off Brave as a "pretty standard princess movie," likely to appeal only to female audiences. So it was a surprise when Brave, released on June 10, 2012, fiercely broke these boundaries. The film garnered largely glowing reviews and earned $237.3 million at the box office in its first domestic run.
At the 85th Academy Awards, Brave was considered an underdog in the category of Best Animated Feature Film, so it shocked many in the industry when it won the Oscar. Brenda was the first woman to ever win the award. When she took the stage, she was quick to thank her inspiration: "My wonderful, strong, beautiful daughter, Emma."
As Brenda stood proudly with her golden statue, a torrent of women artists were coming to Burbank from all over the world, poised to transform moviemaking. Their triumphs would rest on the shoulders of Bianca, Sylvia, Retta, Mary, and all the other women of Disney's golden age.
Excerpted from Queens of Animation: The Untold Story of the Women Who Transformed the World of Disney and Made Cinematic History by Nathalia Holt. Published by Little, Brown and Company on October 22, 2019.