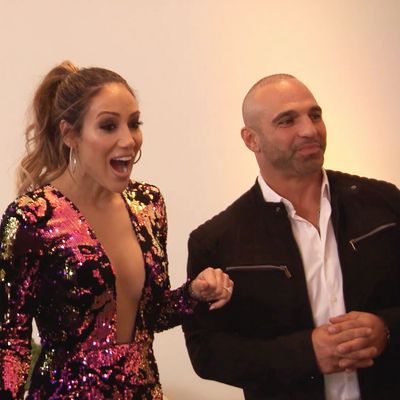 Joe Giudice is discovering firsthand why ICE is not exactly world-famous for their hospitality. He calls Teresa from the "friggin' junk hole" in which he is incarcerated to rant about how he doesn't care if he gets deported, and how the government wants to "destroy" their kids — as the shot jerkily zooms onto the nearest family photo visible over Teresa's shoulder. I admire this camera operator's hustle.
"I slap … your husband," Giacinto says once she hangs up, speaking for literally anyone who has ever caught two seconds of The Real Housewives of New Jersey in their entire lives, noting that the years-long crisis his granddaughters are continuing to suffer through is their father's fault. (I'm sorry to report that Nonno Gorga was hospitalized over the weekend — we at the Real Housewives Institute are telepathically sending him an Edible Arrangement full of love, best wishes for a speedy recovery, and honeydew wedges.)
On the bright side, Teresa is continuing to log some very flirtatious facetime with Tony the Adult Pool Boy, her should-have-been prom date. We learn that he's discounting her $150,000 project to just $50,000. In my professional business opinion, that is a price cut you give to someone whose body parts you touch (or at least aspire to touch) with your own body parts.
Speaking of body parts! Last week's obstacle course reopened some emotional wounds, but it caused some new physical ones, too. For one thing, Marge has a massive bruise on her inner thigh. I'm calling OSHA on Bravo. Marge Sr. needs to get a new place, so Margaret and Joe join her in checking out some too-expensive, too-big luxury apartments in North Bergen of all places (No offense to North Bergen, a town I literally have no firsthand experience with outside of a single high-school debate tournament I attended there in approximately 2005, but still), before Marge Sr. ditches them and their lunch plans for an event in the city. Marge Sr. is not a regular mom; she's a cool mom.
The blazing sun around which this entire episode orbits is Melissa Gorga's birthday party. She looks incredible, naturally, in a wild multicolor-sequin jumpsuit with a navel-grazing neckline. Girlfriend is forty, florty, and friving.
This party does have a theme, not just a vibe, and that theme is Melissa Gorga — to the extent that it seems to have been specifically designed for guests with Memento–style anterograde amnesia, to constantly remind them whose party they're at. Pictures of Melissa (and, as Larry so ominously promised, her rather pixelated eyeballs) appear everywhere: on T-shirts, on flasks, on a poster board that someone is being paid money to wave around, and all over the walls.
In attendance is Bravo luminary Ramona Singer — who just celebrated her birthday last night with a party planned by the very same Larry, though it is unclear to what extent her own iconic eyeballs were featured — who I am not positive was formally invited, but may have just happened to be strolling the neighborhood with a to-go glass of pinot grigio. Also on the guest list are Lisa and Buddy Valastro, a.k.a. Mrs. and Mr. Cake Boss. (If you're reading this recap, I have a feeling you're well versed enough in New Jersey's finest reality-TV trash exports to recall the time the Cake Boss got pulled over for drunk driving and informed the cops that they couldn't arrest him because he was the Cake Boss. If not—now you do!) I'll assume Snooki and JWoww's invitations got lost in the mail.
Marge Jr. is miffed when her mother immediately seeks out Melissa's mother before greeting her own daughter at the party. In a confessional, Margaret tearfully recounts feeling neglected by her social-butterfly mother's busy party calendar as a child: "I'd be home with my grandparents holding her fucking ankles — don't go, don't go, don't go." Aww, Marge! We love you and wish you Freaky Friday levels of catharsis.
After enduring a talking-to about bullying from her daughter, Jennifer — who has consumed a critical mass of tequila shots by this point, making her about as well equipped to perform a delicate emotional task as the Hulk is for needlepoint — finally apologizes to Jackie. It goes surprisingly well!
I love hanging out with these women when they're drunk, particularly when they're not yet threatening-each-other-with-shards-of-glass drunk. Melissa keeps busy asking gay men whether, if they were straight, they would bang her. "Tipsy equals to good blowjobs," Jennifer announces, prompted by nothing in particular. (Could she take over Lisa Rinna's mantle as the Housewives' foremost literary giver of sex advice?) Dolores says she has never, ever given a blowjob, then laughs: "I'm lying like a bitch."
Tre smoothes over her Danielle-based differences with Margaret, but continues to ice out Jackie at a temperature of zero degrees Kelvin. Poor Jackie. Her eyes light up when she learns that Teresa's late mom and daughter Gabriella are Libras like herself (almost everyone else in the group is an Aries, and — I see it), and a connection between them seems momentarily possible.  Teresa snaps back, "Libras are really nice people, I don't get it." (I should note that I am feeling a little protective of the Garden State's own Writer Girl after the events of BravoCon.) Elsewhere within the party, Frank shares his belief that female attorneys — like Jackie — have to have the last word, a comment that has the dubious distinction of being the most specific sexism I've heard in a while.
Jennifer invites the gals to Jamaica for her birthday, though she's worried about putting Jackie and Teresa together "on such a small island." I mean, the country of Jamaica is bigger than Manhattan, not to mention bigger than the room in which both women are successfully existing without spontaneously combusting right now, so I wouldn't sweat it too much.
"I hope I'm 90 and I'm still banging this shit every fucking day," Joe, a hopeless romantic, announces to all of Melissa's guests, as the Great American Songbook staple "On Display" begins to play. Then, as happens at all of our birthdays, a man in a top hat and a gold glitter jacket is pushed into the party in a shopping cart, waving a flag that — from this angle, anyway — looks like it reads "ME 40." Many happy returns!