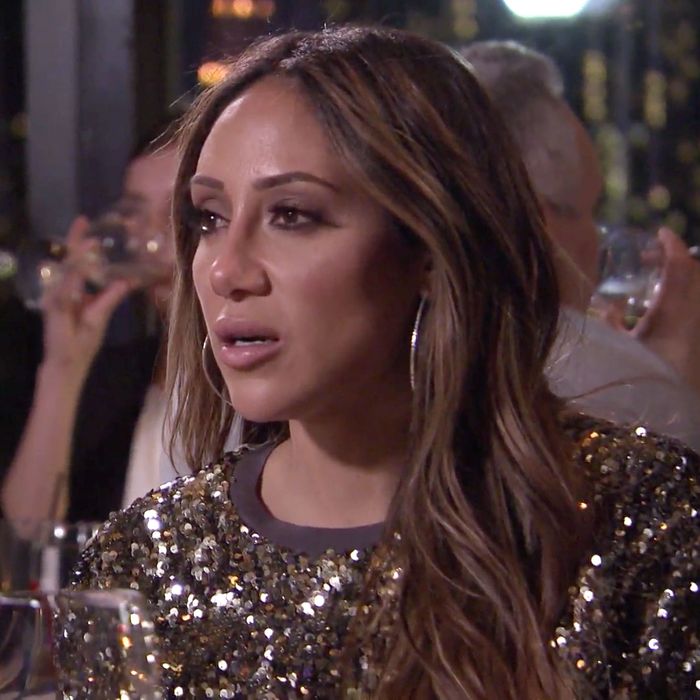 Melissa Gorga, about to turn 40 but nowhere near ready to stop talking about it.
Photo: Bravo
Can you believe it? Here we stand with our peep-toe pumps — the ones with the sequined ankle straps; no, the other ones with the sequined ankle strips — teetering over the precipice of The Real Housewives of New Jersey's tenth season. The modern ten-year anniversary gift is diamond jewelry, so you're probably going to want to give Jennifer's brother a call.
Now that he's completed his prison sentence, Joe Giudice — who came to the United States from Italy as a 1-year-old and never applied for citizenship — faces deportation to Italy. When this season of RHONJ begins, he's two days from a transfer to an ICE facility. (He has since, in time and space as we know it, been released from ICE custody and is currently living in Italy and continuing to appeal his deportation from there.) His daughters miss him terribly, but as Dolores puts it, kinder than I might have, "I don't think Teresa's so crazy in love with Joe right now."
Gia is heading to Rutgers in the fall, and although she'll only be 45 minutes away, Teresa is already taking it hard. In the hopes of giving her maturing daughters a reason to always return home, or perhaps in the hopes of summoning her own Tony Soprano-esque family of ducks to project upon, she is installing the pool the girls have always dreamed of in the backyard. And so Tre has enlisted the services of Tony the Adult Pool Boy, whom she happens to have briefly dated way, way back, and who also happens to be hot.
Speaking of teenage memories: Melissa, about to turn 40 but nowhere near ready to stop talking about it, reminisces to her profoundly uninterested children about working on the Seaside Heights boardwalk for a summer. If David Chase gets to make The Many Saints of Newark, then I want a RHONJ prequel about mid-'90s Melissa hawking funnel cakes in the shadow of the Casino Pier Ferris wheel.
RHONJ demonstrates its keen understanding of its audience by featuring Frank Jr. working out, for absolutely no reason, in multiple scenes. I am not complaining. We learn that Franklin Lakes' favorite son has launched a career as a model for, among other things, the covers of some bathtub-moments romance novels. Believe me, how I wish I had the word count to give Her Protector and Sunset Flames the lavish attention they deserve.
Though Dolores vowed at the end of last season to get her own place, she's still living with ex-husband Frank, a.k.a. Her Protector. And yet she and her boyfriend, Dr. David, are going strong — Dolores and his seemingly genuine good buddy Frank are even building him a house. And in his greatest gesture of commitment yet, Dr. David finally appears on the show! He looks extremely uncomfortable to be on camera, which is a strong indicator that he is a normal, healthy person. The platonic polycule shares a hilariously product placement-y pizza, filmed in a series of lingering beauty shots, from [redacted], a local joint that can — editors, do not read the rest of this sentence — feel free to send me a check and a complementary order of garlic knots if they want me to mention their name in print.
Jennifer, freshly lipo-ed by Bill (very sexy, very romantic), is planning a "patient appreciation party" to celebrate the fifth anniversary of her husband's practice. Too bad he's not a gynecologist or they could have just called it a PAP. Though Jackie and Jennifer — and especially their daughters — have grown closer lately, it's unclear if Jackie will come to the party. As she explains to Margaret and Melissa over drinks, Teresa recently posted an Instagram video in which she egged Jennifer on to impersonate Jackie, specifically by squawking "Define a stalker!" in homage to last season's reunion. It's no meaner an impression than any that the Beverly Hills Housewives traded in France, but to Jackie, this is "cyberbullying," which, okay, ma'am. That said, if only by a small margin, I'm Team Goldschneider on this one. The context in which Jennifer did the impression — at the behest of Jackie's sworn enemy Tre — contributes non-negligibly to its shadiness.
Jackie, Marge, and Melissa's conversation turns inevitably to the cheating allegations swirling around Teresa. Each of the three women has exactly the opinion you would expect them to. Margaret, for her part, could care less about whether Teresa is being faithful to Joe or not, although she can't help but note derisively that the man who may or may not have been just a friend "wears a backpack, no less." Sayeth Jackie, who is, again, a sworn Giudice enemy: "If it walks like a duck and it quacks like a duck …" Melissa, who informs us that her sister-in-law called and apologized for whatever the latest grievous wrong Teresa did her was (I can't keep track), staunchly dissents. "I can't have anybody saying that, because that's not the situation," she says, toeing the family party line.
Jackie decides to attend the PAP after all, even though she isn't exactly speaking to the host — who could turn down a detergent-blue Aydintini? It isn't long before Jennifer yells at Jackie for smirking at her and Jackie yells at Jennifer for pointing her finger at her. After that, Jennifer literally chases Jackie, who just wants to eat her "fucking cheese," around the party while unironically self-identifying as a "comedian." You know, I really did miss them.
Teresa has heard from Dolores, who heard from Margaret, that Jackie was spreading rumors about who she's ducking. She is not pleased — not with Jackie and especially not with Melissa, whose fault this somehow is. And yet Jackie and Teresa agree, surprisingly reasonably, to just … not talk about each other. I'm sure that'll last.
In the last moments of the premiere, Teresa gets a call from a very unhappy Joe immediately following his transfer to the immigration facility. "Everything is, like, lockdown over here … I'm telling you it's bad," he says. "I could just friggin' go nuts." If you think this harrowing experience with ICE is going to dissuade either of them, even the slightest bit, from their steadfast support of Donald Trump, then you don't know the Giudices.