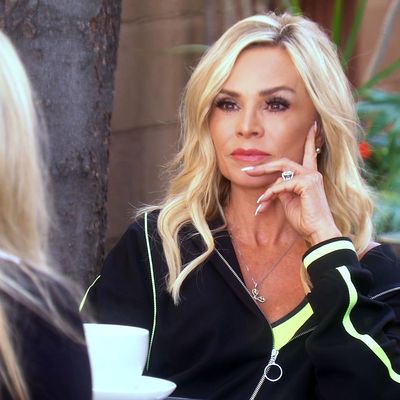 Tamra's "awful," thanks for asking.
Photo: Bravo
There are some truisms about the Real Housewives franchise that I have voiced repeatedly that no one ever seems to heed. You know, things like Don't ever invite a psychic to your party, or If you renew your vows, you are headed for divorce, or Saying Brandi Glanville's name three times in a mirror makes her arrive with a bottle of chilled white wine and a butcher's knife. But there is one truth about these shows that is ignored more than others: Never trust a therapist who will go on-camera. 
The woman Tamra goes to with her son Ryan is named Mckayla. There are a lot of stupid white-people names out there in the universe, but this is perhaps the dumbest I have seen. The only dumber white-people behavior is getting a Dave Matthews Band–inspired tattoo (and I would bet all $350 of my retirement savings that Braunwyn's husband, Sean, has one). Dr. Mckayla, who will be played by Cheri Oteri in the Real Housewives movie, invites Tamra to come into therapy so that she can recount the story of Ryan's childhood that he has already shared. It's also a story that we've heard before, about how Tamra had him when she was 17, and that he didn't have a very stable life growing up, and that has really damaged him.
I had a hard time with this whole scene because, yes, I feel bad for Tamra that she had to raise a child so young. Yes, I feel bad for Ryan that he had a rough upbringing with a mother who couldn't materially or emotionally provide for him all the time. Yes, it's awful that he's depressed and thinks that he is completely worthless. But does any of this excuse him wearing an American-flag hat and touting Donald Trump like he's a bump-stock salesman at an NRA convention? I don't think so. It's really weird that Ryan's two story lines this season are that he is depressed and seeking treatment and that he loves Trump. Is the show trying to equate mental illness with right-leaning tendencies? I hope not, because that seems like really reductive thinking.
Speaking of which, it was so weird that we got Eddie's one confessional thought about what is going on with Ryan. It seems like he's always stayed out of Tamra's relationship with her oldest son, because by the time he came around, Ryan was well into his 20s. However, when Tamra is discussing his struggles with her, Eddie says, "When you're struggling with your childhood issues as a man, then you're not really a man. Okay. So, get over it, move on, grow up, take care of your responsibilities, that's life." I don't disagree with him — one can't shirk responsibility forever — but he doesn't see how, in some instances, those issues are what is keeping a person from getting on with life? Ryan is doing the right thing by getting help. I honestly wish him the best, because suffering spiritually is difficult for everyone, but maybe he should pick a less toxic political ideology and a therapist with the requisite number of vowels in her first name. Just a suggestion.
This episode is odd because we see Tamra more with her son than with the other women. In fact, most of the women are off on their own doing their own things and not really spending a lot of time together. Shannon Beador and Braunwyn are with their oldest daughters preparing for college. Shannon hired Yosepha, a college-prep adviser, to help get her eldest, Sophie, into a good college. I don't think that Sophie really needs an admissions adviser. She only wants to go to school with good sororities and southern boys, so just ship her off to a state school and be done with it. Also, she doesn't think that a degree from an elite university is that different from a degree from a community college and, oh, maniacal old man laugh, the youth of it all.
Braunwyn is at Cal State Fullerton, which is like the Wendy's of colleges: Good enough to get the job done, but you don't want to tell anyone you went there afterward. She is also going to major in fine art, which, maniacal old man laugh, the youth of it all. (This is coming from a man with a master's in fine arts in poetry.) The fact that she's going to Fullerton to study art just means that, well, she should probably study something else and just cut out going back to school to study something useful in the next five years. Even better, Evolution Media should just give her a job as a story producer on Vanderpump Rules because that is what every fine-arts major from a Cal State school does now anyway. Let's just cut out the middleman of this arts degree.
Gina goes to the park with her kids and her parents, and she tells them that Matt is trying to get back together with her, and she's conflicted about it. She says she would love to get back together, but even if she does, she still thinks that they should get a divorce. She doesn't want to bring the "failure" of their past relationship into their future relationship. What is marriage other than just moving past failure repeatedly until you are both dead and in the grave? I don't want to sound like some Patagonia-vested tech bro, but without the failure, there is no success. How do you even learn without failing? Anyway, this all seems like foreshadowing to Matt inevitably doing something awful.
The only real interpersonal drama of this episode is what is going on between the factions of Kelly, Braunwyn, and Emily and the Tres Amigas. They are all accusing Tamra of being a "puppet master" and manipulating other people in order to avoid getting her hands dirty. It seems like everyone has dinners planned in the next few days in all sorts of configurations to make sure that this insane roundelay of petty slights doesn't go unexamined.
But the coffee meeting that ends the whole episode left me a little baffled. Shannon shows up to coffee with Tamra and asks how she is. "Awful," Tamra says. "Thanks for asking." It does not improve from there. The sense I get from this conversation is that Shannon is hurt that she found out from Kelly that Tamra talks shit about her behind her back. Tamra, on the other hand, thinks that Shannon is orchestrating some sort of rebellion against her among the women. Now it's Tamra's turn to accuse Shannon of being a puppet master. Please, Shannon can hardly get her shit together enough to stuff all of that cream cheese into all of that salmon. How is she going to orchestrate all of these women to come after Tamra? I do believe that Shannon is talking shit and moving pieces behind the cameras, but Shannon is only fundamentally concerned about herself. The level of interest and insight into other people she'd have to show to be a real puppet master is truly beyond her.
Tamra, as always, does a great job of turning this all around on Shannon and making her feel bad for doubting Tamra. She explains away her wrongdoing in bringing up Kelly's train and other macroaggressions toward the women, and then gets Shannon to question her own sanity. Did Shannon sufficiently stick up for Tamra? Was she a good friend? Does she really think that Tamra talks all that shit about her? Did she walk Archie this morning? Did she remember to sign a check to Yosepha? Can someone show her how to download Venmo? What really is Venmo? Can it steal money from her? It probably can steal money from her. How will she get her money back when Venmo finally steals it from her? Will Tamra lend her money? Probably? Possibly? Never. Never. Never. Probably. Never.