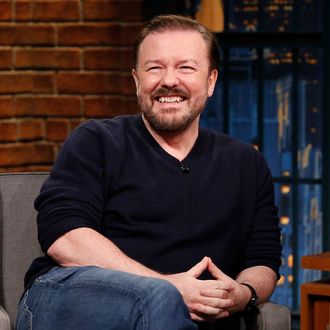 Uh-oh.
Photo: NBC/NBCU Photo Bank/NBCUniversal via
During a time when some awards shows are opting to go hostless, one ceremony is instead doubling down with a former host that has a track record of not holding back when it comes to mocking Hollywood. NBC announced this morning that comedian Ricky Gervais is returning to his former gig as Golden Globes host next year. Gervais has signed on to host the awards ceremony for a fifth time, following a three-year run from 2010 to 2013 and his most recent hosting gig in 2016. The three-hour ceremony is set to air live starting at 8 p.m. on Sunday, January 5, on NBC.
"Once again, they've made me an offer I can't refuse," Gervais said on the news. "But this is the very last time I'm doing this, which could make for a fun evening." Gervais, for the record, has vowed to never host the Globes again before, only to return to do it again — so take that quote with a giant grain of salt.
Following Gervais's three-year Globes-hosting stint in 2010 to 2013, Tina Fey and Amy Poehler took over hosting duties from 2013 to 2015. Following Gervais's return in 2016, late-night hosts Jimmy Fallon and Seth Meyers hosted the ceremony in 2017 and 2018, respectively, followed by last year's hosting duo Andy Samberg and Sandra Oh.