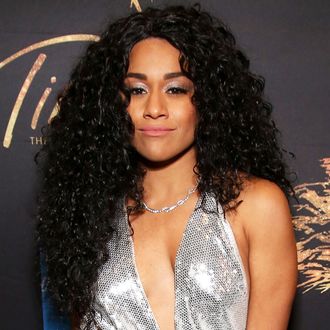 Ariana DeBose.
Photo: Walter McBride/WireImage
It's already a challenge to step into a role for which another actor has won an Oscar, but it's another thing to do it when that actor is also going to be in your movie. Fresh off her Tony nomination for Summer: The Donna Summer Musical, Ariana DeBose was cast in Steven Spielberg's upcoming film remake of West Side Story as Anita, the sarcastic, scene-stealing role that Rita Moreno won her Oscar for in 1962. As it happens, Moreno is also appearing in the movie, playing a new character named Valentina, and keeping a watchful eye on everything as an executive producer. "I wanted to cry," DeBose said of the pressure she felt working on the same project as Moreno, but promised that the actress herself offered "nothing but grace and support."
"I did have the good fortune to sit down with her and have a really lovely lunch chat — it felt very proper, actually, and we talked about all things Anita," DeBose told Vulture on the opening night carpet for Tina: The Tina Turner Musical. "She really gave me permission to create my own version. It's really, really lovely to work with her on set. It's such a full-circle moment for her, and to be able to not only work with her and look her in the eyes, but to watch that moment happen for her, it was really something special … She never made me feel less than. She was an actor acting a scene with me, and she let that be what it was."
Moreno isn't the only legend DeBose is working with, of course. Aside from being "a dream," Spielberg turns out to have great musical instincts. "It was new territory for him, but I have to tell you, his instincts are incredible," DeBose said. "He was nothing but the consummate collaborator. He wanted our input. He was such a great partner for me, specifically, on set, and I have nothing but sunshine and cupcakes and sprinkle compliments for him. To know that he is 72 years old and still not afraid to take on a new challenge, that's really inspiring. He learned something he hadn't learned before from us, and we learned so much about what we had never done before — film — from him, a master." It's never too late to try out new things, though of course it probably helps if you're gifted enough to be one of our most successful filmmakers.