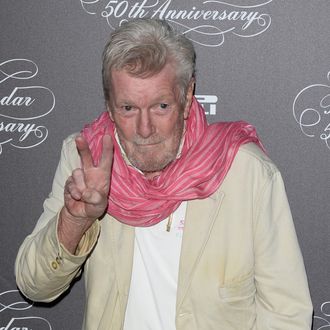 Photo: Robert Freeman attending the Pirelli Calendar 50th Anniversary Red Carpet in November 2013.
Photographer and filmmaker Robert Freeman, the artist behind the Beatles' seminal early album covers, has died at the age of 82, Rolling Stone reports. The band's official Twitter account also posted about Freeman's passing on Friday, as did Ringo Starr.
Initially a photographer for Britain's Sunday Times, Freeman was commissioned for a portrait of the Beatles by band manager Brian Epstein in 1963. His relationship with the Fab Four ended up spanning years, and included the album covers for With the Beatles, Beatles for Sale, Help!, and Rubber Soul, in addition to the credits sequences for their films Help! and A Hard Day's Night. Freeman would go on to direct the cult Swinging London film The Touchables, as well as shoot the first Pirelli Calendar.
Paul McCartney posted a personal remembrance of Freeman on his blog, describing in detail how the photographer captured the Fab Four for Meet the Beatles and Rubber Soul. "He was one of our favourite photographers during the Beatles years who came up with some of our most iconic album covers. Besides being a great professional he was imaginative and a true original thinker," the singer wrote in part. "I will miss this wonderful man but will always cherish the fond memories I have of him."