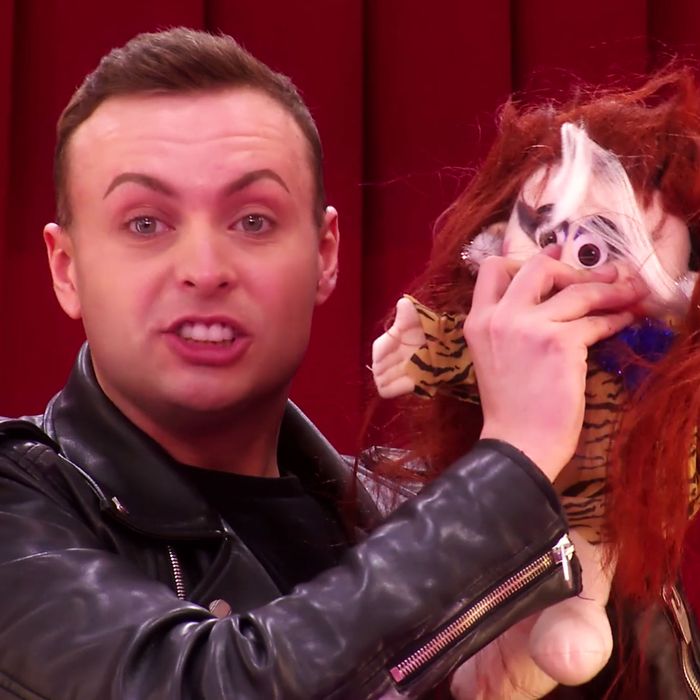 Programming note: Vulture Drag Race U.K. recaps post after the episode's BBC presentation, which streams simultaneously in the U.S. via WOW Presents Plus. Each episode will then air on Logo the following Friday. So U.S. viewers waiting to watch via Logo, consider this your spoiler warning, henny!
I have to admit, I was a little tired when I started watching this episode of Drag Race U.K. I had gotten home from a great concert and wanted to watch something before bed to come down. And this episode, a pretty standard run-through of a tentpole Drag Race challenge, was definitely a comedown from my exciting night.
The queens are rightfully distraught when they come in after Blu's elimination. Who will throw the shade now? But the conversation quickly turns to last episode's truly shocking untucking revelation, that Baga hadn't prepared her lip sync and had all but packed her bags to leave. Cheryl thinks Baga should've lip-synced, and honestly, so do I! As I've said before, I think front-runners fall harder when they go from being tops to bottoms, and I love to see them either cement their status or make us sweat. Baga, however, is now claiming that she was ready to lip-sync, and just needed to brush up on a few lines. Everyone calls bullshit on that, and I guess we're gaslighting now! Baga also says she had never been a bottom and it was "very painful." I'm just going to leave that there.
It's finally time for my favorite mini-challenge of them all: puppets! It's the appeal of the reading challenge, but with impressions and props, and what more could you ask for than that? We watch Baga put on a perfectly imperfect Liverpool accent for her the Vivienne puppet, Cheryl pull out a Baga puppet with absolutely wrecked hair, Divina deliver the best line of the challenge with her Cheryl puppet ("Cheryl, how are you doing in the competition?" "Shit."), and the Vivienne do a shady Divina routine that non-puppet Divina loves. Divina wins, and she doesn't win anything this time, because I guess Katya wasn't in town this week.
Then Ru starts to bring out some surprise guests: Baga's mom, Divina's sister, the Vivienne's mom, and Cheryl's sister. Aw! I'm crying, you're crying, Divina's crying — and when you wipe away your tears, check out how much Cheryl and her sister look alike! It's the makeover challenge, and the queens will have to make their moms and sisters over as members of their drag family. We've seen this before, in All Stars 2, but I'm glad we have a makeover because it tends to shake things up. Remember in All Stars 2, actually, when Alaska was in the bottom? Or in season ten with Aquaria? I'm left wondering if, as with Miz Cracker in season ten, this could finally be Cheryl's moment — since if it's not, she's almost certainly going home.
The family members catch up and start to plot, and it's a whirlwind. We find out that Divina's sister is pregnant and that Cheryl and her sister have a secret handshake, and the Vivienne asks her mom, "Have you shaved your minge?" ("James!") When RuPaul comes through, we learn that Baga and her mom are going to be Kris Jenner and Kim Kardashian (in that order), and that Baga has never done someone else's makeup. Reader, I gasped again! Meanwhile, Cheryl's sister is the one who taught her makeup, which is cute. She definitely seems the most game to do drag, offering to do the splits early on in the challenge, and Cheryl even says, "She's halfway there with the amount of hair extensions and makeup she wears!"
There's also the matter of Mama Chipz. Baga keeps mentioning how reserved her mom is, before her mom even gets a chance to mention that for herself. She's telling her mom how she's going to need to break out of her shell, and just fixating on it every. Damn. Time. She opens her mouth. We already know that looks are not Baga's strength, and I think she's just putting more pressure on herself.
As Cheryl is trying to get her sister into a pair of tights, the zipper breaks — and that seems to be all the drama we're going to get, because in the blink of an eye the queens are painting their moms and getting ready for the runway. Sometimes Ru comes back during these sorts of challenges to add a surprise twist — some choreography, maybe, or an extra requirement of the looks. There's none of that here, and it's all feeling a bit too vanilla to me. After a little talk about how empowering drag can be, of course, it's showtime.
Let's break down the runway critiques, bullet-point style:
• Cheryl & Sissy Hole: Once Michelle reads Cheryl for doing a bodysuit look, it's clear she's out of the top three. Which is a shame because she and her sister look pretty alike, and they're having so much fun!
• The Vivienne & the Mother: It's a classic, glamorous the Vivienne look with big white hair, and the judges eat it up. I would've liked to see the Mother in a dress more like the Vivienne's classic gown, rather than the robelike thing she's wearing, but I'm clearly the only one.
• Divina & Delicia de Campo: Just wow. It's a spitting image. And how are we not talking about her owning the red wig–and–silver dress combo? The attention to detail is perfect, down to Divina putting on a tiny belly to match her pregnant sister! Divina's face may still be a little too gray for Michelle, but I truly don't care.
• Baga Chipz & Sacka Spudz: I don't get one bit of Kardashians from this — I think it was just an excuse for Baga to put on her classic pussycat wig (which she's curiously never been read for?). Her mom's hair is not glamorous, and the black on black just doesn't pop either. Not to mention the second-to-last runway is no time for pants!
When Baga hears her critiques, she immediately blames her mom's shyness, even talking for her when Ru asks her a question. She talks about her mom's age making the makeover harder, which makes Michelle mad, and is frankly a non-excuse given the Vivienne's success with her mom. The whole thing makes me cringe, even more so when Baga takes her insults back to the werkroom, makes her mom feel the blame for her loss, and makes her cry a bit. She says we don't understand the relationship between her and her mom, and she's right — I don't understand why she'd say all that after her mom so generously entered the drag world to celebrate her son.
Divina catches up to the Vivienne and Baga with her third win, and it seems to be her most emotional win so far. She deserves it! I also like that this means no one enters the finale with a clear lead. But does Delicia get a badge, too? The people need to know!
The lip sync is set between Cheryl and Baga, and although I know what's going to happen, I really want Baga to go home after all that. But the song is "Tears Dry on Their Own" by Amy Winehouse, which feels in Baga's wheelhouse, and although I prefer Cheryl's performance, Baga does prove that she can, in fact, do a lip sync. Who knew? Cheryl seems to know she's leaving, using the lip sync as a chance to dance with her friend Baga. She celebrates her new record — she's the queen to make it to the top four with the worst record! — and tapes her exit interview with her sister. Cute!
And we have the top three we were basically given from the start: the Vivienne, Baga Chipz, and Divina de Campo. I kind of longed for a surprise addition to the top — someone like Crystal or Blu, who wouldn't win but would make it feel like the run-up was a real competition — but on the flip side, and as I said above, at this point it's really anyone's game. Next week's finale will be a classic song-and-dance finale (minus the live taping we've come to expect), which I could see any and all of them slaying. That's not to say I don't have my allegiances, but … I'll let you make up your own mind.