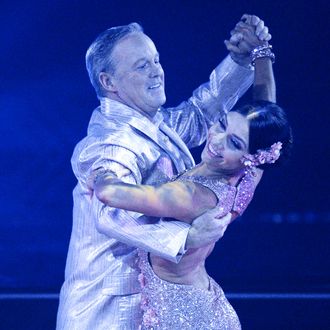 Photo: Eric McCandless/ABC
On Dancing With the Stars last week, Fifth Harmony member Ally Brooke earned the season's first perfect 30-point score for burning up a paso doble — to one of her own songs, no less. Yet at the end of the night, Brooke and her partner, Sasha Farber, found themselves praying for a judges' save. They had the second-highest average of the season at the time, just behind Dawson's Creek actor James Van Der Beek and season 24 winner Emma Slater. So, what happened?
Going by the scores, another dancer quickstepped past elimination for four episodes too many: Sean Spicer, Donald Trump's notoriously difficult first press secretary. He finally exited the series on Monday night after getting the fewest points for the fifth week running, finishing in sixth place but with the ninth-highest average score. The night the first perfect 30s were handed out, he received a 20. Host Tom Bergeron said he didn't even belong on the show.
If Spicer had been in the bottom two earlier, the judges would've sent him home immediately: After last week's show, judge Carrie Ann Inaba told Us Weekly it was "frustrating" that he was still in the competition with such a bad record. But the thing is, despite his abysmal record, he didn't hit the bottom until this week. Upon his elimination, after the judges chose to save former American Idol runner-up Lauren Alaina and her partner Gleb Savchenko, even Spicer told People, "The judges made the right decision."
I'm no dance critic, so I'm not here to judge his technique (although the Times' Gia Kourlas was not impressed). That said, he showed less growth than most top-tier competitors over the season, never getting above a seven individually from a judge, even once his competitors regularly netted eights and nines. That's how the competition's supposed to go: Even The Bachelorette's Joe Amabile, the lowest scorer for nearly every dance last season, earned the occasional eight, and went out with a 19.5 average when he tied for fifth place. Spicer leaves with an astonishing 18.0 average — nearly six points behind the next-best dancers left, Alaina and Savchenko.
Granted, it's easy to stick around when the president is campaigning for you, as Donald Trump regularly did on Twitter. "A great try by @seanspicer. We are all proud of you!" he tweeted last night. There's more to Sean Spicer's Dancing With the Stars tenure than that, though: He is one of several contestants who share a similar audience and fandom outside the show, a voting bloc if you will. Dancers like bull rider Bonner Bolton, comedian Bill Engvall, Alaskan Republican dynasty member Bristol Palin, and daytime TV host Jerry Springer all finished in the top tier of the competition, despite averaging more toward the middle or bottom.
It'd be reductive to claim that Republicans are bad dancers (after all, Springer is an outspoken Democrat), but that's not the issue anyway. When a bad dancer comes on the show and doesn't improve, they usually get voted off — like basketball player Lamar Odom this season, who impressively scored worse than Sean and was eliminated second. But these dancers stick around by appealing to viewers eager to support the people they trust over Hollywood celebrities. That's how Spicer saw it when he tweeted, "Let's send a message to #Hollywood that those of us who stand for #Christ won't be discounted" at the outset of the season. (He's since deleted the tweet.)
That strategy doesn't always work so well. Remember when Rick Perry appeared on Dancing With the Stars in 2016, in the interim between his failed presidential run and becoming Trump's energy secretary? You probably don't, because he lasted three episodes and was eliminated second. But when the plan does work, it hurts the competition. For every episode that Spicer stuck around, the show lost a worthwhile dancer like Sailor Brinkley-Cook or Karamo Brown. When a contestant like Ally Brooke comes around — an impressive dancer with lots of fans who likely don't tend to watch Dancing With the Stars — Spicer's voting bloc puts her at risk of early elimination. (Brooke thankfully stayed out of the bottom this week, thanks in part to straight tens across both of her performances.)
I know, I know: What does this all matter anyway? There are real voting problems out there, among many, many other political problems. But the least we can ask for is an escape as playful and absurd as Dancing With the Stars. Contestants like Sean Spicer break that down.