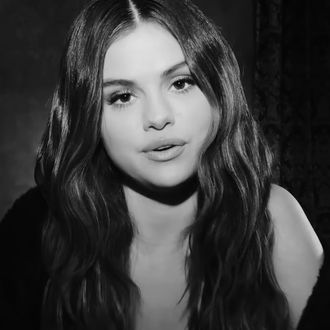 Selena Gomez is putting her nation of Instagram followers (160 million and counting) to work. After a decade of consistently appearing on the Billboard Hot 100 list, Gomez has finally earned the top spot with her new song "Lose You to Love Me," according to Billboard's chart data. Gomez previously peaked at No. 5 with both "Good for You" featuring A$AP Rocky in 2015 and 2016's "Same Old Love." Seemingly inspired by her relationship (and break up) with Justin Bieber, fans skyrocketed "Lose You to Love Me" to No. 1 in a quick amount of time. Plus, a little drama between the Selenators and Justin Bieber's new wife, Hailey Bieber, couldn't have hurt.
"This song is so dear to my heart. I've been working so hard to make this album as honest and fun as possible while remaining vulnerable enough to share where I am in life," Gomez wrote in a social media post celebrating the No. 1. "I love you deeply and thank you so much for listening."
Gomez's album doesn't have a confirmed release date so far, but it does have a second single, "Look at Her Now," which currently sits at No. 27 on the Hot 100. After taking a four year break from music, Selena Gomez is back and better than ever. At least that's what the charts are saying.