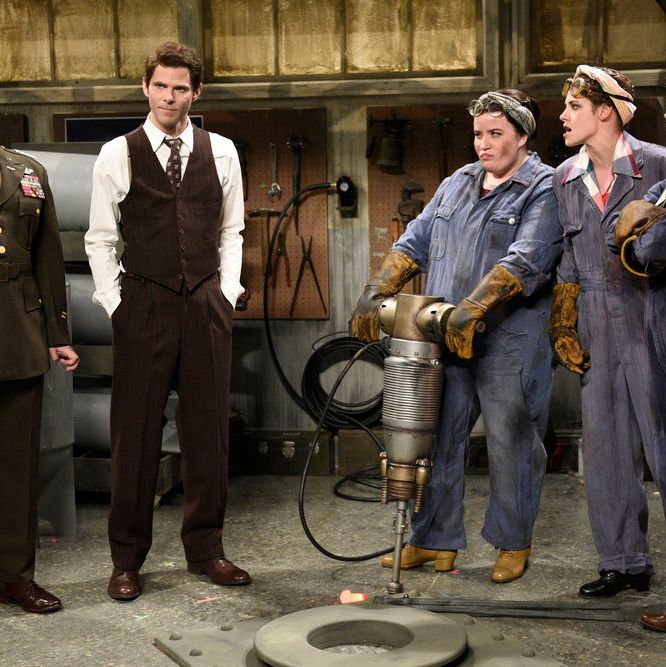 During Kristen Stewart's SNL hosting debut, she gave it all she had — up to and including an enthusiastic F-bomb dropped during her monologue. Since her Gisele impression and Totino's Pizza Roll romance on SNL in 2017, she's been revisiting different sorts of icons in movies like Seberg, JT Leroy, Lizzie, and the anticipated Charlie's Angels reboot. Nonetheless, for her return to Studio 8H, the writers didn't lean on her film catalogue — nary a Twilight reference in sight! — instead using her presence as an opportunity to play with a bunch of new ideas, even if those ideas didn't always have Stewart as their central focus.
As usual, this week's sketches are presented here in order from best to worst.
Elizabeth Warren Town Hall Cold Open
Now that Elizabeth Warren (Kate McKinnon) has polled out in front of Biden in Iowa, she hosts an Iowa town hall to convince voters she's the right choice. All hopped up on a granola bar and feeling "stanky," Warren disses Beto O'Rourke and Joe Biden, talks about how she's going to pay for Medicare for All, and compares standard insurance policies to terrible boyfriends. Essentially a one-person monologue, this open is all McKinnon. For that reason, it's more than just Warren as a goody two-shoes who was born to fight — McKinnon ekes out lots of little moments that bring a little extra color. For their part, the writers poke holes in Warren's platform and tackle as many specifics from the headlines as they can.
Hero Dog Press Conference
On C-SPAN, Kellyanne Conway (McKinnon) introduces the canine involved in the attack that killed ISIS figurehead Abu Bakr al-Baghdadi. As reporters ask questions, Conan's handler (Cecily Strong) translates barks and whimpers into English. Conan loves his country and belly rubs, and has been "drowning in bitches" since the raid. Once the conceit is up and running, it's basically just an excuse to put a bunch of dog jokes under one umbrella; they are, however, pretty fun dog jokes. In particular, Conan's attempts to walk back his inappropriate Halloween costumes and avoid a Me Too scandal are well done. And though there aren't as many over-the-top live animal shenanigans as there were during SNL's recent "Court Show," Strong is certainly earning her dog-handler badge.
Weekend Update
Colin Jost and Michael Che first take on Trump's decision to make Florida his legal residence, saying that raising New Yorkers' taxes first was a "genius troll move." Rudy Giuliani also takes a couple of shots, including the fact that he was locked out of his iPhone days after being named Trump's cybersecurity expert in 2017: "Even Apple's Face ID could not recognize the man Rudy has become." Then Melissa Villaseñor comes on with a new character, 5-year-old genius Riley Jenson. Ostensibly, she's there to talk about the Air Force's X-37B space plane, but is chastised by her mom (Heidi Gardner) when unable to remember much about the plane or the solar system. Villaseñor's work is detailed and acute, and Gardner's interruptions are perfectly representative of that sort of pushy parent, but it will take more good, hard jokes to make this character a regular.
The second half takes on a few stray news headlines, including one about a 67-year-old woman who gave birth in China. Che makes it sound as though NBC standards refused to green-light most of his jokes, while proceeding to tell all of his jokes. The conversational framework plays to Che's strengths, and though he got slammed on Twitter for his tone, the jokes are framed more like snaps than a misogynistic vendetta. At the end of the segment, Aidy Bryant and Kate McKinnon come on as Vaneta and Wylene Starkey — the meat-delivery mavens who denigrate animals so vegans and touchy consumers might feel more compelled to eat them. A pig was found eating turds and seemed proud of it; a king crab refused to wear a condom because it "interrupted his flow." There are a lot of nasty little jokes in here, and with McKinnon and Bryant delivering them together, it's just going to work.
Corporate Nightmare Song
While doing their best to survive the 9-to-5 grind, four tattooed and pierced pals with dyed hair (Stewart, Mikey Day, Pete Davidson, Kyle Mooney) sing a pop-punk song about a refusal to be "corporate worker bees." While fantasizing about kicking over file cabinets and riding skateboards across their desks, reality intrudes: The boss, Ted, compliments Tina and tells her to consider management training. As the song picks back up, Tina defends Ted against her bandmates' broadsides. Soon enough, the entire gang is singing about a presentation that just might lead them to running the division. This bit is smart, well-produced, and does a nice job of mapping the slow degradation of teen angst as the practicalities of adulthood encroach.
Duolingo for Talking to Children
For all the adults who can't manage normal conversations with their friends' and co-workers' kids, there's a new Duolingo for children. It teaches users all about how to employ simple questions about backpacks and chicken fingers, and always end on a high note with something like, "Very cool, bud." Gone are the references to the child's prettiness and sentences such as, "Do you wear your clothes to school?" The premise of this commercial parody is easy to relate to, and the little world of kid communication is very well drawn. The players all lend a hand making it work, but it's the writing that takes the lead here.
Rosie the Riveter
A WWII public-relations board officer (Beck Bennett) searches factories for a face to encourage other women to help the war effort. Walking past a kerchiefed Rosie (Chloe Fineman), the officer encounters bawdy trio Barb, Norma, and Dot (Bryant, Stewart, and McKinnon). These ladies are ready to get naked and jackhammer Hitler right in the ass while a topless Lady Liberty looks on. The premise is funny on its own, the sketch provides some nice specifics, and the trio of ladies egg one another on as they ham it up. That said, there's only so many ways for them to say "get naked."
New Paint
Sitting in Beth's living room, Beth's brother, Tom (Beck Bennett), and his partner (Stewart) get an earful about the paint on the living-room walls. Beth (Bryant) uses expensive British brand Farrow & Ball, which provides an "unparalleled depth of colour" — everyone can hear the "u" in "colour," thanks to Beth's heavy affect. Beth has no job, no money, and a mooching live-in lover, but she'll defend the paint no matter what. It's great to see Aidy Bryant get a piece she can really own, even if half of the jokes involve adding superfluous U's to different words. And if this is sponcon, the writers do a fine job of taking the piss out of Farrow & Ball in the process of giving them airplay.
A Proposition
A polite churchgoing couple (Kenan Thompson and Ego Nwodim) are in the club, eating crab cakes and fish sandwiches they brought in themselves. A seductive onlooker (Stewart) tries to convince the pair that they should all go home together, but the couple just doesn't seem to get it — not even when the onlooker sings "I Kissed a Girl" or does a sultry little dance. Even if the sketch is pretty straightforward, the married couple is well-drawn and well-played, too. The last twist, which arrives about 20 seconds before the end, is delightful and involves another brief but excellent turn by Bowen Yang.
Hungry Jury
A deadlocked jury considers the fate of a defendant who was pulled over by police, and may be a victim of racial discrimination. They've been deliberating so long, the stomach of the foreman (Stewart) begins rumbling. Other jurors' stomachs follow suit, and things get more rhythmic. Soon, the stomachs are belching the beat to "Pony" by Ginuwine, and that's that. It's easy to see how this idea might have earned some giggles during a table read, but it doesn't succeed onstage. There's something of a disconnect between the sound effects and the action of the sketch, and when the synchronized stomachs arrive at "Pony," the silliness hasn't quite carried the audience along.
Kristen Stewart Monologue
Because she doesn't feel comfortable standing onstage and talking about herself, K. Stew takes questions from the audience. Or rather, she asks the audience questions because she knows everything about her life and prefers to find out what's wrong with random audience members, and if they prefer their mothers or their fathers. Pete Davidson offers himself up as a possible interview subject, but he's too much of an open book for Stewart. Beck Bennett and Kyle Mooney just want a little sartorial approval. This monologue feels like one gag that doesn't quite extend as far as it might, and Stewart's delivery doesn't add all that much to it.
Stargazing
A hike leader (Day) brings a small group of people to a clearing where the sky lends itself to stargazing and identifying constellations. A pair of hippies (not unlike Rachel Dratch and Will Ferrell's "The Love-ahs") linger at the edge of the group, imagining that every constellation is about couples "servicing each other." No matter whether they're looking at Leo or the Big Dipper, these two see people putting their faces on one another's bits. Though the characters do have a bit of life, the sketch starts with stars 69-ing and just doesn't have far to go.
Tonight's episode feels like a baseline for SNL: a few sketches that work well, a few that fail, and several more that hover somewhere in between. The political material fares a bit better this week, thanks to the dynamism of Kate McKinnon and the power of dog jokes. Stewart again makes for a willing host, but this time around, she can't seem to hook into the material as well as she did during her debut. Her filmed pieces work best, which makes sense, but the production and smart ideas do the heavy lifting in those cases. No reason Stewart won't be back at some point, though. As far as the next live show, Harry Styles takes the leap to host and musical guest on November 16.