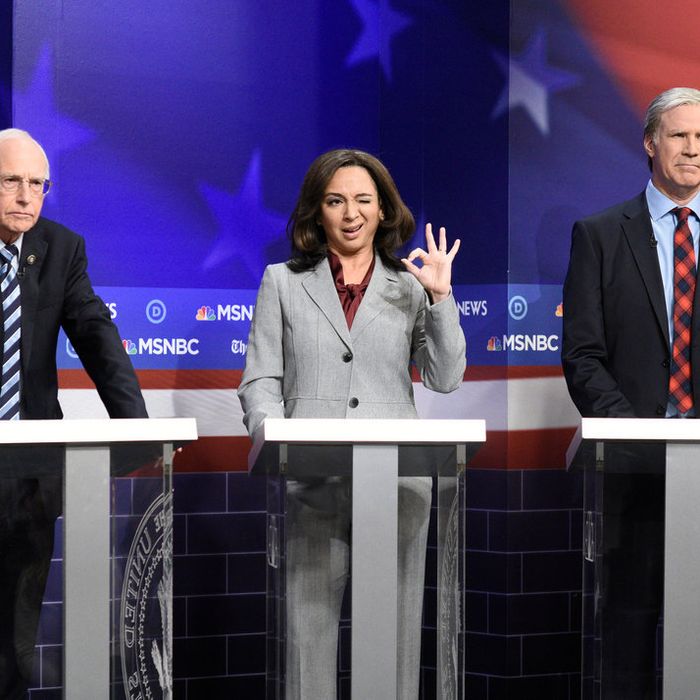 SNL
's slightly more chaotic reprise of this week's real-life debate featured Bernie Sanders (Larry David), Kamala Harris (Maya Rudolph), and Tom Steyer (host Will Ferrell).
Photo: NBC/Will Heath/NBC
What could be more reliable than a Will Ferrell-hosted SNL? As Ferrell joins the Five-Timers Club, it's worth nothing how few former SNL players are beloved, critically acclaimed, and have an impressive career after leaving the show. Ferrell's periodic visits to 8H since 2002 have yielded characters and bits worthy of his larger canon, even if they haven't quite become iconic. These days, Ferrell has been in the headlines more as a producer than he has for films (including uninspired sequel Daddy's Home 2 and the clunker Holmes & Watson), but that means nothing in the SNL arena, where Ferrell characteristically committed to every sketch.
As usual, this week's sketches are presented here in order from best to worst.
2020 Democratic Debate
In a reprise of the actual Democratic Debate this past Thursday, Rachel Maddow (Melissa Villaseñor) welcomes Joe Biden (Woody Harrelson), Elizabeth Warren (Kate McKinnon), Bernie Sanders (Larry David), Kamala Harris (Maya Rudolph), Amy Klobuchar (Rachel Dratch), Pete Buttigeig (Colin Jost), Cory Booker (Chris Redd), Tulsi Gabbard (Cecily Strong), Tom Steyer (Ferrell), and even Michael Bloomberg (Fred Armisen) to talk issues. Presumably because of the sketch's size and scale, SNL opted for this one to come right after the commercial break — for all intents and purposes, this one is the biggest and best showpiece of the night. (Unlike the cold open, writers invested in this 12-minute whopper of a sketch.) It has a lot of gifts to give: Biden acknowledging that people are "scared I'll say something off color, or worse, on color," Harris desperately seeking her viral moment, Bernie's laundry list of items in his pockets, Klobuchar's quivering, moderate bangs, and Steyer straining for relatability. While Harrelson's Biden still lacks nuance, and less experienced parties like Jost are just outclassed, just about everyone digs down to find their individual moment.
Pizza Ad
As Bertucci's Pizza superfans, a mom (McKinnon), dad (Ferrell), and their two kids (Kyle Mooney, Heidi Garder) sit down to help the restaurant make a testimonial commercial. Everyone is good to go with their talking points, but mom is "all horned up for this pizza" and everyone asks her to tone it down. She pouts, leaves, and then dad loses it. He can't do anything without her, and the last time she went out of town he hired a prostitute just to tell him how to use the oven. The shape of this sketch, which goes beyond a standard heightening of one idea, is commendable; it's about a couple of wonderful, moody weirdos, and McKinnon and Ferrell both milk it for all it's worth. Dad in particular spouts lots of carefully crafted specifics that show off the quality of the writing.
Will Ferrell Monologue
While beginning his address, Ferrell notices a man who looks a lot like Ryan Reynolds in the front row. It is, in fact, Ryan Reynolds, which sends Ferrell into a freaky teenage tizzy. Ferrell can't make jokes or deliver lines or do anything other than his loud Tracy Morgan impression. As Reynolds goads Ferrell, Morgan himself arrives to reinforce the idea that Ferrell can do anything he wants because Morgan once "suckled from his comedy bosom." It isn't so much a monologue as it is a scene from an unfolding schoolboy crush, and it's so well done. Ferrell completely sells it, squirming and seducing and mooning over Reynolds, and he gets a solid assist from Reynolds as the straight man. If there are to be cameos, SNL ought to diminish their frequency and give each one this sort of attention.
First Thanksgiving
At the first Thanksgiving, John Smith (Beck Bennett) plays the role of the nervous boyfriend as Pocahontas (Villaseñor) brings him back to meet her parents (Armisen, Rudolph) and grandfather (Ferrell). Grandpa uses a politically incorrect term ("paleface") for white people, saying they all bring disease and guns into the country. He gets all his opinions from Fox — an actual fox — and hopes the leader can build a wall to keep out illegal settlers. Then everyone bonds over corn in their stool. Even with a fourth-wall-busting mea culpa, the casting choices here are going to agitate, and though it's a pretty keen parallel, conservatives are likely to enjoy it as an argument in favor of the wall. All in all, it's slippery and smart enough to remain interesting despite its willful precociousness.
Weekend Update
Much of the "Update" segment is about the conclusion of public impeachment hearings in the House and "now the debate will shift to your house for Thanksgiving." Michael Che and Colin Jost talk Devin Nunes's ostensible meeting with a Ukraine prosecutor, Sondland's giddy testimony, and Trump's suggestion that he might testify. Jost hopes he and Rudy Giuliani would testify as it would be like "the Super Bowl, with worse brain damage." Alex Moffat comes on as Guy Who Just Bought a Boat, and the hypersexual innuendo gets even more intense while he wishes all a "Happy Spanx-Sniffing." He gives tips that will even get her "green bean asserole" on the table until his friend, Guy Who Knows the Owner (Ryan Reynolds), finishes things off. The performances are gross-out perfect, and the script is so tight, writing the word "tight" feels immediately embarrassing. Afterward, there are a couple of nice jokes about South Dakota's meth-related ad and nazi memorabilia — but the highlight, by far, is the creepy former frat bros.
Party Song
When the parents leave the house for the weekend, the teenagers in the house (Mikey Day, Cecily Strong) know it's party time. This pop jam takes the teens from planning stages to the night of the party, where all relevant social cliques are represented — and also, the AP English teacher Mr. B (Ferrell) is there. He's not acting creepy, he's just drinking too much, watching Shawshank Redemption, twisting the wedding ring on his finger, and staring into the middle distance. Also, when it's 3 a.m., he refuses to go home. This sketch is a fun take on the carefree party anthem, and while the awkward situation is not perfectly universal, everyone knows that lingering, inappropriate partygoer.
Ventriloquist
Wally Culpepper (Ferrell) and his dummy Chippy take the stage at the Hi-Hat Lounge to tell a few jokes, but things get weird when they perform a hack bit about Wally having his hand up Chippy's butt. Chippy won't let it go, talking about how often there's a hand up his butt, how he spent "hours hemorrhaging on the toilet" last night, and how everyone is the audience is complicit in a crime. When the audience gets rattled, Wally takes Chippy off his hand — only to slather it up with Vaseline and get ready for one last offense. It's enjoyable to see a stale gag become a writer's obsession, and find new life when taken to its gross, absurd extreme (at least, for late-night NBC standards). Again, Ferrell's dedication really brings the bit off the page.
Cinema Classics: The Wizard of Oz
During this episode of "Cinema Classics," Reese De'What (Kenan Thompson) introduces an alternate ending of The Wizard of Oz. When Dorothy (Kate McKinnon) awakens from her journey to Oz, she sees Auntie Em (Aidy Bryant) and the three guys who were the Tin Man, the Scarecrow, and the Lion. But what about the little people she knows, Dr. Pickens with the curly mustache (Ferrell) and the town's other gainfully employed professionals (Chris Redd, Chloe Fineman, Kyle Mooney, Bowen Yang)? Dorothy is a little reticent, unwilling to say she dreamed about Munchkinland and all of the cute little degrading things they did. With a lot of actors shuffling around on their knees, this sketch is likely to infuriate some, but its target is moreover the aesthetics and tenor of the source material.
Trump Impeachment Press Conference Cold Open
Trump (Alec Baldwin) has one of his famous chopper-side press conferences as members of the press ask for his reaction to damning testimony in the impeachment inquiry. In Trump's view, the hearings exonerated him, and the hand-picked Gordon Sondland quote he transcribed in black magic marker ought to prove it. Sondland himself (Ferrell) slips onstage to goad Trump, presuming our president wants to "keep the quid pro quo on the low low." This open is little more than a short recap of headlines with not much mettle to it. Is Baldwin having any fun? Maybe. Is Ferrell doing a Sondland impression? Why not. There are some overlapping lines, and it feels as though something went technically awry that changed the dynamic of the thing.
Heinz
At the Thanksgiving table, everyone dreads asking for the half-empty plastic ketchup bottle and squeezing it only to hear a fart sound. The rest of the family can't stop giggling about what happened, because "everybody thinks you ripped one." The solution: Heinz Relax. Rather than a fart sound, an entirely new sound comes out of the bottle. While Ferrell plays a nice pariah, it's a less-than-interesting fart joke followed by a less-than-interesting sex gag.
With a sketch entirely about anal violation, one with white people playing Native Americans, and one with the cast playing little people, this week SNL didn't much care about what fires it started. Ferrell is all too happy to make it work, and shines when he gets to indulge his emotional side (e.g., his monologue and "Pizza Ad"). On that note, the show felt a bit shy of material in the live broadcast, and there were a lot of worthwhile sketches left on the cutting room floor: "Cast List" is worth a watch for its play with high school theater rituals and Ferrell hamming it up, but "Date in Mexico" really gives him a nice, forlorn, misguided man to play. (And Cecily Strong giggles at Ferrell throughout.) The latter is a better Ferrell showcase than several sketches that did make air.
Next up: Jennifer Lopez hosts on December 7, with DaBaby as musical guest.