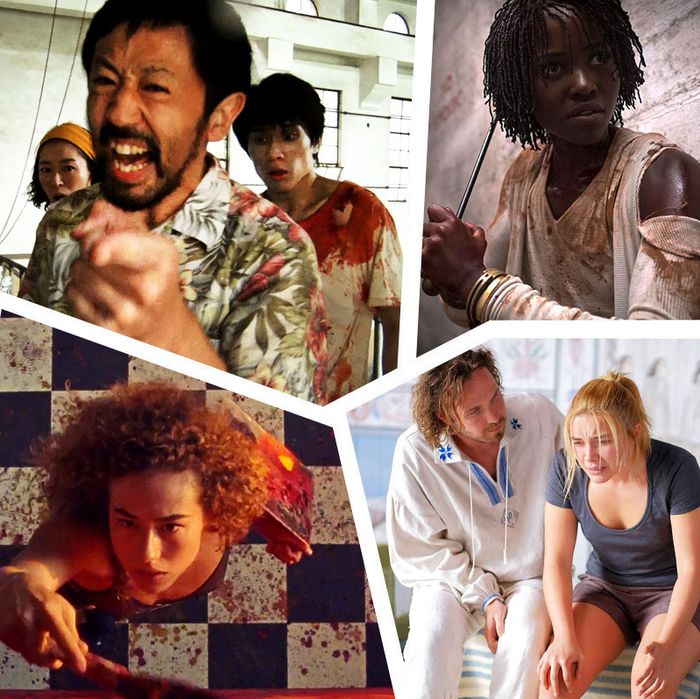 Photo: Vulture and Courtesy of the Studios
Over the past few years, horror fans have been spoiled by a steady parade of outstanding studio films (Get Out, Annihilation, A Quiet Place). We're in the boom times! Sort of. The major-market offerings of 2019 haven't quite lit both our hearts and the box office ablaze, save for Jordan Peele's megasuccessful Us. But the official horror season has delivered some inspiringly inventive small-budget releases that serve up creature-feature chills and head-banging vampire mania. This year has brought us dance parties in hell, really disturbing drug trips, meditations on trauma, murderous works of art, alpine witches, and more. Here are Vulture's picks for the top horror films of 2019 so far.
Annabelle Comes Home
The motto for the Conjuring's expanded-universe movies has generally been "Good enough!" While there are some jump scares to be had among the franchise, outside the core components of Ed and Lorraine Warren, most entries feel like they're on cruise control to keep this big machine rolling for New Line. And listen, the third Annabelle movie doesn't break any new ground, but it is a damn fine time at the movie theater. Having the Warrens anchor the whole affair brings that warmth and familiarity that Vera Farmiga and Patrick Wilson have mastered as paranormal-investigator lovebirds, and building the action around a night with the babysitter gone wrong makes this quaint haunted-house outing feel like just the right kind of teen scream for a summer horror movie. Annabelle, we're happy you came home.
Belzebuth
It is hard to do possession and exorcism and make it feel fresh, but that's exactly what director and co-writer Emilio Portes pulls off with Belzebuth. The story starts in the delivery wing of a Mexican hospital where a nurse goes rogue and carries out an unspeakable killing spree. That event lays the groundwork for a shocking string of murders that will take place years later in the same town, targeting local children. But these are not crimes of men, and supernatural investigators are brought in to assist local police in rooting out the unholy origins of some approaching evil. The deaths are heinous, but they don't veer into exploitative, and the lead cop who was touched by tragedy at the start of the film finds himself in the middle of god and the devil as he fights to save a young boy. Belzebuth is gritty, intense, and at times terrifying.
Bliss
Writer and director Joe Begos has been getting a ton of buzz this year for his insane double drop of Bliss and VFW. And while you'll have to wait until next year for the latter, the former is now available for your twisted enjoyment. This is horror filmmaking at its most stripped down. Dora Madison stars as an artist trying to make rent whose agent sucks and whose brain is creatively blocked. She's got a massive piece due, but her inspiration is lacking, until a wild night of sex and drugs and maybe blood-drinking unlocks her mind and leaves her feeling more furiously ready to paint than ever. If only she knew why she was having these intense cravings, and if only she knew whether they were for more drugs or more blood. Madison gives a full-body, full-mind performance as an increasingly nocturnal woman who will go to great lengths to get her fix and complete her masterpiece. But is the blood sucking real, or is it all just a drug-fueled dream? And either way, can her body and her relationships bear the cost of her newfound manic creative drive?
Boar
There is only one movie this year that's worth watching if you want to see a wild pig the size of a van terrorize the wilds of Australia. Much like Razorback before it, this entry from writer and director Chris Sun is both thrilling and ridiculous — a creature feature that's down-to-earth only when compared to the spectacles of kaiju and Kong. And that's what makes it a great time. There's a lot of blood and guts, a lot of full-view shots of the gnarly beast, and — perhaps most incredibly of all — there's the truly massive actor who played Rictus Erectus (Nathan Jones) in Mad Max: Fury Road as a goofy, overprotective uncle who both bottle feeds a mob of baby lambs and furiously sings "Ice Ice Baby" while driving. In a movie about a rabid man-eating boar. This is cinema!
Braid
The feature debut of writer and director Mitzi Peirone is narrative in the form of a quick hallucinogenic trip. A pair of ne'er-do-well women in their 20s are being hunted by the law and decide that their childhood best friend's grand country estate is the best place to hide out. Big mistake: Their friend, Daphne (Cam's Madeline Brewer going all out once again), is an extremely troubled shut-in who conscripts her old friends into playing the most fucked-up game of house ever: There's upsetting sexual role-playing, violence, even adults in playpens. Braid is a flawed work, but Peirone commits to going big and weird and wild enough to make this an exciting debut.
Climax
A tight, terrifying film about what happens when a large group of dancers are unknowingly dosed with LSD during a party and then left to survive the waking nightmare unfolding around them. Provocateur Gaspar Noé wrote, directed, and shot the film himself, working from a five-page story treatment for a script. (He hadn't even planned on using a choreographer until star Sophia Boutella talked him into hiring a professional.) With a cast made up almost entirely of dancers who had never acted before, Noé eschews rigid scene structure in favor of long, voyeuristic shots of the characters crumbling amid pounding dance beats. It's intimate and beautiful and brutal and unique — and increasingly hard to watch.
Crawl
If you didn't predict Crawl — about a father and daughter trying to ride out a category 5 hurricane in Florida while trapped under the flooding foundation of a house and pinned inside their watery kill box by a bunch of man-eating alligators — was going to be one of this year's surprise hits, then shame on you! Shame! Piranha 3-D and High Tension director Alexandre Aja flexes his creature feature muscles once again under the producing eye of Sam Raimi for this lean, 87-minute disaster thriller and body horror bonanza. Kaya Scodelario and Barry Pepper are a surprising yet great father-daughter pairing, and in addition to being a break-neck suspense film it also gives you the catchphrase, Apex predator all day, baby!
Deep Murder
Deep Murder has managed to hack the system. Thanks to its novel premise — what if a slasher took place on the set of a soft core porn, but it's not actually a set and everyone just is a stock porn trope? — and complete commitment to its in-world rules, it's practically impossible for this movie to fail. Cheesy dialogue? Tons of cliches? One-dimensional characters? They're all just part of the porn construct, which also sets up incredibly silly kills and some surprising avenues for character development as the porn mansion's inhabitants start to achieve self-awareness and grow beyond their soft-focus constraints. And every single actor, from Katie Aselton to Jerry O'Connell to Chris Redd and the rest, plays their respective archetypes (the hot mom, the dirtbag sex fiend, the hot jock, etc.) with such gusto you can't help but respect it. You don't need a big budget if you've got a logistically achievable big idea, and Deep Murder unselfconsciously goes all in.
Hagazussa: The Heathen's Curse
Hagazussa has been making its way to audiences for a long time. (Vulture named it one of its most anticipated horror films of 2018.) The feature debut of Austrian filmmaker Lukas Feigelfeld centers on a woman named Albrun, who was orphaned after her mother's death under disturbing circumstances and grows up in an alpine village where the residents (and local clergy) treat her terribly. Feigelfeld exercises extreme patience in creating an atmosphere of dread, letting his heroine's battle with her true nature — and the society that persecutes her — unfold like a lucid dream. On its face, Hagazussa will remind some viewers of The Witch, but Feigelfeld's film is working with a magic all its own.
Harpoon
The three friends in Harpoon were supposed to be setting out for an afternoon pleasure cruise, but then an explosive love triangle emerges and the engine quits working and it all goes to hell. Richard is a wealthy picture of toxic masculinity, Jonah is his longtime best friend, and Sasha is Richard's long-suffering girlfriend. Three is a tough number, especially when one person is crushing on another guy's significant other, and extra-especially when you're trapped on a boat with no radio, food, water, or clear plan for returning to shore. It's a simple structure, and the fun of Harpoon is watching this tiny cast careen toward catastrophe as their secrets start to spill out in desperate hours. It's sick. But it's fun!
The Hole in the Ground
Let's hear it for melancholy Irish horror! Following in the path of recent sad-horror highlights like The Cured, The Devil's Doorway, and the outstanding A Dark Song, Lee Cronin's The Hole in the Ground uses grief and trauma to envelop viewers in its portentous atmosphere. The story centers on a woman and her son who left a dangerous situation behind to start over. But there's this massive hole in the ground in the woods behind their new home that's giving off some seriously evil vibes. As her son starts changing for the worse, Sarah (Seana Kerslake) starts losing her grip and must figure out how to break the hold of that gaping, breathing crater — and whatever is inside it.
I Trapped the Devil
With all due respect to Jordan Peele's revival, I Trapped the Devil is the best Twilight Zone episode you'll see this year. Of course, it's not literally an installment in that episodic series, but this surreal, nerve-twisting story of a man convinced he has Satan trapped in his basement would've made Rod Serling proud (see "The Howling Man" from the original series). Josh Lobo wrote and directed this haunting little number that combines an unwelcome family homecoming at Christmastime and the smallest-scale battle between good and evil.
Knife+Heart
One of the best things happening in horror in 2019 is how much more overtly queer it's been. In director and co-writer Yann Gonzalez's period-piece/French slasher, Vanessa Paradis plays a gay porn producer who is wrecked by the combustion of her relationship with her girlfriend (also her editor) as well as by a strange raft of murders. A masked killer is picking off her actors and the ineffectual police are of no help, leaving Paradis's Anne to try and sleuth him out herself. Knife is a beautiful film that still feels like it was made in a grittier 1970s film scene, and it's a dare to other filmmakers who might dull the queer presence in their movies in the service of something more "broadly" appealing.
Level 16
The fact that writer and director Danishka Esterhazy is able to create such a complete-feeling world with just a few stark hallways and sleeping quarters is a testament to the richness of Level 16. Set in an ominous boarding school called the Vestalis Academy, which is presided over by a severe headmistress and a "kind" physician, the story revolves around a group of girls raised to embody purity and goodness so that they may one day be adopted by loving parents. Each one must be a pristine incarnation of feminine virtue, lest she be punished, but after a lifetime of being treated like a living-doll lab rat, one girl has had enough. When Vivien (Katie Douglas) realizes what "adoption" for Vestalis girls really means, she conspires with a fellow prisoner to break out. In the process, the girls learn the full extent of the horrors they've been subjected to without their consent, and that the prescribed definition of a "good girl" is total bullshit.
Little Monsters
Australian writer and director Abe Forsythe wanted to make a movie about his experience putting a kid through kindergarten and the crazy emotional highs and lows that both parent and child experience. What he ended up with is a zombie horror-comedy about a class stranded at a park with only their extremely capable teacher, played by Lupita Nyong'o, and one boy's ne'er-do-well uncle to protect them. As if the zombies weren't a big enough problem, the kids are also in the presence of children's entertainer Teddy McGiggles (Josh Gad), who's having a full psychotic break as he faces mortality. There are Taylor Swift sing-alongs. There is Lupita slaying the undead while she convinces her students the entire day is just one big game. And there's Josh Gad getting punched in the face. Good times.
Luz
The German film Luz, from writer and director Tilman Singer, sounds simple enough, a young woman arrives in a police station with a demonic entity on her tail, but the execution is far from simple or even intuitive. Instead, Luz functions like a feat of hypnosis. It's short, just 70 minutes, and yet deliberately paced and tough to untangle. But it's also enveloping in its weirdness — a truly art-house horror experience. If you're looking for a genre picture to challenge and unnerve you, check out Luz.
Midsommar
Ari Aster followed up Hereditary with a body horror–laced, brightly lit mindfuck that only he could make. At nearly two-and-a-half hours long Midsommar counts as a horror epic, and it follows a group of American grad students as they participate in a rare seasonal festival that will test their fortitude and their sanity and their interpersonal relationships and, of course, their ability to survive. Aster returns to catastrophic grief as a main theme for Midsommar, and once again impresses with his meticulous world-building and willingness to push the audiences' limits for how much disturbing behavior they can handle. The writer and director goes bigger and more ambitious for Midsommar, letting audiences know the violent delights and pitch-black humor show no signs of tapering off.
The Nightshifter
This Brazilian ghost story features a mortician in a rut who spends his night shifts chatting away with the bodies that land on his table. But it's not all in his head. Stênio is having real conversations with the dead, and one of them tips him off that his wife has been stepping out. He gets back at his wife for her infidelity, but using his ill-gotten information comes with a price, and now Stênio must protect his family from the spirit that's attached itself to him. Dennison Ramalho co-wrote and directed this tense haunted-house effort, and it makes for some good old-fashioned bump-in-the-night scares with just enough of a twist to feel fresh.
One Cut of the Dead
One Cut of the Dead is a zombie movie, but not the kind you're used to. This low-budget Japanese zom-comedy follows a film crew making a cheesy undead production when they're suddenly overrun by flesh-eating monsters … but to say anymore would wreck the many surprises of this truly innovative zombie romp. One Cut was a box-office smash when it premiered in Japan in 2018, and it's truly one of the best movies this subgenre has seen in a long time. It's funny, frantic, bloody, and keeps you guessing at every turn. Actiooooooooon!
The Perfection
Making a truly good exploitation movie asks something close to impossible: Go all-out while exercising just the right amount of judgment in the exact right places, and also strike the right balance between class and trash. The Perfection, which was directed by Richard Shepard and co-written by him along with Eric C. Charmelo and Nicole Snyder, gets the recipe just right. Logan Browning and Allison Williams star as two elite cellists whose paths cross when Williams's character, Charlotte, comes out of a long retirement and reconnects with her old teacher, who has been guiding the career of Browning's Lizzie ever since Charlotte had to leave the conservatory a decade ago. It's a queer, twisted, and jarring story of love and obsession and violence and vengeance and sexually charged cello performances. If you're feeling a semi-hard-core, it's a slice of perfection.
Piercing
Writer and director Nicolas Pesce's debut feature, the excellent The Eyes of My Mother, was black-and-white and felt troublingly real. His follow-up, an adaptation of Ryū Murakami's novel Piercing, is just as intimate but much more surreal. Mia Wasikowska and Christopher Abbott star as a pair looking for some dark pleasure, but they're on very different pages about what that means. She's a prostitute, he's a paying customer planning to elaborately kill her, but his plans get more complicated when Wasikowska's character turns out to be even scarier than he is. It's a sort of love story for people who like psychosexual foreplay and violence, and Pesce's execution is thrilling.
Ready or Not
Ready or Not is the feel-good genre rager of the summer. Havoc queen Samara Weaving — best known for ripping up the screen in The Babysitter and Mayhem — finds herself in the middle of another rampage as a new bride fighting off the in-laws who are trying to kill her. There's a whole deal with a supernatural pact and ritual sacrifice, but the point is, Weaving's Grace married into the wrong family of bumbling rich assholes who think it is their dark mandate to turn her into a blood offering. But she won't go quietly, and puts up one hell of a fight as a blood-stained bride in this joyfully over-the-top horror comedy. Watch Ready or Not and receive the bonuses of a bow-and-arrow armed Andie MacDowell and a coked out Melanie Scrofano.
Starfish
It's been a great year for narratively adventurous genre films. Filmmaker
A.T. White has been writing, directing, and producing short films for years, but Starfish is his feature debut. Virginia Gardner stars as Aubrey, a girl attending the funeral of her best friend. Pretty soon, after an overnight invasion in which monsters tear through the landscape, she's one of the last people on Earth. It's not A Quiet Place, though. Most of the movie is of Aubrey staying in her dead bestie's apartment, hanging out with a pet turtle, scraping by to survive, and trying to decode a series of messages her friend left behind that could possibly save the world if she cracks them. It's haunting and visually arresting and occasionally has some scary-ass monsters. Think survival horror as a dream sequence.
Sweetheart
Vulture called Sweetheart a "diamond-sharp" thriller when it debuted earlier this year at the Sundance Film Festival, and at less than 90 minutes long, it is indeed lean and mean. Kiersey Clemons — carrying almost every minute of the film on her own — stars as Jenn, a woman who becomes stranded on a beautiful island and must survive hunger, dehydration, and the presence of a mysterious creature that starts to stalk around her camp at night. This contained creature feature is director J.D. Dillard's first follow up to the 2017 fantasy-tinged thriller Sleight, and with it, he continues to show off his ability to make big worlds on small budgets.
Tigers Are Not Afraid
American audiences had to wait two years to finally see Tigers Are Not Afraid as it rolled out around the world, but this gritty ghost story managed to surpass the hype. Mexican writer and director Issa López's beautiful, brutal dark fairy tale centers on a group of children orphaned by gang violence who are being hunted by thugs and followed by a mysterious other-wordly presence. It feels like a bracingly current successor to the early cinematic legacy of Guillermo del Toro — small-focus stories blown out into imagination journeys through the fantastic — who has raved about the film and is now collaborating with López. The filmmaker wanted Tigers to feel like a war movie in its execution, and her blend of wonder and realism is a best-case example of how horror cinema can snap our world into such clear focus.
Us
Jordan Peele's follow-up to Get Out pushed his thematic ambitions even further: Us is an action thriller, a sci-fi horror film, and even a family comedy that comments on race, class, Generation X, and more. At the heart of it all is a gripping dual performance by Lupita Nyong'o that should vault her into the For Your Consideration race come awards season. With Us, Peele cements his status as a thrilling creative talent willing to go big.
Velvet Buzzsaw
Velvet Buzzsaw is exactly what Netflix is for: Get a fascinating director together with a great ensemble cast, throw a lot of money at the whole thing, and let it all be as weird as possible. Writer and director Dan Gilroy's follow-up to the enthralling Nightcrawler sees him reuniting with Rene Russo and Jake Gyllenhaal. She plays a high-end-gallery owner named Rhodora Haze and he plays an esteemed art critic named, yes, Morf Vanderwalt. There's also Toni Collette as a bitchy art buyer, Natalia Dyer as a lowly executive assistant named Coco (who is hilariously referred to as Rococo), and Zawe Ashton as the ambitious climber Josephina. Together, they all end up in crisis when a cache of brilliant work is discovered in a dead man's apartment and it literally starts killing people. The death scenes are fantastic. The narcissism is dialed up to the max. The bangs on Gyllenhaal are unforgettable. A wonderfully fun blend of camp and horror.
The Wind
One thing that sort of gets left behind in movies about pioneers on the frontier is that the frontier was probably really scary. Homesteaders were out in the middle of nowhere, vulnerable to murderous passersby and/or malevolent spirits. The scope of The Wind, from director Emma Tammi and screenwriter Teresa Sutherland, is enjoyably narrow. A woman named Lizzy (Caitlin Gerard), who is often left alone by her husband — because everything is far away or hard when you're a pioneer — starts getting haunted by either a ghost or her own mind or both. As the story slowly unfolds, we learn about the strange and sometimes tragic events that have shaped Lizzie's isolated life on the prairie, and the combination of Gerard's powerful performance and the ever-more-chilling setting makes the world itself start to feel like a constant threat.
For more of the year's greatest pop culture, don't miss Vulture's list of the best movies, best songs, best albums, best books, and best video games of 2019.