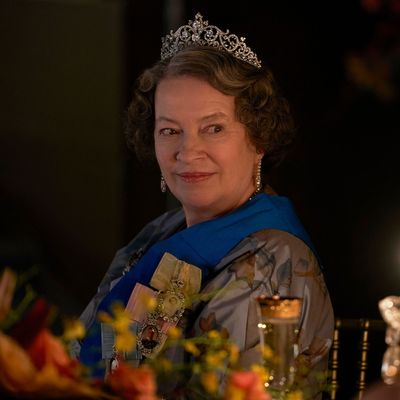 Photo: Courtesy of Des Willie/Netflix
The word imbroglio may have been Queen Elizabeth the Queen Mother's (Marion Bailey) choice description of the problematic relationship between Prince Charles and Camilla Shand, but it also superbly defines the complex nature of the royal family's evolution over the next few decades. We all know that Charles and Camilla probably shouldn't have been separated in the first place, and that the archaic attitudes that led to their breakup were a recipe for disaster.
However, as someone who's been infatuated with the royal family since I could read People magazine, I cannot deny the importance of Charles's marriage to Lady Diana Spencer. If Diana hadn't entered the picture, we wouldn't have the two people who were capable of creating the kinds of revolutions within the monarchy that Charles, for all his talk of change, could never ever dream of: Princes William and Harry.
While it's difficult to accept the underhanded scheming of Lord Mountbatten and the Queen Mother, I have to admit that I was pleased at The Crown's decision to portray the queen herself as a Charles-Camilla supporter — at least until she found out that Andrew Parker Bowles was still in the picture. Here I thought that she would be so frightened of another duke and duchess of Windsor situation, when in actuality, unlike her mother and Uncle Dickie, she's learned from the mistakes of the past: She's seen enough heartache in her lifetime between her sister Margaret and her Uncle David that she knows that denying people their happiness for the sake of royal tradition only leads to misery.
It's just a shame that she wasn't open-minded enough to let Charles, Camilla, and Andrew sort things out on their own, like adults. To The Crown's credit, it is beginning to show the earliest hints of the queen's regrets over these outdated mind-sets: During Elizabeth's episode-closing speech, on the occasion of her 25th wedding anniversary to Prince Philip, she hypocritically talks about how "the right kind of partnership is the foundation on which a successful family must rest." The speech is then intercut with Camilla and Andrew's 1973 wedding, and scenes of Charles, half a world away, crying over his lost love. But Olivia Colman's somber visage cannot hide Elizabeth's realization that putting antiquated restrictions on one's choice of life partner cannot continue if the royal family is to survive.
So in case you haven't figured it out by now, "Imbroglio" is a pretty gloomy episode. It hardly needed the 1972 impasse between the Conservative government and the mine workers' union as a backdrop, but I just assume that writer Peter Morgan wanted to make absolutely sure that we were grasping the dismal mood. When even the residents of Buckingham Palace are subjected to nationwide blackouts, there is no escaping the distinctive sadness in the air (though watching the queen and the Queen Mother roam around the palace in their fur coats was plenty amusing).
Keeping with its bleak theme, the episode opens with a funeral. It's technically the duke of Windsor's, but it feels like a memorial service for Charles's heart because his secret relationship with Camilla is already DOA. Wallis, the duchess of Windsor, offers Charles, on leave from the naval academy, two cautionary pieces of advice: "Never turn your back on true love" and "Watch out for your family." She knows from experience that the royals are going to do everything in their power to split him and Camilla up.
Which they did. The real meddlers in this story, according to The Crown, wound up being Lord Mountbatten and the Queen Mother, who infuriatingly deem Camilla unsuitable for not being a virginal aristocrat (all the while sexist bastard Dickie was encouraging Charles to "sow his oats"). In a fireside scene that I had to keep rewatching to make absolutely sure that it wasn't a lost episode of Game of Thrones, the two conspire over glasses of whiskey: Tywin will arrange a long-term overseas naval posting for Charles, while the Queen Mother will ensure a marriage between Andrew and Camilla. The latter takes place during an eerie candlelight meeting with Andrew's and Camilla's parents, where we can only assume the Shands and Parker Bowleses were ordered to set a wedding date.
No matter how rightfully angry the queen is once she gets word of the latest palace intrigue, there's one thorny factor that ever so slightly validates her mother's and Dickie's actions: Throughout her relationship with Charles, Camilla never fully let Andrew go, and Charles was too naïve to see it. No matter how many times Camilla talked about how "complicated" things were with Andrew, or how she wasn't supposed to fall for Charles, or how Andrew was lurking in the background while Camilla was on the phone with Charles, the prince remained blinded by his love.
It's only when the queen learns that Charles is part of a love triangle, rather than a committed relationship, that she accepts and supports the machinations of her family members. She gets the unvarnished truth from a "Starman"-humming Princess Anne: A Charles-Camilla wedding would have to come with the prince's willingness "for there to always be three in the marriage." (How prescient.)
So really, The Crown's argument for why Charles and Camilla were forced apart in their early days was less about Camilla's "unsuitability" and more about how the family had a problem with her not being monogamously devoted to Charles. If marriage is on the table, I can't blame them for that, though it would've been nice if they had allowed things to naturally run their course. Besides, was Camilla ready to settle down with Charles (or anyone?) at this point? And was Charles ready to do the same? Who knows? I think the real tragedy of what happened between these two is that they were puppet-mastered by those who held onto old-fashioned ways of thinking for far too long. But if people like Lord Mountbatten and the Queen Mother hadn't stepped in, we wouldn't have Diana, William, or Harry. Strangely enough, the imbroglio remains a vital part of the family's progress.
Crown Jewels
• Bravo to The Crown helping to bring feminism into the palace. I loved that Anne brazenly admitted to having sex with Andrew Parker Bowles in front of her mother, father, grandmother, and great-uncle.
• Because we know that Charles and Camilla will have their happy ending someday, I thought it was a brilliant move to have the camera focus on a melancholy Margaret and her husband, Lord Snowdon, during the queen's speech touting the institution of marriage. It was even more genius to have the Queen Mother sitting in front of them, oblivious to the harm her obsolete beliefs have caused her daughter and grandson.
• It was great to see the queen break protocol during her private meeting with Edward Heath by showing her support for the mine workers and expressing her displeasure at his stubborn behavior. She may not be able to get involved directly, but I don't think any prime minister should take the Queen's icy glare and refusal to extend her hand lightly.