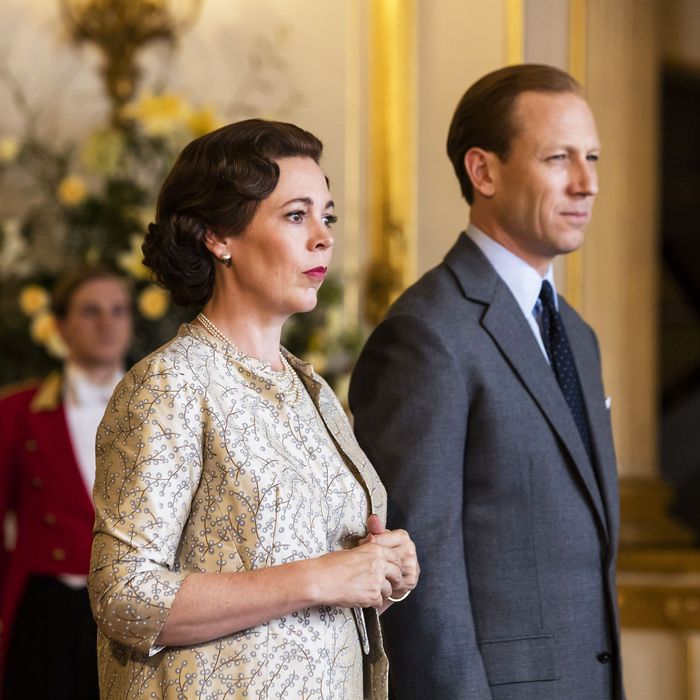 Olivia Colman and Tobias Menzies, taking over royal duties in
The Crown
.
Photo: Netflix
In The Crown's third season, some major things have changed, but fundamentally, the Netflix drama remains the same. It is still gorgeously photographed, still committed to shining a new light on royal history, and still immensely satisfying to watch. It is also still extremely well-acted, even though that's where the biggest shifts occur.
For those who haven't kept on top of their The Crown casting news, the three principal characters — Queen Elizabeth, Prince Philip, and Princess Margaret, previously portrayed by Emmy winner Claire Foy, Matt Smith, and Vanessa Kirby — were recast to reflect their advancing ages in season three, which debuts November 17 and covers a 13-year span from 1964 to 1977. Respectively, they are now played by recent Oscar winner Olivia Colman, Tobias Menzies of, among other things, Outlander and Game of Thrones, and Helena Bonham Carter. As you might expect, every single one of them is magnificent. There is one moment in the first episode where an aide notes that a new image of Queen Elizabeth, to be displayed on British stamps, reflects her more (ahem) mature appearance, which is a little jarring since the third season begins only a few months after season two ended. Other than that, the transition is perfectly smooth, with Colman, Menzies, and Bonham Carter sliding into these roles as if they've been wearing them since the beginning.
The Crown routinely gets praise for some of the elements I've already mentioned: impeccable direction, fine acting, its overall top-notch production values, which remain top-notch in season three. But one of its best, most overlooked qualities is the fact that it delivers television that is episodic in the truest sense of the word. While it's certainly ideal to watch all ten of these episodes in their intended order, one could theoretically stream episode three or six in isolation and not only follow what's happening, but also feel like they had digested a single story, completely told. The Crown certainly possess the ambition and artistry that might tempt some people to use that phrase that's thrown around a lot about prestige television: It's like a movie. But The Crown is not a movie. It's exceptional television that takes full advantage of the narrative structure and scope the medium provides.
Season three largely reflects the era of Harold Wilson, the U.K. prime minister who served from 1964 to 1970 and then again from 1974 to 1976, when he resigned for health reasons. The unexpectedly warm relationship that develops between the queen and the Labour Party politician with a thick socialist streak, played by Jason Watkins, is one of the season's through lines. But the strongest recurring theme is the idea that being born into a royal family repeatedly chips away at a person's free will until it feels basically gone.
We see that expressed when Elizabeth takes some time to travel with her friend and horse-racing manager Porchey (recast this season with Poldark's John Hollingworth) and wonders what her life might have looked like if she'd lived it outside Buckingham Palace. We see it when Philip, coated in an even thicker crust of cantankerousness, goes through a midlife crisis and becomes obsessed with the Apollo 11 mission. We see it in the restless dissatisfaction that Margaret carries with her everywhere — she never forgets her restless dissatisfaction, or her cigarettes — as well as in her eroding marriage to Tony (Ben Daniels, in another bit of recasting, taking over the role handled last season by Matthew Goode). We absolutely see it in a young Prince Charles (Josh O'Connor, who resembles the Prince of Wales more than you might expect), who desperately tries to carve out his own path, one that he'd like to walk with a woman for whom he has fallen. You might have heard of her. Her name is Camilla, soon-to-be Parker-Bowles, and she's played by Emerald Fennell of Call the Midwife.
"Not having a voice is something we all have to live with," the queen tells Charles when he objects to breaking things off with Camilla. "We have all made sacrifices and suppressed who we are." This is a family, as those who know their royal history are already well aware, doomed to keep passing down the same repression from generation to generation.
The Crown is also a show that isn't necessarily subtle about communicating its central messages, as that bit of dialogue suggests. Creator Peter Morgan, who scripted nearly all of the season, can be a bit heavy-handed in that regard. When Margaret cranks up her personality in a very non-British way during a White House visit with President Lyndon B. Johnson and succeeds in winning his favor, Elizabeth laments that Margaret "was all the things I told her not to be, all the things I could never be." It's already obvious that Elizabeth wishes she had the natural charm that Margaret possesses in unlimited supply. But sometimes The Crown can't resist stating the obvious.
Still, that's a pretty minor issue because, in every other way, The Crown is an absorbing, thoroughly enriching experience, so much so that it's difficult to pick a stand-out episode. Certainly episode two, "Margaretology," which follows Margaret and Tony on their trip to America, is the most fun installment of the season. Its highlight: a totally delightful sequence that toggles between Prime Minister Wilson at Buckingham Palace, explaining to the queen what occurred when Margaret met with President Johnson, and a depiction of that White House occasion, as it devolves into a drinking and limerick recitation contest. ("The found her vagina in North Carolina," ends the winner from Margaret, "and her asshole in Buckingham Palace.")
On the other end of the emotional spectrum, there's episode three, "Aberfan," which depicts the tragic 1966 colliery spill in a Welsh village that resulted in the deaths of 144 people, 116 of whom were children. The detail-oriented depiction of the incident, and the anger expressed by the grieving when it becomes clear that segments of the government were lax in their oversight of that coal operation, contain shades of HBO's Chernobyl. This season of The Crown frequently steps back to provide a wider picture of events like this, both in England and around the world, then spins the camera back to Queen Elizabeth to demonstrate the impact of those events on her leadership. In the case of the Aberfan disaster, she faces and ultimately succumbs to pressure to visit the accident scene, one of multiple hints that modern times are beginning to demand more transparency and outward empathy from the royal family.
Colman, who demonstrated her flair for playing eccentric characters in both The Favourite and Fleabag, has to do pretty much the opposite here and succeeds beautifully. Her performance is all about that suppression she mentions to Charles. Even when she's putting on a pleasant or neutral expression, you can tell that Elizabeth is swallowing her feelings, gulping down words so they don't accidentally escape from her mouth. She even admits in a conversation with Wilson that she wonders if something is wrong with her because she is so emotionally stunted. Colman's performance is a season-long exercise in extraordinary restraint that provides a profound payoff. When a family crisis finally does make Elizabeth lose it — or at least lose it to the extent she's capable — it's an extremely moving moment.
Menzies, on the other hand, doesn't hold back from displaying Philip's impatience and stubbornness. But he also allows the prince's insecurity and vulnerability to peek through, particularly in the moon-landing focused episode. Make no mistake, though, this man is uptight, and Menzies never lets you forget it. Philip clenches his jaw so hard and so frequently that after a while the mere sight of him made my molars hurt.
And then there's Bonham-Carter, who, like Kirby before her, wears Margaret's scorn and droll attitude on every sleeve in her extensive wardrobe. Where Colman has to hold back, and hold back, and hold back some more, Bonham-Carter glides through her scenes like the personification of Cool Britannia. She is both sad and sexy at the same time, and never more so than when she meets future lover Roddy Llewellyn (Harry Treadaway), a gardener whose services she immediately seeks out during a shopping trip.
While he's in the dressing room, he mentions that proper gardening requires "nimble fingers." The way those words prompt Bonham Carter to peel Margaret's body off a wall she's leaning against suggests she's already decided to peel off a few other things as soon as she gets the chance. Bonham Carter is always terrific. Here, she's extra-terrific.
What's particularly great about all of these performances, and The Crown in general, is that it makes room for us to empathize with these people without glossing over their obvious faults. Elizabeth says some unimaginably cruel things, particularly to Charles. Margaret is ridiculously self-involved. Philip is a privileged ass. ("We all desire equality, but here's the thing: we were not born equal," Philip says at one point, unintentionally summarizing the difference between British ideals and American ones.) But you can't watch The Crown and conclude that any of them are fundamentally bad. They are complicated and dealing with mixed motivations and utterly imperfect. They are humans in all their fascinating contradictions. They just happen to be the kind that get to live in castles and wear crowns, whether they want them or not.