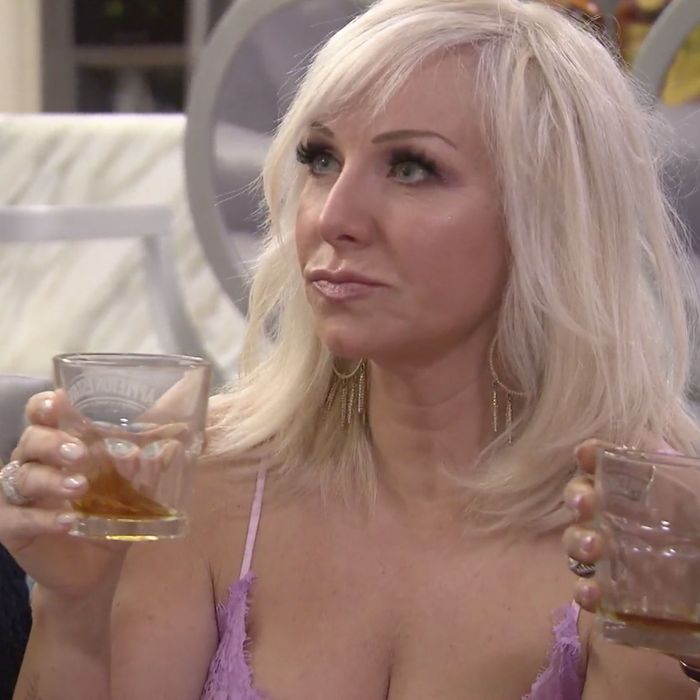 Happy not-quite Thanksgiving! I am writing this recap from my parents' house in Bergen County, which explains the buzzing of pure, unadulterated Jersey energy you feel coursing via my keyboard all the way through your screen. If you close your eyes, I bet you can smell the Nabisco plant off Route 208.
To pay off the blood debt she owes in the wake of her lawsuit with Vineyard Vines, widely considered the mafia of preppy-casual clothing lines for Cornell alumni on vacation, Margaret and Joe are selling off the lot adjacent to their home. For the very reasonable price of $1.7 million, you could become their neighbor — with a non-negligible chance of being featured in the background of RHONJ shooting Marge's next birthday party, depending on just how close to the windows you're willing to press your nose — and get exclusive access to the haunted murder-swamp of a former swimming pool that comes with the property. If your offer is good enough, Margaret may even throw your husband into it.
Melissa and Joe consult a fertility specialist about the possibility of having a fourth kid, which would require IVF, because she had her tubes tied. The good news is that an ultrasound of Melissa's ovaries confirms there are eggs yet to be cracked inside this lady carton. With the vital assistance of a lovingly curated throwback selection of porn DVDs, a sample is collected from Joe Gorga, and we all can now say that — from within the sterile confines of the doctor-provided specimen container, but still — we have seen his semen, which, I don't know about you, is not something I particularly expected when I woke up this morning.
This year, I am thankful for the Aydin family: specifically, whichever one of Jennifer's sons it is who waves a $100 bill around like it's a mid-grade Pokémon card, and whichever one of her daughters addresses Jackie by her first name and explains, "I want to go inside, because I'm not really an outside person."
Compared to Jennifer's penchant for throwing what are surely the financial equivalent of lavish weddings for her own offspring's birthdays, Jackie's driveway basketball-court party to celebrate her older twins turning 11 — featuring favors thrown at children in the Amazon cardboard boxes they came in, a tablecloth that doesn't fit its table, and a single bag of Sour Patch Kids — is Denise Richards rolling up to RHOBH hotel-suite drinks in a tank top and bedazzled shorts. To Jennifer, it may be "underwhelming," but I love it. Back in my day, the archetypal North Jersey birthday party looked exactly like this, unless you were lucky enough to find yourself jamming your nacho cheese-sticky fingers into the holes of the pink six-pound balls at Bowler City in Hackensack or — holiest of holies — housing uncut chocolate crumbles in the back room of the Dairy Queen in Emerson.
Hold on, excuse me, I've committed a grievous wrong. Why are we bothering to talk about literally anyone else's birthday, anywhere in the world, in any year past, present, or future, in this dimension or any other, when it is Jennifer's birthday?
In case you forgot which country we're jetting off to, Jen, zipping around on a public menace of a scooter suitcase that the TSA almost certainly should have confiscated, then set on fire, insists on greeting their driver in an extremely cringey accent: "Hey, Jamaica mon! How you doing? I'm Jennifer, mon!" It's not every day that you witness behavior that makes Heather Thomson's holla!-ing look utterly organic and unproblematic by comparison.
This may nominally be Jennifer's trip, but it is naturally Teresa who wields Ramona Singer-esque levels of room-assigning power. It is predetermined that Tre, Jen, and Dolores will invite Melissa to stay with them in their opulent four-person villa; Margaret is relegated to bunk with Jackie, Giudice Enemy No. 1. Marge being picked last (well, second to last) for the gym-class dodgeball team that is this vacation is evidence that — despite their supposed reconciliation last week — her relationship with Teresa is eroding faster than Jersey Shore dunes during hurricane season.
Poor Jackie. This isn't her season. I'm not even sure this is her show. For one thing, this week brings us a weird mini-storyline about exactly how much food Jackie, who has been open about her history with disordered eating, is or isn't consuming, which doesn't feel like something that is remotely my business to speculate on. Over in the fancy-schmancy villa, Jennifer asks Dolores if she considers Jackie a friend. Who knows exactly how much editing went into this scene, but D's final answer is clear: No.
A rum tasting over at Chez Jennifer-Teresa-Dolores-Melissa leads to increasingly unhinged conversation. Margaret likens one drink to a "beautiful urine sample." Jennifer freely offers that she makes appointments with Bill to have orgasms. "What happened?" asks Tre, who didn't hear. "She has orgasms," Melissa explains.
When they're served a sample of a 21-year-old rum, Margaret cracks, "She likes a minimum age of 21, Teresa. She doesn't like jailbait." Teresa, of course, is embroiled in rumors of her having an affair with a younger man, and the joke's reception is decidedly chilly. "What's that supposed to mean?" Teresa asks.
Is this the most offensive thing I've ever heard? This isn't the most offensive thing I've heard in this single hour of television. But despite Margaret's repeated insistence that it is a funny line, it is not (still love ya, Marge), and worse, it violates the absolute moral obligation to genuflect before Teresa that is apparently item one in the release form everyone is required to sign in advance of appearing on RHONJ. She may not have had much of a reaction yet (Jennifer wonders in a confessional if Teresa actually understood the joke), but Melissa predicts that Mount St. Teresa will blow sooner or later.
Over a tipsy dinner, Melissa mentions to the group that she's considering in vitro fertilization. "No!" Jackie exclaims, unsubtly. "This is an April Fooz [sic] joke right now," Dolores mutters. Margaret advises her to get another dog instead.
The conversation makes a hairpin turn to the elusive Dr. David. Why didn't he come to Melissa's party? What happened to Dolores demanding a commitment? Why aren't they engaged? Dolores, as you would expect, doesn't allow them an inch.
Jackie, who if I have visually calculated her blood-alcohol level correctly, is approximately 1.2 more drinks away from crying at the table, says she thinks Frank doesn't like her — and worse, why didn't Dolores stand up for her when Frank said vaguely derogatory things about female attorneys at Melissa's eyeball party? Jennifer, with strong excuse-me-teacher-you-forgot-to-assign-homework energy, pipes up to inform Jackie that, well, Dolores said earlier that very day that she actually doesn't consider her a friend. Unsurprisingly, neither Jackie nor Dolores are thrilled about this development.
Jen insists she isn't trying to start trouble, which is hilarious, because that is exactly what she is trying to do. Honestly, I applaud her for it. If you say you don't consider a castmate a friend on camera, you can probably expect that to air on television—surrogate producer Jen is just catalyzing that drama to happen a little faster. We can't save everything for the reunion, people!
The scent of her very favorite cold-hearted bitch's blood in the water is all the invitation Teresa needs to start in on complaining about her, too. Jackie reminds her that she has apologized, like, three times now. As a viewer, this is getting exhausting; I can't imagine what a fucking drag it would be to actually live this perma-conflict. "Can we stop being hurtful to each other?" Jackie asks. "I just want us to be, like, nice to each other." Teresa agrees, if not very enthusiastically.
It's a Thanksgiving Eve miracle — not that I necessarily believe there's a path forward for their relationship, but at least no birthday cakes were injured in the making of this episode.