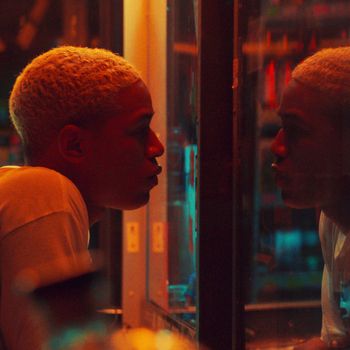 Writer-director Trey Edward Shults likes to call his dizzying, devastating, hip-hop-saturated third feature film Waves a "diptych." The A24-distributed drama (which arrives in theaters Friday) is broken into distinct first and second halves, with alternative sets of lead characters. Each section features its own plotline that, while inextricably linked to the other, ignores the traditional three-act structure that governs so many movies — even the art-house-iest of indies.
The first part follows Tyler (Kelvin Harrison, Jr.), a South Florida high-school wrestling ace with a Frank Ocean–esque dye job. At the outset, he's trying to balance a budding romance with his girlfriend, Alexis (Alexa Demie), as he develops a taste for chemical stimulation to satiate his father's demands for athletic dominance. (Sterling K. Brown plays the noticeably swole dad.) In the aftermath of unexpected calamity, however, Waves' center of gravity abruptly shifts to Tyler's younger sister: the sharp, sensitive Emily (newcomer Taylor Russell). And from there, the film's tone recalibrates from Gen Z dissolution — emphasized by Trent Reznor and Atticus Ross's anxiety-inducing score — into a gracefully rendered paean to familial reconciliation, just as Russell's character falls for her soft-spoken classmate, Luke (Lucas Hedges).
Shults, for his part, was inspired to structure Waves as a two-chapter affair after watching Wong Kar-wai's 1994 comedy-drama Chungking Express six years ago and experiencing what the 31-year-old Texas-born filmmaker calls "an epiphany." "I love two-part films and that one, like, actually switching protagonists and starting a new love story was really huge," Shults tells Vulture. "I got this idea [Waves] could be a brother and a sister. And then it became about, to me, the yin and yang and how those hubs fit together to complete this whole piece. I don't think either one works by itself."
"I wanted [the first part] to spiritually feel like a panic attack is seizing in," he adds, "and then you get on the other side and it's like the movie gives you a hug and tries to sort things out."
Since premiering at the Telluride Film Festival in September (and playing in competition at the Toronto International Film Festival days later), Waves has surfed into awards season on a current of swooning reviews; as of this writing, it boasted an 88 percent fresh rating on Rotten Tomatoes. Sasha Stone wrote in The Wrap: "[Shults's] camera expresses the internal worlds of its subjects with such intimacy you almost forget it's there — until you are hit with another glorious, breathtaking shot." Barry Hertz of Canada's Globe and Mail focused more on Waves' horrorlike capacity to induce dread and loathing. "I fear others may be anxious to call it some sort of #woker Manchester by the Sea, noting how both films pivot on grief and feature standout performances from Lucas Hedges," Hertz wrote. "But for most of its running time, and with swirling camerawork that will spark nausea among some audiences — Waves is as anxiety-inducing as any other journey into the dark and unknowable."
Turns out that Shults — a former Terrence Malick apprentice responsible for the micro-budget domestic drama Krisha and the eerie arthouse horror-thriller It Comes at Night (which also co-stars Harrison) — embarked on the Waves project more than a decade ago with a totally different agenda. "I was in high school and had music and images in my mind, like Dazed and Confused," the director admits.
But it wasn't until about a year and a half ago, when he and Harrison began conducting what Shults refers to as "mini therapy sessions," during which they discussed their respective high-school years, parental relationships, and romantic lives in depth. That was when the Waves script finally began to take shape. Although Shults hadn't originally intended to plot the film around a black middle-class family, Harrison's acceptance of the lead role and biographical input resulted in the film's reimagining. "It happened so organically," Shults says. "I met Kel on my last movie and we loved each other and wanted to make something together and it was extremely collaborative. While I was writing, we were talking about our past, our parents, lover pressures, differences, commonalities. And, you know, specifically what it felt like as a young black man. So it was just collaboration. He gave me detailed notes on everything."
Movies like Green Book have taken no small amount of flack for telling the story of a black character through a white lens. Shults reiterates that he relied on Harrison's constant feedback when making his movie, as well as the feedback of his primary cast members Russell, Brown, and Renée Elise Goldsberry (who portrays Russell and Harrison's stepmother). "I felt like my job was to just listen and understand and communicate," Shults says. "If it wouldn't have happened under that set of circumstances, I don't think the movie would have ended up what it is."
The film's soundtrack functions something like a character in its own right. Songs from A$AP Rocky, Tame Impala, Kanye West, Amy Winehouse, Tyler the Creator, Alabama Shakes, Kendrick Lamar, and no fewer than five tracks from Frank Ocean situate the film in a specific cultural moment — West's "I Am a God," in particular, is tactically deployed for maximum dread in the movie's most tragic sequence. According to Shults, around 80 percent of the songs eventually heard in the movie were written into the script with hyperlinks allowing readers to hear the music as they read through the pages.
In order to secure the song rights, the filmmaker set out on a letter-writing campaign, contacting each individual artist with a promise to send them a rough cut of the sequence in which Shults hoped to use their music. (He did.) "I think something that helped is, I loved the music so much and every song I'm just trying to use in a specific way," he says. "So I was just trying to communicate that in the letters."
"I feel incredibly blessed!" he adds. "We didn't think we'd actually get all this music. Like, we were never going to get this, right?!"