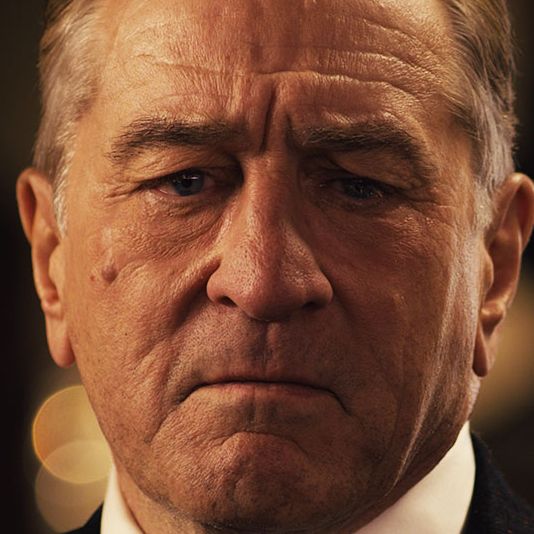 The most fascinating mobsters and significant bystanders in Martin Scorsese's gangster movie, explained.
Photo: Netflix/SplashNews.com
Martin Scorsese's nonpareil gangster testament The Irishman factors in decades of American history, Teamster corruption, and violent Mafia lore, all condensed into a screenplay by writer Steven Zaillian. But as the film notes in its bookending moments, it's all told with the reliability of a confession from a lonely man in a retirement home. Robert De Niro's wilting version of the enigmatic Irish hit man Frank Sheeran guides viewers through just one account of this secret and gruesome history.
Inspired by Charles Brandt's book I Heard You Paint Houses (which is based on Sheeran's own accounts), The Irishman is a sprawling epic about how different mob groups — from New York, Philly, and Detroit — organized their influence on crime via unions across the country, and very well could be responsible for the death of Teamster god Jimmy Hoffa, a kill that Sheeran claims. Within the movie's three-and-a-half-hour run time, Sheeran's life story touches upon a great deal of real-life mafiosi, even if some of them are reduced to cameos, only glimpsed in pauses that allow Scorsese to explain how certain people met gruesome demises. For those curious about the backgrounds of the film's slew of fascinating mobsters and significant bystanders, here's a deep dive into the players of The Irishman. Not everybody gets whacked.
Jimmy Hoffa
According to The Irishman, the real-life Jimmy Hoffa enjoyed a Beatles-level popularity after he became president of a massive coalition for truck drivers, the International Brotherhood of Teamsters Union from 1957 to 1971, and helped create the formation of a union health and welfare fund. In 1964, he helped establish the 1964 National Master Freight Agreement, which united more than 400,000 long-haul drivers under a single contract. But while Hoffa was able to grow the union with these accomplishments, he reaped criminal benefits, too, like when he used the Teamsters pension fund to buy real estate in Florida, and to help fund Las Vegas casinos built by Mafia bosses. Hoffa's disappearance on July 30, 1975, is still unsolved, though there are numerous accounts about what actually happened, and where his body ended up.
Frank Sheeran
The real Frank Sheeran is an unreliable narrator who claims to know an expansive history of the Mafia's connections with unions. In The Irishman, Robert De Niro is a strong physical match for the imposing role, though in reality Sheeran was six-foot-four. Throughout Brandt's book, Sheeran details, or confesses to, how he rose through the crime scene as a truck driver turned union official and hit man, and totaled around 30 kills for Hoffa's benefit alone. Sheeran's account has been contested, like in this recent Slate piece by Bill Tonelli, who interviewed different investigators, historians, and witnesses about the truthfulness of Sheeran's claims. Sheeran says he helped liberate those at the Dachau concentration camps, and won a dance contest in 1941 doing the jitterbug. Sheeran died in 2003 at the age of 82.
Russell Bufalino
Joe Pesci's performance as the widely known mafioso Russell Bufalino nods at both the public's familiarity with this member of the Philadelphia crime family, but also at his reputation as "the Quiet Don." Known for his unassuming presence but deep influence, he was rumored to have had a part in an assassination attempt against Fidel Castro, and also in getting Al Martino a part in the movie The Godfather. Contrary to Frank's poetic description in the film about how Russell's last days involved going to the prison church, hospital, and then graveyard, in real life Bufalino was later released from prison and died in a nursing home at the age of 90, after handing over control of his weakening crime family to his former driver, William D'Elia.
Angelo Bruno
Played in the film by Harvey Keitel, Angelo Bruno is associated with Sheeran's earlier days (Frank mistakenly bombed out a laundry business in which Bruno had money). In real life, the Philadelphia Mafia kingpin was known as "the Gentle Don," and took on the surname Bruno as a tribute to Philly gangster Giuseppe "Joe Bruno" Dovi. Bruno died from a shotgun blast to the head while sitting in his car outside his house, which started a war between different factions of the Philly mob.
Tony Provenzano
Known as "Tony Pro," Provenzano (played by Stephen Graham in The Irishman) got into the Teamsters Union initially working as a truck driver, and soon became president of the Teamsters Local 560 Union in Union City, New Jersey, and vice-president of the International Brotherhood of Teamsters. He managed booking, numbers, and loan-shark activities in New Jersey, but was caught in an extortion case in 1966; though they're presented in The Irishman as contentious from the start, Tony Pro was friends with Hoffa until they had a falling out in prison that's depicted in the film. Various accounts about Provenzano's whereabouts on the day of Hoffa's disappearance, for which he is considered to be directly involved, place him either in New Jersey, or closer to the action in Detroit.
Anthony "Fat Tony" Salerno
"Fat Tony" Salerno is introduced later in The Irishman, but the cigar-chomping, fedora-wearing mobster of the Genovese crime family is framed as a key decider on Hoffa's disappearance. In the 1960s he controlled the largest racket out of New York, and established a headquarters at the Palma Boys Social Club in East Harlem, where you can see Domenick Lombardozzi's version of him sipping his cups of espresso in The Irishman. In 1986, Salerno was named by Fortune magazine as one of the wealthiest, most powerful gangsters in America.
Felix "Skinny Razor" DiTullio
Felix "Skinny Razor" DiTullio (played by Bobby Cannavale in The Irishman) was the main assassin for Angelo Bruno, and a revered mob captain in Philadelphia. He got his start as a bootlegger, and then moved up to collecting and shakedowns. DiTullio also mentored rising mafia dons like Nicodemo "Little Nicky" Scarfo and Ralph Natale. DiTullio died from natural causes at the age of 60. The Friendly Lounge, where DiTullio is seen enjoying his steaks in The Irishman, is still standing in South Philly.
Joseph "Crazy Joe" Gallo
Also known as Joey the Blond, this gangster in the Profaci crime family got the name "Crazy Joe" after he was diagnosed with paranoid schizophrenia. Gallo (played by comedian Sebastian Maniscalco in The Irishman) is thought to have killed Albert Anastasia — boss of the Gambino crime family — in a barbershop, which is depicted early on in the film. Gallo is also a part of another disputed Sheeran claim, as some say that it wasn't Sheeran who shot Gallo at Umberto's Clam House under orders from Russell, but Carmine "Sonny Pinto" Di Biase, under orders from the Gambino family. Bob Dylan later wrote a song about him, "Joey."
Bill Bufalino
Ray Romano plays Teamster lawyer Bill Bufalino, who originally helps Frank evade charges when sneaking meat over to Skinny, and was also an attorney for Hoffa. Bufalino had deep connections with members of the Detroit crime family, and represented the International Brotherhood of Teamsters from 1947 until 1971. From 1947 through 1967, Bufalino was also a president of the Teamsters Local 985 in Detroit, which was largely involved with jukebox transportation. He died of leukemia in a retirement home in 1990.
Chuckie O'Brien
Hoffa's adopted son Chuckie (Jesse Plemons) is framed by Scorsese's film as a type of accidental driver for Hoffa's demise who picks up Hoffa on the fateful day with Sally Bugs and Frank in tow. This aligns with Frank's telling, even though Chuckie earlier had a falling out with Hoffa, related to Hoffa refusing to back O'Brien for a Teamsters administrative post. Years later, Chuckie's stepson Jack Goldsmith wrote about the ways that the FBI used illegal surveillance on Chuckie and others, for a book titled In Hoffa's Shadow: A Stepfather, a Disappearance in Detroit, and My Search for the Truth. As Sheeran says in I Heard You Paint Houses, "If anybody deserves to be forgiven, it's Chuckie."
Salvatore "Sally Bugs" Briguglio
Briguglio got his nickname for the bug-eyed glasses seen above, and was secretary-treasurer of Union City's Local 560 International Brotherhood of Teamsters, replacing the man that he killed, with the help of Harold Konigsberg, Anthony "Three Finger Tony" Castellito (as depicted in the film). Briguglio's own death has two accounts: Some say he was being led away by two men, and others say he was merely knocked down and then shot multiple times. He's portrayed by the considerably tall Louis Cancelmi in Scorsese's film, but Sheeran describes him in Brandt's book as "a stout little guy."
Frank "Fitz" Fitzsimmons
Frank "Fitz" Fitzsimmons (played by Gary Basaraba in The Irishman) stepped in as a proxy when Hoffa went to prison in the late 1960s, but eventually became a president whom the mob knew they could control and wanted to keep in power. Sheeran describes Fitz in Brandt's book as "weak-minded," and that "everybody knew Fitz had no balls." Fitz died of cancer in 1981.
Allen Dorfman
The person in charge of the Teamsters' Central States Pension Fund, Dorfman (played by Jake Hoffman in The Irishman) worked closely with Hoffa and Bill Bufalino. In real life, Dorfman was a decorated Marine who was introduced to Hoffa by his Chicago gangster father Paul "Red" Dorfman, a Detroit Jewish Purple Gang bootlegger. Dorfman eventually set up an insurance company with his wife to insure (and later embezzle) money from the pension fund.
Peggy Sheeran
Keeping with her mostly silent presence in The Irishman, not much is known about Frank's daughter Peggy (Anna Paquin). Sheeran describes the relationship as Scorsese presents it: Peggy could "read [him] like a book," and disappeared from his life the day Frank came by the house after Hoffa's death.
Jo Hoffa
Born Josephine Poszywak, Scorsese's film presents Jo Hoffa (played by Welker White in The Irishman) primarily as Hoffa's supportive wife. But FBI surveillance in real life revealed that she dealt with a great deal of loneliness. She struggled with mental-health and addiction issues, and had an affair with a Detroit mobster named Anthony "Tony Long" Cimini, whom Hoffa tried (and failed) to have assassinated by Detroit mob don Joe Zerilli.
Albert Anastasia
Albert Anastasia (Garry Pastore) led a group of contract killers with thousands of kills called Murder, Inc., under Charles "Lucky" Luciano, a man considered to be the father of modern organized crime in the United States. Anastasia's barbershop execution at New York's Park-Sheraton Hotel in October 1957 is shown in passing in The Irishman (with the actual crime-scene photo included).
Tony Giacalone
One gangster whose role is considerably minimized by the film is Tony Giacalone (played by Patrick Gallo in The Irishman). In reality, he was considered by the FBI to be a mastermind in the Hoffa killing; he was involved in a botched plan to rob Hoffa's safe in Washington, D.C., with the help of Giacalone's brother, Vito. Tony was also in close association with Chuckie O'Brien and Chuckie's adoptive mother, Josephine.
Mary Sheeran
Not much is known about Mary Sheeran (played by Aleksa Palladino in The Irishman), Frank's first wife (they divorced in 1968), with whom he had three children: Peggy, Mary Anne, and Dolores. In I Heard You Paint Houses, Sheeran describes her as "a very quiet girl like my mother" (also named Mary), and "a very good woman and a very good Catholic."
Dolores Sheeran
One of Frank's daughters from his first marriage, Dolores (played at an adult age by Marin Ireland in The Irishman) would see her father on weekends after he divorced her mother, Mary. Dolores was given power of attorney by Sheeran before he died. In a revealing piece published by the Daily Mail in 2011, she talked about how after Frank died, she and her husband found 200 designer suits and 100 pairs of shoes in his apartment, indicating an interest in fashion.
Whispers DiTullio
One of Frank's first-seen kills in The Irishman is an older gangster named Whispers (played by Paul Herman), and it's based on a true event, in which Frank was almost trapped in a retaliation kill by Angelo. But Whispers DiTullio (who has the same last name as Skinny Razor, but is of no relation) was actually a guy in his early 30s, and according to Sheeran's accounts, "nowhere near a made man."
Stevie and Tommy Andretta
Two of the key people said to be responsible for the cleanup and disposal after Hoffa's execution were the Andretta brothers, Stevie (played by Joseph Russo) and his younger brother Tommy (Jeremy Luke). Stevie and Tommy were known members of the Genovese crime family that was run out of Tony Pro's New Jersey Teamsters hall.
Frank Sindone
One of the alleged conspirators to kill "Gentle Don" Angelo Bruno was mobster Frank Sindone. Sindone was involved with gambling and loan-sharking when working in the Bruno crime family. His body was eventually discovered in a plastic bag next to a pile of trash. He was shot in the back of the head just like Bruno.
Phil Testa
Phil Testa (played by Larry Romano) appears briefly in the movie, but had considerable power as Angelo Bruno's underboss in Philadelphia. Known as the "Chicken Man" for his pockmarked mug, Testa ran loan-sharking and gambling ventures for South Philly's Mafia, and succeeded Bruno for about a year until Testa was killed by a nail bomb that was placed under his front porch.
Joe Colombo
The Irishman briefly acknowledges the shocking public assassination attempt on a man named Joseph Colombo, which occurred on the second Italian Unity Day rally in 1971. Gallo was considered to be associated with the hit. Colombo was the crime boss of the Colombo family, and founder of the Italian-American Civil Rights League. Colombo was completely paralyzed by the incident, and died seven years later.