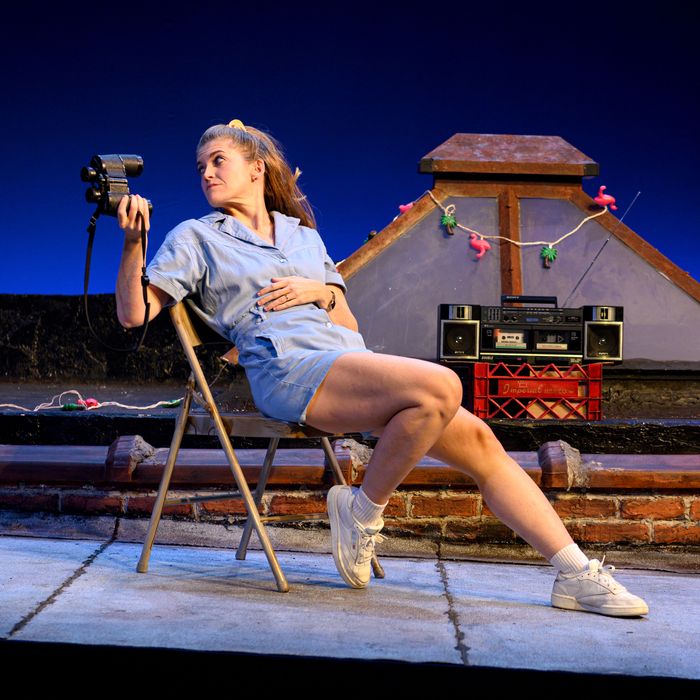 From
Dr. Ride's American Beach House,
at Ars Nova.
Photo: Ben Arons
The names of the women in Liza Birkenmeier's Dr. Ride's American Beach House will automatically make you cast your mind back 30 years. Not just the Dr. Ride in the title — the physicist Sally Ride who was the first American woman in space in 1983 — but the quartet of fictional Missouri ladies who do-si-do around each other and a summer rooftop in St. Louis. Primarily there's Harriet (Kristen Sieh) and Matilda (Erin Markey), best friends who at first seem interchangeable in their mauve waitress uniforms. Their old-fashioned names will remind you of the plucky heroines from books you read when you had scraped knees and bugbites — girls who were spies, rebels, avengers, and role models. "We don't talk about men on the roof," says Harriet at one point, extremely inaccurately (she has recently finished a shaggy-dog story about a shaggy dude). But everything about the setting — high above an unseen street below — and the women's joshing, unguarded voices makes it seem like we're peeping into a No Boys Allowed treehouse.
Harriet and Matilda are, though, adults, having come as a matched set through Catholic-school upbringing and twin (unused) graduate degrees in poetry. They're often entwined with each other, talking close, and it's unclear which one is dominant: Is it charismatic loudmouth Matilda or Harriet of the hidden depths? Both refer to male partners, a Luke and an Arthur, who barely figure; Matilda even has a daughter who has diarrhea like "a leaking Hot Pocket," she announces while squirming out a window and onto the tar-paper roof. But sick kid or no, Matilda wouldn't miss an installment of the Two Serious Ladies Book Club, her social hour with Harriet, when they can sing "A Groovy Kind of Love" and drink beer and eat Breyers out of the tub. Since it's the night before Ride's blastoff, we often hear the male news announcers through a crackly radio, talking about the countdown. Occasionally Harriet's landlady, Norma (Susan Blommaert), pops onto the roof with concerns about a dripping air conditioner, and eventually Meg (Marga Gomez) arrives, a new book-club recruit. But they're satellites to Harriet and Matilda, Matilda and Harriet.
Your queerness Geiger counter should be shorting out by now. Two Serious Ladies is a sapphic classic by Jane Bowles about shucking convention and living as you wish; Sally Ride herself lived privately, coming out of the closet only in her obituary. "She's a lesbian," announces Meg confidently, recognizing a sister, though the others still believe what they've read in Time magazine. Meg is the one who actually asks about the Harriet and Matilda's relationship, who nudges them about sex, who can see that the women are thrashing emotionally together like fish in a net. God knows Markey's raspy drawl could generate heat with a standing lamp, and Sieh has a way of seeming very rigid while also swaying, barely, towards the person speaking.
Birkenmeier and the director, Katie Brook, have built the show as a slow burn — the sun dies in the blue-painted sky (Kimie Nishikawa designed the set), and a trick of Ben Williams's sound and Oona Curley's light make the place seem hot and sticky and exactly midwestern. The women do start to melt into each other, but it's not some straightforward romance: Birkenmeier and Brook are interested in all the nuances of liking and knowing and needing. There's the ebb and flow of realistic talk, a bit of light binocular voyeurism, and Harriet relays some stories from her recent trip to Florida. The stories kind of wander into each other — Harriet often fades off at the end of sentence — but the parable is clear: She's learned at last to ask for what she wants. Then, after 80 luscious minutes of conversation, the company somehow has material for a whole nother play, a ten-minute scorcher between Sally Ride (Sieh) and an old friend Molly (Markey). NASA's phallic rocket waiting on its launchpad is forgotten; the women stare into each other's eyes. The play itself just keeps soaring up and up and up.
I'm still working out what's happening in Dr. Ride, because despite its casual humor and dizzying erotic atmosphere, there's something clean-lined and literary under it. Everything's been so carefully considered that it plays out like a formal court dance: each gesture mirrored, every movement countered by a partner. Even the way the women talk about poetry calls your attention to how landlady Norma talks in syncopated rhythms, pausing as if her thoughts contained the long dashes and caesuras out of Dickinson. In fact, Markey, Blommaert, and Gomez all speak with a kind of metered, emphatic artificiality — they're real and funny, but they're deliberately letting us hear their line breaks as line breaks. Sieh, on the other hand, seems to be having all these thoughts for the first time. I've been watching Kristen Sieh for more than a dozen years, and I keep thinking she can't surprise me again. I already know walking in that she's great. But then she'll go and be the best Viola in Twelfth Night that I've ever seen, or she'll slay me playing Teddy Roosevelt in a big old mustache. Here she's at her most pure and radiant, a narrow, determined candle flame. I think I must have looked too long at her face in the blue light of the final scene, because it's been stamped on my retina like it was burned there.
If your theater appetite hasn't been slaked by 90 minutes of beers and Breyers with Dr. Ride, then I'd recommend the Radiohole show Now Serving, back at Collapsible Hole in the West Village. I saw this short production in January, when it was swamped by the several experimental theater festivals that fight it out in the first weeks of the year, but now there's nothing of comparative weirdness to steal its thunder. Radiohole, to be honest, doesn't have a lot of competition in its genre: elegantly repulsive gorgeosity, something only avant-garde art vampires could come up with.
In Now Serving, a perverted banquet with live violin accompaniment, the Radiohole gang invites the audience (or part of it) to dine with them. There's an elaborate intake situation, in which three women in severe 1940s hats greet the theatergoers at teller windows. Eventually, we're ushered to our seats or to the table, a Twin Peaks orgy of black and red, where participants decant wine from IV bags and nod politely as the ladies (Amanda Bender, Maggie Hoffman, and Erin Douglass) talk Dadaistically about the frustrations of the patriarchy. There's a man in a Pepe the Frog costume (Eric Dyer) who is kind of a servant? Or a sex toy? Or a sacrifice? Or a meatloaf? I remember some upsetting stuff around arugula, and Kristin Worrall — go-to chef for downtown experimenters — presents desserts that are meant to taste like mascarpone and clitoris. The dialogue frequently lurches into body horror: "Nobody else in the world knows how to kill the long pig" is the sort of line that keeps you up at night. ("Long pig" is supposedly what Pacific Islanders called human flesh.) And why do they keep describing the food as consensual?
I admit I didn't have the stones to sit at the table in January, but I've worked up my courage and I'd do it now. It's a chance to be absorbed into a Peter Greenaway film, into a Terry Gilliam landscape, into the weird fantasies of dreamers from David Lynch's Black Lodge. If you're a Radiohole virgin, this would be the right show to take your first steps with, since it's swift and service-oriented and willing to feed you. The danger is, the taste's addictive. I'm hoping to go back, and I don't usually see things twice. So how do you kill the long pig? Shouldn't I face the arugula and find out?
Dr. Ride's American Beach House is at Ars Nova at Greenwich House through November 23.
Now Serving is at the Collapsible Hole through November 16.