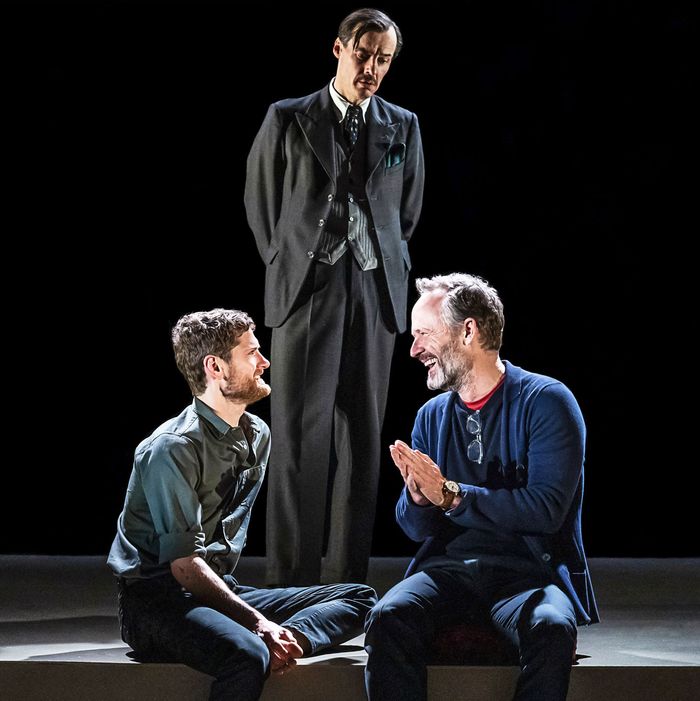 From
The Inheritance,
at the Ethel Barrymore.
Photo: Matthew Murphy
How do you recommend The Inheritance? It's immense, so offering it to someone feels like asking them to help you carry something heavy. This isn't an evening's entertainment: It'll eat a week of your life. Constructed as a two-part Broadway marathon—Part One is a three-and-a-half-hour comic tragedy and Part Two is a three-hour-and-ten-minute melodrama—it leans hard enough on E.M. Forster's Howards End that you might want to spend a day or two reading in preparation. Then there's the post-show anguish to reckon with: Matthew Lopez's skill at communicating sorrow might shatter you for hours, maybe days. And while it's got sublime sections, under all that weight, it wobbles. The play's most obvious forebear, Angels in America, is also long and taxing, also grapples with AIDS, also looks at the whole country through one bad breakup in New York City. But this ain't Angels. Lopez harnesses exhilarating forces, but then gets dragged by them, only to regain control for a moment, and then get yanked off his feet.
Lopez is interested in the way that things like reviews and recommendations are really shibboleths, the passwords that determine a community. Taste and the transmission of taste links Lopez's characters. This specific lineage of gay men doesn't share genetic ties, but they do share books — Giovanni's Room, Maurice, Sense and Sensibility — and films and music and dance. They use reading lists and references to seduce or test each other, to cement bonds, and to welcome newcomers. So even though the play falls from pathos into bathos, and Lopez's novelistic control eventually turns purple, it's precious for this eminent quality of tenderness. The Inheritance seems to have been made specifically to be given to the previous generation. Sitting in an audience of weeping men, you could almost see the young actors passing the play down from the stage to them, handling it gently, to make clear it was a gift.
The very first image of Stephen Daldry's impressive production (transferred from London) is a raised beige platform in an otherwise featureless black void — Bob Crowley's set could almost be a piece of paper. The company gradually assembles on it: all handsome men, all barefoot, and all writing. It's a homosocial utopia — but it's clear that the blank page is also frightening. The first narrator is Young Man One (Samuel H. Levine), who speaks to us in the third person: "He has a story to tell … But how does he begin? He opens his favorite novel, hoping to find inspiration in its first familiar sentence. And in reading those words, he finds himself once again in the gentle, reassuring presence of their author." The novel is Howards End, so E.M. Forster himself (Paul Hilton) ambles out, apologetic but affirming. The Young Man's tale begins under his guidance.
At first, it's the story of a present-day couple. Everyone's a narrator, even of his own inner state, so the men collaboratively describe sweet Eric Glass (Kyle Soller) and salty Toby Darling (the firework Andrew Burnap), engaged lovers who live in Eric's unusually spacious apartment on the Upper West Side. Lopez's biggest laughs come from the room's total outrage about this rent-controlled, two-bathroom wonderland. Eric admits he pays only $575 a month, and even the cast loses it: "Fuck you," shouts Arturo Luís Soria (a particularly valuable player in the ensemble); the New York audience explodes. In this preoccupation with housing, the stamp of class-conscious Howards End shows everywhere, though the Forster character himself departs after a few hours. (He is chastised, rather cruelly, for being closeted during his lifetime.) Toby starts by describing a luscious Hamptons mansion owned by their much older friends Walter (Paul Hilton again) and billionaire Henry (John Benjamin Hickey); there's a scene in a beach house on Fire Island; Walter has a near-sacred property up the Hudson; someone gets a key to Gramercy Park. Male sensuality is everywhere in The Inheritance, but the most erotic language is reserved for real estate.
A flustered young man named Adam (Levine) follows Toby and Eric home from a concert after a mix-up over a bag. Eric, the friend group's perennial host, is having a party, and Adam begins to talk to the group about the music that they've heard. A whole room of witty men drifts toward him, magnetized, and the young man's rapture over the music turns the key in their collective lock. Adam is folded into the pair's lives — they simply have to show him Jules et Jim — but the wide-eyed, eager-to-learn, hard-bodied naïf becomes the apple in their garden. When Toby writes a supposedly autobiographical play, Adam stars, and Toby falls narcissistically in love with his younger, richer, less secretive reflection.
At this point, Lopez is in grand form. He has worked out a powerful blend of third-person description and action — he says he was influenced by Elevator Repair Service's read-the-whole-novel approach in Gatz — and he's woven a complicated narrative out of the ways that lies can heal (Forster's imagining a happy ending for a gay couple in Maurice) and damage (everything Toby ever does). With all threads firmly in hand, he turns confidently to larger things — to generational devastation, to the plague.
Once he has been abandoned, Eric seeks solace from his older friend Walter, who has moved, in the kind of tidy narrative coincidence you find in 19th-century novels, into his building. Walter, now faltering from cancer, talks about the terrible losses he sustained during the AIDS crisis, and this late-blooming kinship links Eric deeply to Walter's husband, the gorgeous but withholding Henry. The first movement explores personal vulnerability; now the middle movement of the play develops its theme: how to sense absence. "Eric wondered what his life would have been like," says Eric, "if he had not been robbed of a generation of mentors, of poets, of friends, and perhaps even lovers." Living, contemporary friends orbit with their own stories — a cross-section of New York gayterratti — but their voices get fainter and fainter. Eric, constantly referred to by the narrators as a man of hidden capacity and kindness, steps into the eye of the play.
Lopez loves plot. He loves assembling it out of both action and narration; he loves reflecting a moment from Howards End and then multiplying those reflections. Performances double and fragment: We see people in flashback (Walter and Henry running up the lane to their new country house), or actors return as slightly different characters. It's this passion for story that overwhelms Part Two, when fantasies start to supplant the crispness, complexity, and clarity of Part One. Adam departs to be replaced by Leo (Levine again), a perfectly vulnerable, conveniently brilliant hustler; and Henry — who appears as a hot Republican daddy — is pure fanfic. What seemed monumental in the first half seems merely … binge-watchable. Lopez inserts speeches about Trump and responsibility and solidarity with trans youth — but the play itself has heard its own siren song of escapist romance. We're swept past these thorny issues and into something that turns into bourgeois, even Benedictine, retreat and complacency.
There's a scene in Howards End that has haunted me for twenty years. A pair of sisters, Helen and Margaret Schlegel, go to a performance of Beethoven's Fifth Symphony, and their very different ways of listening tell us all we need to know about their characters. Helen — a busybody, an interrupter, a sentimentalist — dramatizes the music in her mind, imagining creatures that rage over a vast lightning-lit landscape; Margaret — who takes people on their own terms — doesn't need illustration or elaboration to engage. Forster is pretty clear about which sister he thinks is right, and I often find myself thinking guiltily of Howards End as my own busy brain buzzes around during a play. How do you quiet yourself to experience art? "Ah, Helen, try not to be such a Helen," Forster murmurs at me reproachfully from a century away.
In The Inheritance, the first three and a half hours are so full that even the most chattering mind is overwhelmed. There's the speed and effervescence of the group scenes, then there's Toby — glittering and amazing in Burnap's hands, absent too much in the second half. It also contains an image so strong that it wrenches the door closed behind it. At the close of Part One, Lopez sends Eric a haunting. (The production's representatives have asked that we not reveal its mechanics, but it's hard to talk about the architecture of the play without discussing this central column.) Suffice it to say that Eric, our avatar, finally senses the generation killed by AIDS. It's such a powerful moment that it makes the second part almost impossible. Part Two turns on individual concerns — it's preoccupied by love, addiction, and the playwright's meta-musings on creativity — which are important, but seem like small potatoes after that ascension into prophethood and group consciousness. Our souls had been wracked; why were we now watching a soap opera? All through Part Two, I tried to be a Margaret, but I just couldn't do it. Lopez had gone too slack, and my memories of the first half began to populate the stage again. I started to picture lost men, walking across a lightning-lit landscape. I could almost see them, even though they haven't been with us for 30 years and more.
The Inheritance is at the Ethel Barrymore Theatre. Buy tickets here.
*A version of this article appears in the November 25, 2019, issue of New York Magazine. Subscribe Now!