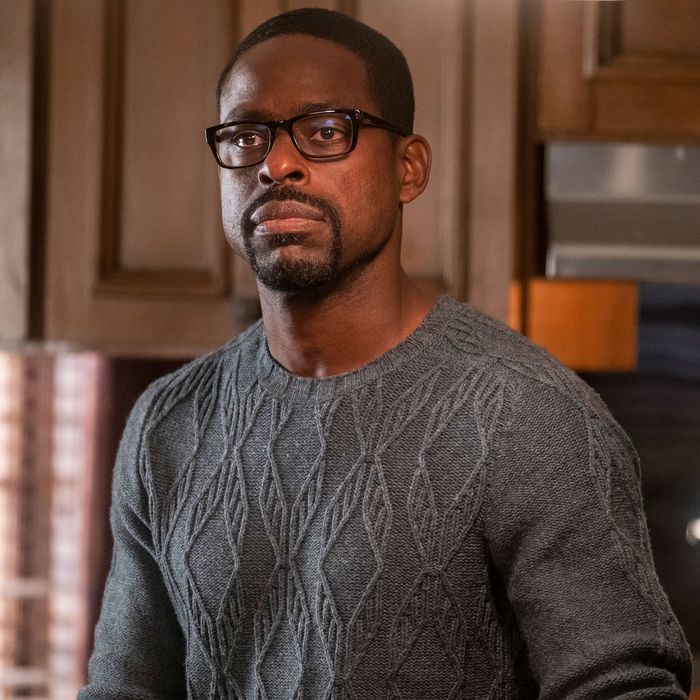 Well, well, well. This Is Us is closing out 2019 with one final reminder that it is a show that just loves to trick us. Of course, I'm not entirely sure what the point of that little switcheroo was except to make the audience collectively go, "oh wait a second…" Now, that fact doesn't make the content of the "twist" any less heartbreaking, it just makes the whole thing feel a little manipulative. But it's Thanksgiving with the Pearsons, being emotionally manipulated and feeling extremely depressed are basically holiday traditions at this point. So how about some pie, huh?
Things are a little tense as Thanksgiving commences in 2019 Philadelphia after that awful fight Randall and Rebecca had the prior evening. Rebecca is, like, scarily good at the silent treatment. When she sees her son hovering over her, turning off burners at the oven she's put on, she decides she needs some space and heads out to see a movie. She'll buy some pie on the way home. Let the woman live!
But the next time we see Rebecca, she's at a park, looking very confused. So confused, in fact, that she thinks she spots Young William walking by. Obviously, this is not a great sign. Even worse, she walks into a grocery store to hit up the bakery, gets distracted by flowers and completely forgets why she's there. EVEN WORSE, when she goes to pay for those flowers, she empties out her entire purse and winds up leaving her phone behind. Something is seriously wrong with Rebecca and it is much worse than we've previously seen. Remember I said that. WINK WINK.
Randall's not thrilled with the idea of his mother traipsing about Philadelphia, but this Thanksgiving Dad has another issue to deal with: The box with the Pilgrim Rick hat, et al. was apparently left behind in the move — what are the odds! — and now Randall and Annie are going to drive to the old house in New Jersey and pick them up. Honestly, could you imagine getting a phone call on Thanksgiving Day from the previous owner of your home who is asking you to climb up to the attic and look for a box with a pilgrim hat in it? The audacity!
Randall and Annie are joined by someone surprising on their excursion to the Dirty Jerz: Uncle Nicky. Yes, Uncle Nicky and Kevin have arrived from Bradford and Nicky looks great (he thinks he looks like he's in a Viagra commercial, to which I say: is that a bad thing?), but once he starts looking around at old photos Randall has out of Jack and his family, this thing he was not a part of, Nicky needs to get out of there. You know you have a real cool party going on when everyone is fleeing.
And although Randall rescues the Thanksgiving box and a case of CDs his mother once gifted him, the mini-road trip only makes things worse for Nicky. Being reminded that Jack completely erased him from his family's life is overwhelming. It certainly doesn't help that he can't stop thinking about his last Thanksgiving with his brother — a week before Nicky was drafted in the Vietnam War. Thanksgiving was always a terrible time for the Pearson brothers, so finally, that year, with their father screaming inside the house, Jack decides the two of them are going to bail on Thanksgiving. They head to the bar, where Nicky ends up winning boatloads of money betting against the Cowboys (his dad's favorite team), and the boys head to a restaurant where they proceed to eat five pounds of shrimp. Way better that cheese dogs rolled in saltines, huh?
In 2019, Randall has Nicky pick out a CD from the case and he goes with a Leonard Cohen album. When Randall puts on the song "So Long, Marianne," he starts telling Nicky about how much Jack loved this song and how he'd always explain the meaning behind it. Randall heard about it so much, he can repeat the speech verbatim. Nicky is visibly moved by this. Back in 1969, post-shrimp binge, the brothers are listening to music in the back of Jack's truck and the same Leonard Cohen song comes on — but Jack doesn't like it at all. Nicky goes on to explain what the song's about — it's the same speech Randall knows by heart. In the car with Randall, Nicky is trying to hold back tears because this means that Jack didn't completely erase him from his life or his children's lives. Jack always kept a part of Nicky with him.
Anyway, you can bet your ass that by the time we get to Nicky telling the Pearsons about his Best Thanksgiving Ever and offering them five pounds of shrimp as a new Jack Pearson-inspired tradition to add to the day — one the brothers had promised to continue but never got the chance — that I am A PUDDLE. It's so lovely and Nicky's entire arc on this show has been such a highlight. I mean, the dude touches Kevin's face and tells him to go live his life. Face touching! From a sad and grateful man! If I were at that house, I'd be bawling into that five pounds of shrimp by now.
There is some actual joy to be had at a Pearson Thanksgiving! But not too much, let's not kid ourselves. Randall might be chatting with Kevin about Kevin's dream to get married and have kids by 40 — which, Randall reminds him, is just nine months away — but mostly Randall can't shake the thought that something is wrong with Rebecca. He promised he wouldn't bring up their argument with anyone else, so he can't even bring his siblings in on this. (I mean he could and he should, but you know R&R.)
After the grocery store, we find Rebecca eating lunch at a Chinese restaurant. When she realizes she doesn't have her phone, she freaks out. She needs to call her son! She doesn't have his number! She is very distraught and I don't like seeing mom this way. Eventually, the police pick her up, she explains that she's in town visiting family for a special occasion, and they take her home.
Only it's not to Randall's house in Philly. It's to the family cabin. And it's Kevin who answers the door, so happy she's safe. You guys, all of the Rebecca stuff once she was in her chic little trench coat was nine months in the future. It's August 2020 and the Big Three are turning 40. Kevin, Kate, and Miguel are there, getting Rebecca situated — this isn't the first time — oh, and Kevin's fiancée is in the back room dealing with some morning sickness (!!). When Rebecca asks where Randall is, Kevin, quite frustratedly I might add, tells her that he's not coming, he and Randall aren't speaking to each other. Because I guess we just can't have nice things. Like, ever.
So the next nine months should be very interesting. Especially because in 2019, Rebecca returns with her pie and after Randall apologizes for the way he's been treating her, she informs him that she only made it halfway through the trailer for CATS before she forgot what movie she was going to see. Something is really wrong and Rebecca needs Randall's help. And thus continues the cycle of us thinking this show could not get sadder and This Is Us showing us all up. The back half of season four is sure to be emotionally devastating in new and horrible ways. See you in 2020 for more self-inflicted torture!
This Is the Rest
• KaToby is imploding. When Kate unloads on Beth about hating "Crossfit Toby," Beth warns her sister-in-law that it's not a great thing when you're talking to everyone except your spouse about your marital issues… and then Kate goes and sees Toby is doing exactly that with his Crossfit friends on their group text. He's being especially consoled by someone called "LadyKryptonite5." In the flash forward, Kate's wearing her wedding ring, but Toby doesn't seem to be at the 40th birthday bash.
• Be still my heart, that gorgeous little Beth and Deja scene! Beth's feeling insecure after she sees how well Shauna's doing, and how easy she and Deja are falling into their relationship. Randall's the only father Deja's known, but where does Beth fit in? (Jack Pearson much?) But when Deja gets upset seeing that her mother got her life together once she wasn't in her life, it's Beth who knows exactly how to comfort her. That little lean-in hug on the bed? Just going to go cry into some pie.
• Speaking of adult/child bonding moments: Kevin helps Tess come out to her classmates via a practice round at a drive thru window that gives her the courage to post a pic of her celebrity crush, Zendaya, on Instagram. Has Uncle Kevin ever looked so proud? I need more pie.
• The shrimp tradition lives on! We get a quick cut to Adult Baby Jack Pearson and his now pregnant wife, prepping for Thanksgiving dinner in the future, and Jack puts out five pounds of shrimp. Never has seeing five pounds of shrimp made me so happy! Just kidding, five pounds of shrimp will always make me happy.
• Justice for Miguel Rivas in 2020! I mean, the man's Instagram handle is 'BigMig45,' he deserves to be treated with some respect!