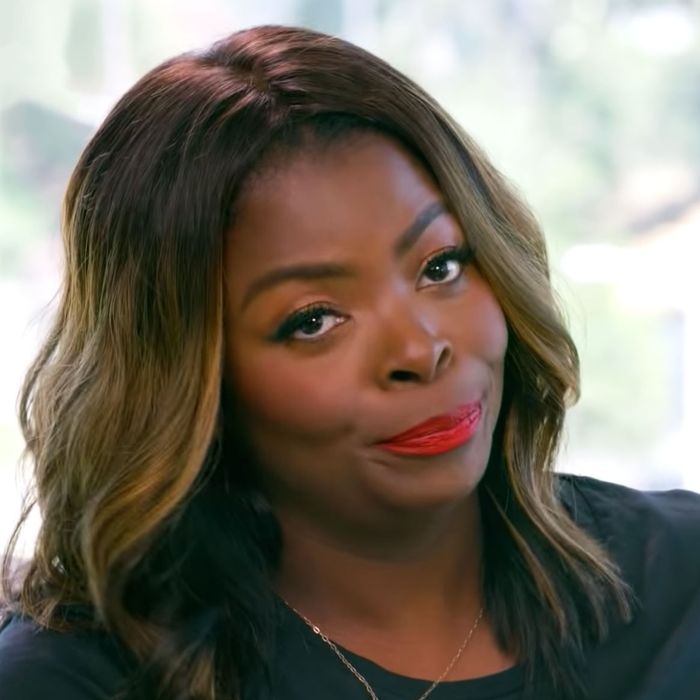 Janelle James has taken over
Strong Black Lead,
now known as
Strong Black Laughs.
Photo: YouTube/Netflix
The comedy-podcast universe is ever expanding, not unlike the universe universe. We're here to make it a bit smaller, a bit more manageable. There are a lot of great shows, and each one has a lot of great episodes, so we want to highlight the exceptional, the noteworthy. Each week, our crack team of podcast enthusiasts and specialists and especially enthusiastic people will pick their favorites. We hope to have your ears permanently plugged with the best in aural comedy.
Strong Black Lead - Luenell
Season one of Tracy Clayton's Netflix interview series Strong Black Lead has transformed, for now, into Strong Black Laughs, where new host Janelle James steps in "to bring you the black champions of comedy and take your mind off all the bullshit." James's first guest is longtime stand-up comedian and Dolemite Is My Name actress Luenell — comedy fans may remember her as the (spoiler) titular "wife" by the end of the 2006 Borat movie. The half-hour interview is jam-packed with incredible stories detailing Luenell's journey in Hollywood. Struggling comics take note: If you find yourself sleeping in a Denny's parking lot or robbing the bank you work at, you're on the right track. Luenell recalls the audition for Borat, where she stuck a surprised Sasha Baron Cohen's finger in her mouth to help land the part. "If I got away with just sucking a finger in this town, I'm winning," she jokes. James shows a deep reverence as Luenell manages to drop even more wisdom about men, code switching, and comedy. Strong Black Laughs is off to a great start, and future interviews with Marlon Wayans, Mike Epps, and Kim Coles will no doubt keep the momentum going. —Mark Kramer
Listen: Spotify | Apple | Website
A Woman's Smile - A Woman's Smile Is Mature
A Woman's Smile is back for a second season after a yearlong hiatus, and it's even more upsetting-in-a-good-way than you remember. In this comeback ep, Lorelei Ramirez talks about sleeping with an OB/GYN with "round teeth," and Patti Harrison free associates about her dream husband who takes her on dates to see Woody Allen in Antz and who "micro-nuts" thousands of times a day. (The theme of the episode is self-care, obviously.) Despite all of this pod-formance art and a new chapbook by poet G.G. Hubert, perhaps the most absurd change in season two is that Patti and Lorelei's satirical ads now butt directly up against actual AdRoll. Their endorsements for Thrive Cosmetics and BetterHelp sound eerily similar to their "ads" for "Women Bring You Groceries" and a magical soft drink that absolves your daddy issues. If you've ever sat down to watch David Lynch's Rabbits and thought to yourself, I sure do wish this was a feminist podcast, boy are you in luck. —Rebecca Alter
Listen: Spotify | Apple | Website
420 Day Fiancé - Where the Versace At?
Whether or not you're watching season seven of 90 Day Fiancé, now is the time to tune in to the new podcast 420 Day Fiancé from stand-up Sofiya Alexandra and Miles Gray (The Daily Zeitgeist). The first three episodes of their show take the many doomed couples from the long-running titan of relationship-based reality TV and adds getting high, plus an arcane points system to score the participants. The worst offenders (usually an American using a non-American for love) are sent to Cancelvania, where they room with Paula Deen. The heroes (non-Americans using Americans for money, opportunity, and/or something legitimately aspirational) rack up bonus points. Episode three, "Where the Versace At?", is where the TV show ramps up, and also the podcast: We've got our characters and backstories in place, and we're ready for things to start falling apart. Sofiya and Miles start digging into important issues, like how to rock Fashion Nova underboob, whether or not the polarizing side character "Uncle Beau" is sad or heroic, and between this show and the impeachment hearings, how do you actually pronounce "Kiev"? Plus, unlike the many other Fiancé recap shows, this one is new. —Kate Doyle
A Winkle in Time - I Propose We Save Jack and Rose! 
Nine years after The Social Network introduced the general public to Cameron and Tyler Winklevoss, we catch up with the noted athletes and internet entrepreneurs as they "row their time-traveling canoe through history looking for inventions to steal." A Winkle in Time, a fictionalized take on the identical twins most famous for being fucked over by Facebook co-founder Mark Zuckerberg, is a hilarious redo of history. In the first episode, writing duo and comedy coxswains Claire Favret and Marcus Haugen steer the twins to 1912 to "save the truest example of true love, Jack and Rose." The best part is that the twins don't realize these star-crossed lovers aren't real. It's funny because, given everything we know about these "wealthy knuckleheads," it tracks. Zuck, of course, acts as the inescapable and insufferable villain of this episodic sci-fi podcast, which weaves history, pop culture, and the ineptitude of an exorbitantly wealthy and corrupt cast into a gut-busting adventure. These awful yet amusing characters are voiced by comedians Jerry Burgos, Olivia Wardwell, Tim Lamphier, and Phoebe Stonebraker, all of whom use silly voices to add another layer of laughs. Given such a strong debut, it's safe to say you won't regret joining the adventure. —Becca James
Your First Time - Paul Welsh's First Drunk New Year's
Who in their right mind would ever go to the madness that is New Year's Eve at Times Square? As you'll soon find out: drunk teens from the suburbs! In this week's Your First Time, comedian Paul Welsh tells Olivia Snow Norman about the time he and five buddies convinced one of their moms to drive them down from Connecticut into the city for some ball-dropping fun. Armed with six backpacks full of cheap beer, the boys were led by a wild mom willing to scam police officers into letting them through blocked-off alleys into the secure Dick Clark Productions area. Welsh doesn't remember much from the night, but he did like it enough to have gone back several times! Take a listen to find out the answer to your burning NYE Times Square questions like "How do you pee?" Answer: In a urination seance circle surrounded by your friends. —Pablo Goldstein
We're in a Fight - Ashley and Claire vs. Jenny McCarthy vs. Tara Reid 
If you've got a beef with someone or something, you can probably depend on Ashley Hamilton and Claire Parker to be on your side. Every episode of We're in a Fight features these two rowdy and rambunctious comedians taking issue with everything (and everybody) from various industries and professions to individual celebrities, and also people only they've ever heard of. In this episode, they start off up close and personal. Ashley has been fighting with her boyfriend and had just broken up with him for the second time in six months … but they patched things up the next day. Claire, on the other hand, has been duking it out with the entire world of dentistry because of the endless procedures she been enduring. "It's, like, dentists get out of medical school first! They're not even real doctors. It's more like a trade school." They go around and around with a number of their own gripes (including the size of the iPhone's alarm versus snooze button), then settle in for the main event: sounding off about the feud between Jenny McCarthy and Tara Reid. They play a clip of Reid's brief appearance on McCarthy's SiriusXM's radio show and then dissect the swipes and attitude the host levels at her guest. And it does not go well for Ms. McCarthy in this dustup. To Hamilton and Parker, McCarthy's anti-vaxx stance drops her down to a sublevel below human — and it goes downhill, hilariously, from there. The hosts of WIAF talk at a rapid-fire pace (at one point I had to check my player app to make sure it wasn't sped up) and they don't worry about being the most well-informed podcasters. What they don't know, they make up for in sheer bombast, energy, and giggles. Lots of giggles. —Marc Hershon 
Listen: Spotify | Apple | Website
Other Podcasts We're Listening To:
Podcast: The Ride - The Second Gate - The Downtown Disney Ordeal X-3 with Julia Prescott
Listen: Website
The Lowe Post - The Good Place (w/ Michael Schur, Joe Mande, and Jen Statsky)
Listen: Spotify | Apple | Website
Gossipmongers: Richard Osman
Listen: Spotify | Apple | Website
Panic Attacking - Taylor Tomlinson
Listen: Spotify | Apple | Website
Got a comedy podcast recommendation? Drop us a line at comedypodcasts@vulture.com.