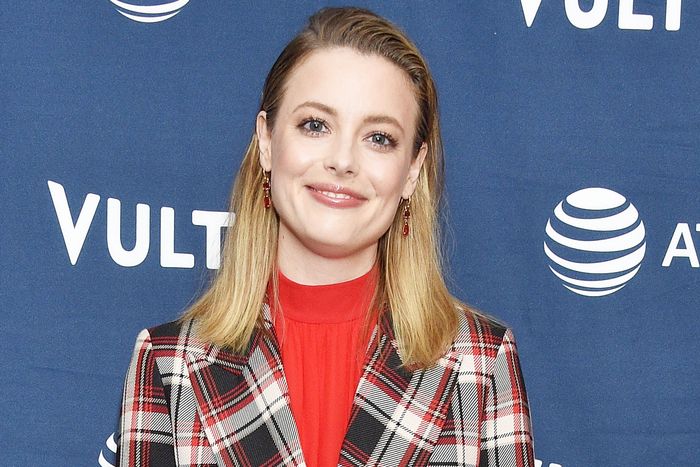 Gillian Jacobs.
Photo: Gregg DeGuire/Getty Images
The comedy-podcast universe is ever expanding, not unlike the universe universe. We're here to make it a bit smaller, a bit more manageable. There are a lot of great shows, and each one has a lot of great episodes, so we want to highlight the exceptional, the noteworthy. Each week, our crack team of podcast enthusiasts and specialists and especially enthusiastic people will pick their favorites. We hope to have your ears permanently plugged with the best in aural comedy.
Passable in Pink 
From the mind of writer Mike Sacks (Stinker Lets Loose!) comes Passable in Pink, a five-hour-plus Audible audio project that takes the piss out of John Hughes's filmography. Starring Gillian Jacobs, Adam Scott, Bobby Moynihan, Bob Odenkirk, Emily Woo Zeller, Laraine Newman, and more, it's a satire rich with, well, "richies," for one thing, which those familiar with Hughes work will remember as the foes of his more lovable characters. However, it's clear no one, regardless of which side of the tracks they grew up on, is safe from Sack's sendup. Set in the Chicago 'burbs, of course, it follows Addison "Addie" Stevenson's (Jacobs) teen-angst bullshit, poking fun at what that bullshit sounds like when someone like Hughes writes it. Addie's opening inner monologue about her outfit choice is side-splitting. It includes her describing a seemingly never-ending barrage of accessories, such as a wide-brimmed men's black floppy hat on a nest of candy-apple red curls and deep dangly earrings fashioned out of wine corks, stains still visible. These outfit choices assert that she is "alternative." In addition to the spot-on character parody, the language playfully mocks the popular parlance of typical teen movies from the '80s, while an original soundtrack takes the music scenes to task in a way that still allows for earworms. Join in on the joke today, and be sure to stick around until the end, as Sacks has some tricks up his sleeve regarding casting and more. —Becca James
Listen: Audible
Andrea Savage: A Grown-Up Woman - June Diane Raphael
Funny and brassy is what I expected when I plugged into Andrea Savage's (Veep, Step Brothers) new podcast. The overabundance of the word "butthole" caught me by surprise, and made me laugh harder the more it was used throughout the show. This podcast orbits around Savage's reluctance to dive fully into adulthood (even though she has been raising a child for years), and she seeks adulting advice and guidance of not only her guests but her listeners as well. Guest and good friend June Diane Raphael (HDTGM) has no problem with the buttholes (and has her own references to that part of the anatomy to share), but the host's "what if" questions start to weird her out. Particularly when she asks what her guest's reaction would be if she went into Savage's bedroom and found a framed photo of her kids on the dresser. "I would run out of here so fast, and go home to make sure they were all right. You just don't do that!" Raphael is less squeamish about the idea of skinny-dipping with strangers. There is also a portion of the discussion around the awkwardness of letting a visitor to one's home drop a deuce in the bathroom, particularly just minutes before a contingent of other guests arrive. A live phone call with a listener in Portland sends both ladies into a tailspin because, while she's asking for a little life advice ("What kind of soap should I put in the bathroom for guests?"), it turns out she's recently turned 30, is single, and just bought a house with not one but two guest rooms. Savage might need to get a new grip on this whole adulting thing. —Marc Hershon
Listen: Spotify | Apple | Website
Two Old Queens – The Secret of NIMH with Stephen Guarino
The search for the gayest movie ever made continues on Two Old Queens, and it is definitely not the 1982 Don Bluth animated feature The Secret of NIMH, a favorite of this week's guest Stephen Guarino (EastSiders, Happy Endings). Hosts Mark Rennie and John Flynn dissect their first animated entry in the canon, rating it on a zero to 100 scale in a series of 20 categories including homoeroticism, degree of facial hair, and presence of felt. In this week's film, a field mouse must seek the aid of a colony of rats in order to save her ill son, who lives in a cinderblock that will soon be destroyed by a farmer's plough. Ultimately she discovers the rats have become hyperintelligent and have a capacity for guilt due to animal testing by the National Institutes of Health, and the only solution to her housing issue is … a magical amulet, for some reason. Given these details, and Dom DeLuise's out-of-breath voice acting, the old queens determine that NIMH is not as gay as Hoosiers but gayer than The Third Man. Their byzantine rating system gets more precise with each episode as the guest adds a category of their own. This week Guarino adds "memorial moment" in honor of Mrs. Johnathan Brisby's powerful sendoff in NIMH, which scarred many a '90s kid for life. —Kate Doyle
Queery With Cameron Esposito - Fortune Feimster
Ah, mid-November … a proper time to cuddle up to a good pod with a warm guest. Comic Fortune Feimster (The Mindy Project, The Standups) and host Cameron Esposito are longtime stand-up pals, but this is the first full conversation they've ever had — and that's a recipe for a vulnerable, good-time chat, folks! They reminisce about a gig they co-headlined in Vegas, sparking a divine story about a bachelorette party organized around Feimster's performance that night. If you're not already familiar with Feimster, you'll quickly get her self-described "walk[ing] about life smiling" vibe. She's generously open about her less-than-stellar start in experimental college theater, unique path to Los Angeles, and time at the Groundlings. After discussing the connection between stand-up and improv (hint: One pays), Feimster details the power of L.A., Chili's, and Lifetime movies in her coming-out journey. From not dating in high school because she was "president of the Beta Club" to learning how to date in her late twenties, she paints a relatable picture for anyone who's experienced that awkward feeling of needing to catch up. Most importantly, Esposito reveals one of life's greatest lessons: how to know when your iconic haircut has jumped the shark. —Anna Marr
Listen: Spotify | Apple | Website
Podcast: The Ride - Downtown Disney Ordeal 1-3 with Eva Anderson
At the end of last year's epic "Universal CityWalk Saga," Podcast: The Ride's 19-part exploration of Universal Studios' outdoor mall, CityWalk's Sector Keeper (definitely not Anthony Gioe) jokingly announced a sequel at Downtown Disney. Exhausted hosts Jason Sheridan, Scott Gairdner, and Mike Carlson instinctively reacted with complete disdain for the idea, yet here they are one year later, bringing fans 15 installments of the "Downtown Disney Ordeal." Everything fans knew and loved about P:TR's original ode to tangential theme park retail is back: a rockin' theme song, an excessively complicated framing device, and of course, the ghostly Sector Keeper. In Level 1–Stage 3, Eva Anderson helps uncover the secrets of landmarks such as the California Churro Cart, Religious Pamphlets, and Patina Restaurant Group's own Naples Ristorante e Bar before mysteriously disappearing without a trace. Former Patina Restaurant Group CEO Nick Valenti makes an appearance in the dramatic Level 1 Boss Fight, where he is defeated by the boys with the help of the items gifted by the Sector Keeper for completing previous stages. Nonsense like this is the Ordeal's entire charm, so fans of outdoor shopping minutiae should feel free to safely jump in at any checkpoint. —Mark Kramer
Listen: Spotify | Apple | Website
Other Podcasts We're Listening To:
Scattered - The Ashes
Listen: Spotify | Apple | Website
Asian, Not Asian - QUEER EYE JAPAN! (w/ Atsuko Okatsuka, Eric Andre Show)
Listen: Spotify | Apple | Website
Good For You -  Dave Grohl
Listen: Spotify | Apple | Website
Nerd Poker - Juggernaughty By Nature
Listen: Spotify | Apple | Website
Got a comedy podcast recommendation? Drop us a line at comedypodcasts@vulture.com.