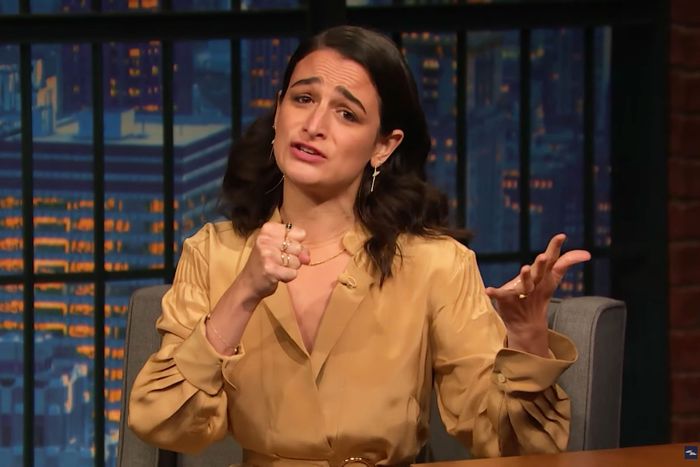 She's the best.
Photo: YouTube
Welcome to the seasonal doldrums known as early November. Halloween is over. Canadian Thanksgiving is over. American Thanksgiving is over in the sense of being passé and/or problematic. Starbucks cups, prestige films, and the impeachment are doing their slow rollout, but this is a weird time for timely comedy. Late night did its best, with folks getting really silly in lieu of having impactful things to joke about. Let's look at who won this nothing of a week.
5. Stephen Colbert's Advent Calendar
With spooky szn officially over, late-night hosts have to decide whether or not to even recognize Thanksgiving and/or fall in their seasonal content. Conan had a bit about fall fetishization, but The Late Show decided to go full Kringle and leap into the world of luxury Advent calendars. The jokes about what people are willing to spend on being festive were fun, but what sold the bit was Stephen Colbert's inability to wear a hat. It just cannot be done!
4. Full Frontal Calls Bullshit on Trump's Wall
This week, we found out that coyotes had been cutting holes in Trump's big, beautiful wall with $99 reciprocating saws. But, as Full Frontal showed, you don't even need to do that if you're an even somewhat experienced climber. There is something uniquely satisfying about watching climber after climber surmount a replica border wall with the ease of ascending a staircase.
3. Chris and Scott Evans Bro Out on The Tonight Show
Did you know there was a second Evans? One that loves murder shows and gestures more than his beefier brother? Well, apparently there is. And thanks to Chris Evans, the only other thing I know about this Evans is that he shit his pants three times on a ski trip. Chris Evans's accent went full Masshole while regaling Jimmy Fallon with his brother's tummy troubles, and it's something to behold.
2. Jessica Biel and Natasha Lyonne Leap Fully Into Possibly the Dumbest Talk-Show Game Ever
Jessica Biel and Natasha Lyonne have incredible chemistry? Apparently, on the set of Blade: Trinity, each was intimidated by the other, which is cute as hell. James Corden made the two stars play perhaps the dumbest game in The Late Late Show's repertoire of dumb games: "Taller or Shorter?" Biel threw herself into it fully, and was crazy good at guessing which Central Casting fella was tall or short. Lyonne didn't understand the basic precepts of the game until about halfway through. All in all, a spectacular moment of light entertainment.
1. Jenny Slate Sings!
The irrepressibly bubbly Jenny Slate was on both The Tonight Show and Late Night this week, and she was wonderful on both. But the vibe between her and Seth Meyers just cannot be stopped. Meyers figuring out in real time that his brand is "guy not particularly interested in volleyball" is a great start, but then Slate sings a little ditty and it's game over, folks. Everyone else needs to book her ASAP.