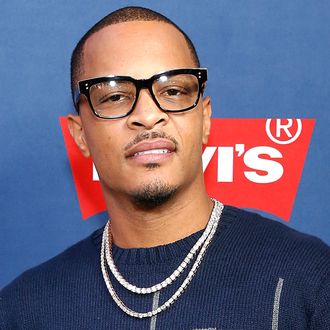 Someone give this man a sex-ed class.
Photo: John Lamparski /Getty Images
Maybe T.I.'s been getting too many parenting ideas from The Handmaid's Tale. On the podcast Ladies Like Us With Nazanin and Nadia, the rapper who once contributed a verse to "Blurred Lines" ("Nothin' like your last guy, he too square for you / He don't smack that ass and pull your hair like that," he promised) said he takes his eldest daughter, Deyjah, to the gynecologist every year to have her hymen checked and make sure she's still a virgin. Hear it all for yourself around the 45-minute mark. "Usually, like, the day after the party, she's enjoying her gifts," he explained. "I put a sticky note on the door: 'Gyno. Tomorrow. 9:30.'" The birthday present every girl dreams of! When they get to the appointment and the doctor asks his daughter to sign a release, "I say, Deyjah, they want you to sign this … so we can uh, share information. Do you have, is there anything, is there anything that you would not want me to know? Oh, okay. See, Doc, ain't no problem.'"
Now, we're not going to teach a full sex-ed lesson, but there are plenty of ways to have sex without breaking the hymen, not to mention plenty of other activities that can break a hymen. But T.I. knows this, too! "I say, 'Look, Doc. She don't ride no horses; she don't ride no bikes; she don't play no sports — man, just check the hymen please and give me back my results. Expeditiously!'" As if he hadn't already embarrassed his daughter (and new Friends & Family Hustle co-star) enough, he added, "I will say, as of her 18th birthday, her hymen is still intact." The hosts, who interrupted his story throughout to joke that Deyjah was "a prisoner" and somebody needed to "check on Deyjah" (but honestly, can someone check on her?), remarked that by coming on the podcast and announcing that his daughter is still a virgin (at least, that he knows of), T.I. might be getting more men interested in her. "They're no, fun, who wants a virgin?" he replied. "Like, really. All of that work?" And all of that work for yearly hymen checks?
We have even more questions about T.I.'s parenting, because elsewhere on the podcast, he expressed pride in his son King for touring with … Members Only, the former group of alleged domestic abuser XXXTentacion. "That was his favorite rapper, uh, X was," he explained, adding that King was "an honorary member of the crew." Interesting role models for a 15-year-old.
After some tequila shots at the beginning of the episode, T.I., who was promoting the first season of his reality show Friends & Family Hustle (itself a revival of his canceled show The Family Hustle), told the hosts of the show's origins. "I felt like publications or bloggers or even people were taking headlines of every small percentage of my life and actions, and they were defining me by those, you know, by those actions," he said, specifically of his 2010–11 stint in prison. "So I felt to assume control of the narrative, you have to kind of give people something else to talk about." Sounds like he's assumed control of a lot of things, and he's definitely given us lowly bloggers a lot to talk about.
Update, November 6, at 5 p.m.: As the Shade Room points out, Deyjah Harris, T.I.'s daughter, has been liking tweets about how her father's hymen-check appointments are "disgusting, possessive and controlling." Check out some of the likes below — and someone, please, check on Deyjah!
Update, November 7, at 10:45 a.m.: T.I.'s comments have prompted a wave of discussion about virginity and criticism of "virginity testing" online. "Policing girls and teen's sexuality messes them up when they reach adulthood. This situation is an extreme example of this," writer Natelegé Whaley tweeted. "When your parent was the first to cross these boundaries, you're already being taught you don't have any sexual agency."
Experts also weighed in on the issue, such as Jennifer Gunter, an OB/GYN who wrote in a thread, "The hymen means nothing physically and hymen exams are medically not a thing and are unnecessary. And support a disgusting patriarchal trope." In its own thread, Planned Parenthood wrote, "'Sex' means different things to different people, so 'virginity' does too. Many don't care what it means or think it matters. Whatever you believe, the fact is you can't tell if someone's had sex by checking their hymen."
And some just saw an opportunity to call out T.I., like comedian Jess Dweck, who wrote, "'Look, I respect women. As the father and hymen-inspector of a daughter …'"