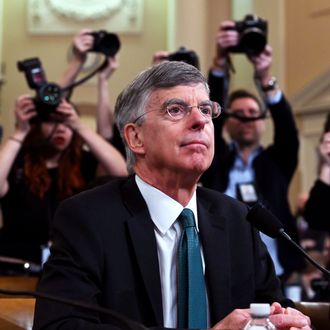 William Taylor, acting U.S. ambassador to Ukraine.
Photo: ANDREW CABALLERO-REYNOLDS/AFP via Getty Images
How's this for pizzazz? Wednesday's opening round of the House impeachment hearings drew an average audience of 13.1 million viewers across six major networks, per preliminary Nielsen data. Though far short of blockbuster level, that number is slightly larger than what the same networks drew in July (12.97 million) when former special counsel Robert Mueller testified before Congress. Given the mystery surrounding Mueller's appearance and the fact that the two diplomats who testified yesterday are far less well-known than Mueller, it's impressive that Wednesday's hearings brought in the ratings they did. What's more, these numbers don't include viewers who watched outside the home or streamed the hearings, nor do they capture viewership for PBS, C-SPAN, and local Fox stations that aired the hearings.
As for individual networks, Fox News and MSNBC were a close No. 1 and 2 between 10 a.m. and 3:30 p.m. ET, drawing 2.89 million and 2.7 million viewers, respectively, according to preliminary Nielsen numbers released by CNN. MSNBC nearly tripled its tune-in from a day earlier in the same time period, while Fox News was also up sharply (as much as double its audience Tuesday in some slots). ABC finished third with 2 million viewers, followed by CBS (1.97 million), CNN (1.9 million), and NBC (1.7 million). Ratings for the broadcast networks include post-hearing analysis, which stretched to around 4 p.m. on NBC and ABC, and until 4:30 p.m. on CBS.
To put these numbers in context, more people watched the impeachment hearings yesterday than tuned in for the biggest show in prime time Wednesday, ABC's broadcast of the CMA Awards, which attracted 11.1 million viewers. In an era of audience fragmentation and streaming services, broadcast and cable networks draw far fewer casual viewers than they once did. When the Nixon impeachment hearings took place in 1973, they were the only thing most people could watch on TV. And during the Clinton impeachment, there were plenty of cable alternatives to the hearings, but no streaming and very little internet video. Yes, there's a good chance President Trump will tweet out a story noting these ratings didn't break any records. But while such a tweet would be technically true, it would also be misleading: Wednesday's hearings drew a big audience by 2019 standards.