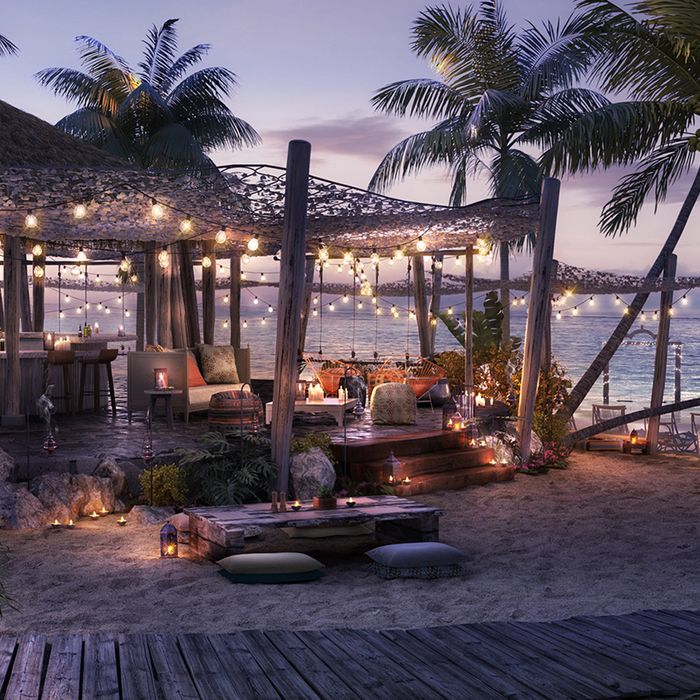 It's hard to think of the Virgin empire and not associate it with music. Long before it was the luxe lifestyle behemoth it is today, it was a record label and a music megastore. Now, the brand is applying its music roots to Virgin Voyages, its brand-new cruise line that will begin sailing from Miami to the Caribbean in April 2020. And because few things are more rockstar than an exclusive beach club, it has one of those — and it's for guests of Virgin Voyages only.
Yes, every single trip the cruise line makes will include a stop at Virgin Voyages' Beach Club at Bimini in the Bahamas. A curated experience awaits guests at the beach club, where the mood is perfectly calibrated around the clock. Award-winning producer Mark Ronson has been dubbed the "minister of music" for the brand and is working closely with VV's music team to create a just-right sound both at the beach club and aboard its ships.
At The Beach Club at Bimini, DJ-curated playlists will fine-tune the vibe throughout the day, producing moments of low-key relaxation and high-energy excitement. Each morning will start with a serene atmosphere, complemented by sunrise yoga and meditation, and the energy will gradually build until it peaks with an afternoon pool party led by a DJ from the Virgin Voyages ship. By the time the sun sets, the mood will be set to chill, and guests can unwind to an acoustic music performance over a beachside bonfire.
Ronson himself is also on deck for four sets at The Beach Club at Bimini in 2020, including a poolside performance on July 9 (that's the Mayan Sol cruise departing July 5 if you're in a booking mood). If you can't make it then, there will be more opportunities to catch other big names — such as Diplo — many of whom will be announced in the coming months.
Besides, no matter who's playing, there's plenty you'll want to indulge in at The Beach Club at Bimini. The space is anchored by a lagoon-style pool with ocean views, and there are private beach- and poolside cabanas, all the hammocks you could swing in, six bars to order cocktails from, and complimentary food that's locally inspired (think banana leaf-wrapped snapper and Bahamian rum cake).
And if you want to go exploring, that's an option, too. Besides, if you get lost, you can always follow the music back.
Kidding! Virgin Voyages is legally obligated to find you.
This is paid content produced for an advertiser by New York Stories. The editorial staff of Vulture did not play a role in its creation.