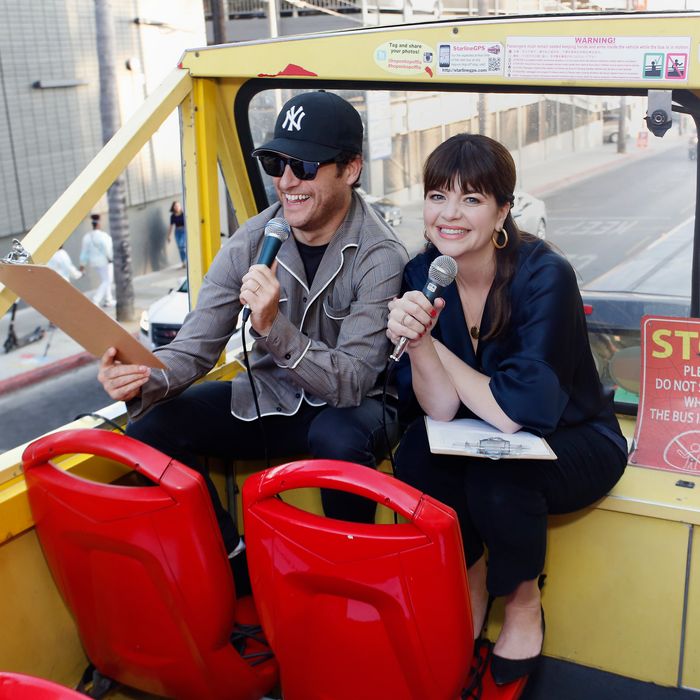 Two Starline Tours employees.
Photo: Rachel Murray/Getty Images for New York Magazi
What does one get when they sign up to be on a double-decker bus for a Hollywood Star Tour led by Adam Pally and Casey Wilson? One hour and thirteen minutes of chaos and bliss. Out of this year's Vulture Festival, the Happy Endings actors gave a busload of fans a view of Tinsel Town through their eyes, and witnesses may never see Los Angeles the same way again.
With unmatched anecdotes, surprise guests, and absolutely nothing planned, here are some of the wildest moments that'll live on in tour bus history forever. And if you're looking for actual, historical facts about Hollywood, you've come to the wrong place.
Group Sing-alongs
Naturally, the tour began with a rendition of "Wheels on the Bus" as the double-decker pulled out of the Roosevelt Hotel in Hollywood. Other group sing-alongs (music courtesy of a handy keytar player) included "New York, New York" and "Sweet Caroline." Enthusiastic guests were invited to get up and sing for tickets to a live-tapping of Pally's new sitcom Indebted — one sang Elton John's "Your Song" and another performed Natalie Imbruglia's "Torn." Both walked away as champions. Later, the tour ended with another rendition of, you guessed it, "Wheels on the Bus." Cell phone lights were encouraged. "Let's see if we can get a plane to crash," Paley said. One thing is certain, he loved it: "This is a career low."
Casey Wilson's Sexcapades
Lucky fans got to witness landmarks of Wilson's past sexual happenings. Soon after departing from the hotel, the bus passed an apartment building and Wilson exclaimed, "I dated a gentleman in this building, a magician! I gave a blowjob in the Hawthorne!" Soon the bus passed a nearby Victoria's Secret AKA the "hellscape" Wilson wandered in for a push-up bra while seeing the aforementioned man from the Hawthorne. She added, "We just passed a Planned Parenthood I also had a run-in at." And regarding her time on the Paramount Lot shooting Happy Endings: "I conceived my son in a trailer there. Not a joke, there was limited time."
Abby Elliott's Eyebrows
Surprise guest number one was Pally's Indebted co-star Abby Elliott, who was picked up en route at the Egyptian Theater on Hollywood Boulevard. A chance encounter, for sure. Pally noted her "full hair and makeup" and Wilson asked, "What, you have some time to get on the bus right now? Abby, have some dignity." The SNL alum eventually told a story about an eyebrow mishap she experienced as the bus passed the place where it occurred. After a micro-blading incident, she didn't leave her bed for two weeks: "It was like Eugene Levy eyebrows tattooed to my head." She pulled out photos on her iPhone and brought it up and down the bus for proof. The actress also offered advice her famous dad Chris Elliott gave her about acting: "No. You don't have to do it. Please don't do it."
A Struggling Actor's Mecca
Things also got dark on this tour. "This is the sad part where actors live in the beginning," Wilson told guests as they drove through Hollywood. Wilson mentioned that she herself lived on Fuller Avenue when she was starting out. "If you're on your balcony, jump off," she yelled as they drove down Santa Monica Boulevard. She also pointed out a McDonald's she drove through while crying. "Also I've cried in that FedEx back there trying to send something." Elliott reminisced on her early acting days as well. "I ate most of my meals at 7-11. Lara bars and hot dogs," she said. "I had no no self respect." Pally also chimed in with his love of one Hollywood's busiest intersections, Highland and Fountain: "This road is famous for being fucking horrible."
Casey Wilson's Dad
The tour's other surprise guest was none other than Wilson's dad, Paul. The tour picked him up while he was holding a map on the street by the Hollywood Forever Cemetery where Pally said he was "trying to get a spot." He added, "It's gonna be hard to break it to Paul the only way he'll got in is a Beetlejuice screening." After Mr. Wilson made his way up to the front row of the bus, his daughter gave fans a little bit of family history: "After my mom died he got a perm. Now that he's dating a younger girl, he spikes his hair straight up."
Adam Pally's Barf Stories
"I'll be marking landmarks by where I throw up," Pally warned the crowd. Although the tour didn't pass it, the actor recalled a very special moment from his first L.A. home. "I ate 150 milligrams of marijuana by accident in a brownie. I threw up and my dog ate my throw up," he said. "We were both high and throwing up for hours." (He also recalled getting kicked out of a charity event for being drunk. It's unclear, however, if throwing up was involved.)
Fake Celebrities
This was a star tour after all, but no one said the sightings had to be of real celebrities. Pally and Wilson would call out random people on the street saying they were stars like Scarlett Johansson and "the kid from Stranger Things." A guy on another bus was certainly Bradley Cooper and some man on a balcony was for sure The Shield's Michael Chiklis. ("Bring it back!" yelled Pally.) Oh, and the whole cast of Once Upon a Time in Hollywood, naturally.
The New Girl Plant
"Do New Girl!" a fan on the bus demanded of Pally and Wilson. "I'm flattered you think I'm Zooey Deschanel with the bangs," Wilson responded and Pally followed, "And you think I'm both of the Jews." The "fan" also asked the hosts if Damon Waynes Jr. was bummed to leave New Girl for their show Happy Endings. "Do you still want to be on this bus now that we're not New Girl?" Pally asked. Guests later learned that the New Girl "super fan" was actually Indebted's Jessy Hodges. Still, Wilson wouldn't mind being Deschanel in real life. "What I would give to date a Property Brother."
So Many Giveaways
Not only did guests leave with a wealth of knowledge about Hollywood, a few even left with memorabilia. Some lucky people out there on the streets of L.A. won T-shirts, and they weren't even on the tour. (Either the Santa Ana winds were in full swing, or Pally has a really bad throw.) One guest even scored a Happy Endings book for playing a round of Name That Tune. A random person on the street got one of those too.