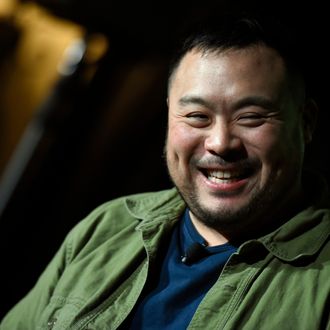 David Chang, tinfoil-hat wearer.
Photo: Vivien Killilea/Getty Images for New York Magazi
There are few fast-food chains more divisive than In-N-Out. Whether you love or hate the West Coast staple's burgers, defending its fries is a hill few foodies would die on. During his "A Cooking An Eating Demonstration" event with our art critic Jerry Saltz at this year's Vulture Festival, chef and Ugly Delicious host David Chang shared an interesting theory about the chain's spuds. It all began as the pair munched on "Animal Style" Double-Doubles. Once the fawning over the burger ended, Chang turned on the chain's controversial side dish, which he called "total garbage."
"You don't think they know their fries could be better? Of course they do," Chang told the audience before delving into his hypothesis. "It's just science. For potatoes there's going to be a moment where its the best moment for a potato to be a French fry. And they only come out of the ground once a year, right?" He explained that because In-N-Out makes a big show of slicing the whole potatoes in full view of the customer, rather than frying bags of pre-cut flash frozen fries like McDonalds, they'll invariably wind up using out-of-season potatoes. As Chang presents it, In-N-Out is knowingly sacrificing fry quality for the sake of performative freshness. "I actually appreciate what they're doing … I think it's amazing that they can take a loss right off the bat because they're priming you for the whole experience."
In-N-Out wasn't the only fast food to make an appearance at the event. After sampling Spago's famous smoked-salmon pizza, al pastor tacos, and Sqirl's ricotta toast in front of a drooling audience, Saltz surprised Chang with his favorite Domino's order: bacon, onion, and Alfredo sauce on thin crust. The Momofuku chef, who had been touting populist dishes all evening, defended his love for the pizza chain of his youth.
"I get scared when people say you can't like that because it's too commercialized or doesn't use the fanciest ingredients," the chef said. Saltz backed up Chang's love for simple epicurean joys, stating that "pleasure is one of the most important forms of knowledge."
As if to prove his point, Saltz then ended the panel by revealing that Domino's had in fact been ordered for the whole room and staff began to pass out slices.