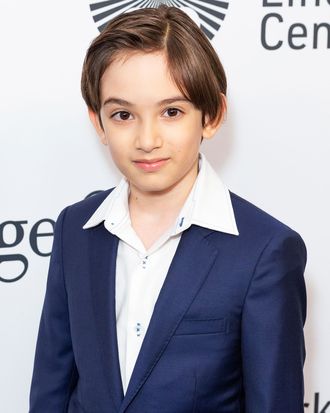 Just sort of waiting for adulthood.
Photo: Pacific Press/Pacific Press/LightRocket via Getty Images
We already knew that Spencer, the sensitive boy with a heart full of questions from Saturday Night Live's now-iconic "Wells for Boys," was a fan of Y Tu Mamá También, but we can't help but wonder: What's his take on Frances Ha?
Azhy Robertson, the young star of Julio Torres and Jeremy Beiler's 2016 skit with Emma Stone, is given even more to emotionally examine in Noah Baumbach's Marriage Story as the custody-embattled, 8-year-old son of Scarlett Johansson and Adam Driver. On the carpet of the Netflix film's November 10 New York premiere, Baumbach recounted how he found Robertson for the role. While he loved the sketch —"It's really hilarious" — he didn't see that Robertson-led clip until after selecting him with casting director Douglas Aibel.
"I was prepared for an extensive, nationwide search, and Doug brought in Azhy, like, week three or something, and I couldn't believe we'd get that lucky that fast," Baumbach said. So they continued the search to check all their boxes, but the filmmaker kept coming back to Robertson and eventually brought Driver into the audition room to do a gut check. "I really had the thing of pinching myself: Did we really find the kid so quickly?"
Later, Robertson would tell us himself that he knew he'd nailed the audition. "I mean, I don't mean to brag, but I think at the time, I was a pretty good Henry!"
Baumbach agreed. "He's an amazing guy and a terrific actor in that he both knows his lines and you can give him direction — all the things that you can do with an adult, but then he's just very much himself and that thing that you want from a child actor, that thing that you can't even describe, really, that makes a kid a kid. He is able to do that and be himself while also telling the story of the movie."
Suffice to say, Robertson is racking up quite the roster of A-list co-stars for a grade schooler. Here's hoping more of the wishes he whispered into that well come true.