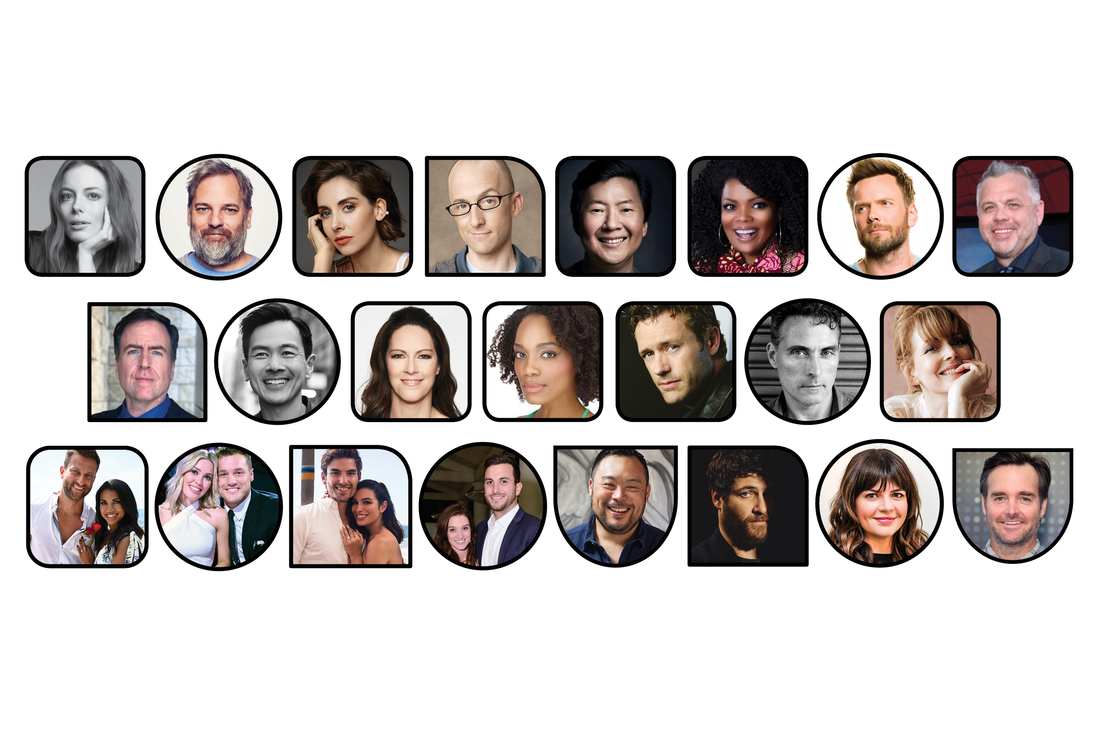 This is it, folks, the biggest weekend of the year. For us, anyway. But also for anyone who loves The Bachelor and the idea of a couple's game night, with Nick Viall and Eric Bigger no less. Or who wants to get a sneak peek of The Man in the High Castle live and in person (in a fun way, don't worry.) If you're looking for something less intense, spend Saturday morning with Forky, have Sunday dinner with the One Day at a Time family, or learn how to be an artist with our own Jerry Saltz. All while chilling out at the poolside lounge at the glamorous Hollywood Roosevelt. And don't get sad yet, New Yorkers, we're also giving Laura Dern an honorary degree this Saturday in Manhattan. See? Something for everyone! This is exactly what you and your Instagram account need right now.
Get tickets now at VultureFestival.com!
TV
Couples
Game
Night
with
Bachelor
Nation
While your normie friends are home playing Scrabble with the decidedly non-famous, we'll be hanging with some of Bachelor Nation's brightest and most competitive stars.
Ashley Iaconetti and Jared Haibon, Jade Roper-Tolbert and Tanner Tolbert, Katie Morton and Chris Bukowski, and Cassie Randolph and Colton Underwood enjoy a night in (at Vulture Festival), playing all sorts of party, board, and dating games. Get your tickets here or go to VultureFestival.com.
TV
The
Man
in
the
High
Castle
Visits
Our
Reality
In this world, you're presented with the opportunity to attend Vulture Festival along with the cast and creators of Man in the High Castle's alternate universe.
Join cast members Rufus Sewell, Jason O'Mara, Chelah Horsdal, Joel de la Fuente, and Frances Turner, along with executive producers Isa Dick Hackett and David Scarpa, for a conversation about what brings this complex, nuanced tale to life and a special sneak peek at what's to come in the exciting conclusion of the series in season four. Get your tickets here or go to VultureFestival.com.
Movies
Saturday
Morning
With
Toy
Story
4's
Forky
He's the most relatable plastic fork we've ever met.
Tony Hale is coming to Vulture Festival to share how Toy Story's newest character went from trash to treasure in a conversation with Toy Story 4 animator Claudio de Oliveira. They'll talk about the lessons this little plastic fork can teach both kids and adults, what shapes his curiosity about the world outside his trash can, and even premiere two shorts from the upcoming Disney+ Original short series, "Forky Asks a Question," ahead of its release. Get your tickets here or go to VultureFestival.com.
The Industry
Movers
and
Shakers
and
Mentors
Presented
by
AT&T
Hello
Lab
After the awards-show speeches end and the tweets have been sent, the rest of the work to change Hollywood begins.
Join Dascha Polanco of Orange Is the New Black, This Is Us star Susan Kelechi Watson, and The Flash's Candice Patton in a conversation moderated by Cameron Esposito about how mentorship programs can open doors for the industry's habitually excluded. And find out what the future of making it in entertainment will, and should, look like. All proceeds from this event's ticket sales will go toward Ghetto Film School, supporting the next generation of great American storytellers.
Art
How
to
Be
An
Artist
with
Jerry
Saltz
Maybe you love art; maybe you even make it or you want to make it, but instead you're lying awake at night listing the reasons you can't.
Wherever you're at, New York Magazine's senior art critic Jerry Saltz can inspire you to just start, for God's sake! In this special talk based on his article of the same name (soon to be a book), Saltz will share his thinking on how to shut your demons right the hell up and get to work. Get your tickets here or go to VultureFestival.com.
TV
Attention
Cloud
9
Shoppers!
The
Superstore
Cast
Has
Arrived
The cast of NBC's hit workplace comedy Superstore is coming to Vulture Festival!
Join your favorite Cloud 9 employees America Ferrera, Ben Feldman, Mark McKinney, Lauren Ash, Nico Santos, and Kaliko Kauahi for an evening of shenanigans and an employees-only look at what goes into making five critically acclaimed seasons. It'll be a heavenly day! Get your tickets here or go to VultureFestival.com.
TV
In
Conversation
With
Gossip
Girl's
Joshua
Safran
Who could forget the show that taught us that the mere act of descending a staircase meant you were a woman?
Join Joshua Safran, the executive producer and writer of the CW's legendary series Gossip Girl, and Vulture's own Hunter Harris as they bring a taste of New York City's Upper East Side to you. They'll dish about the upcoming HBO Max reboot, Safran's latest project Soundtrack, and take a look back at the most classic of Gossip Girl episodes, "Hi, Society." Get your tickets here or go to VultureFestival.com.
TV
SUNDAY
DINNER
WITH
THE
ONE
DAY
AT
A
TIME
FAMILY
Reunite with the Alvarezes for the biggest Sunday family dinner you'll attend this year.
The cast of One Day at a Time comes together for the first time since finding a new home on Pop TV, exclusively at Vulture Festival. Join executive producers Norman Lear and Brent Miller; showrunners Gloria Calderón Kellett and Mike Royce; and cast members Rita Moreno, Justina Machado, Isabella Gomez, Marcel Ruiz, Stephen Tobolowsky, and Todd Grinnell as they serve up behind-the-scenes stories from their favorite moments of the past three seasons, and tease what is next for one of America's favorite families. Get your tickets here or go to VultureFestival.com.
TV
Students of Greendale, please report to Vulture Festival for a reunion of your favorite genre-defining sitcom.
We're getting the study group — including Joel McHale, Alison Brie, Gillian Jacobs, Danny Pudi, Jim Rash, Yvette Nicole Brown, Ken Jeong, Chris McKenna, and Dan Harmon — back together to share notes on their time on the series, their favorite episodes, and if we will ever get that long-dreamed-about movie. Six seasons and a reunion! Get your tickets here or go to VultureFestival.com.
Honors
Vulture
Honorary
Degree:
Laura
Dern
It's time to give this woman her moment.
Laura Dern has graced us time and again with her joyfully honest performances of women on the edge. As one of the only actors on Earth who can go from taking down a Star Destroyer to being Marmee in Little Women, we at Vulture decided an honorary degree needed to be created, just for her. Are we an accredited institution of higher learning? No. But the Department of Education can't stop us from doing this, we checked. Get your tickets here or go to VultureFestival.com.