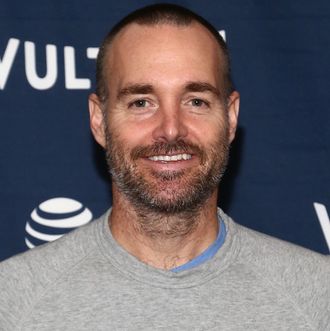 The Last Man at Vulture Festival.
Photo: Tommaso Boddi/Getty Images for New York Magazi
Will Forte's SNL sketch turned big-screen spoof, MacGruber, may have bombed with critics and at the box office, but those are the risks involved when creating an ahead-of-its-time comedy. Almost a decade after the film's release, it has amassed a cult following and, earlier this year, a television series was greenlit. Early on in Vulture Festival's packed screening of the film with live commentary from Forte and screenwriter John Solomon, Forte acknowledged one of the movie's gags is pretty problematic. In one scene, as MacGruber reassembles his team of bruisers to take on Val Kilmer's Dieter von Cunth, MacGruber chooses to exclude a member after discovering he's homosexual. Forte told the audience that leaving that joke in was his "one regret of the film."
Throughout the screening, Forte dropped a number of behind-the-scenes tidbits. For instance, his sex scene with Kristen Wiig was shot on her birthday in a 100 degree room, leaving her showered in sweat after each take. The producers sent her to Santa Fe for a weekend afterwards to "detox" from the ordeal. In the other sex scene, with Maya Rudolph, Forte shared that the actress was "eight and a half months pregnant during that scene," necessitating a body double and creative baby-bump obscuring.
When asked for an update on the forthcoming MacGruber series, Forte couldn't say much, but he did say "it seems like the whole group will be back," insinuating role reprisals from Wiig and Ryan Phillippe.
"They're giving us creative liberties, so we can be as filthy as we want," shared Forte. But don't expect too many callbacks to jokes from the film. The writers made it clear that they want this to be an entirely new thing. One thing you can count on in the series is a reprisal of Mac's signature kill move. As Forte described it, "throat rips will be all over this thing."