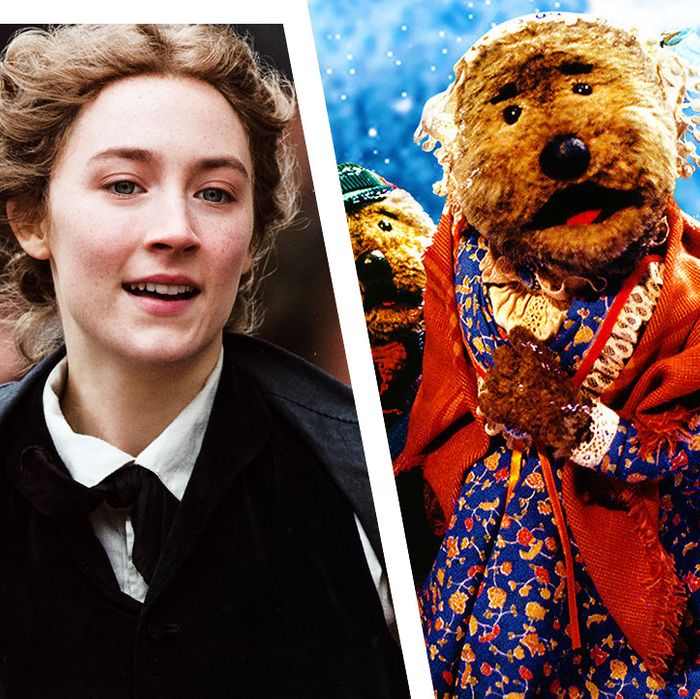 From
Little Women
to
Star Wars
, here's what you should watch this holiday season.
Photo: Columbia Pictures/Sony Pictures Home Entertainment/A24
Oh there's no place like Online for the holidays! How convenient that Christmas, Hanukkah, and Kwanzaa take place during our favorite holiday: awards season. You can snuggle up in footie pajamas, with some nog, and catch up on Netflix's many, many prestige plays, or indulge in the time-honored tradition of going to a movie Christmas Day. However you celebrate, here are 27 things to watch, see and stream with the ones you love … or with the ones you wish would just shut up with their bad hot takes about the Democratic primaries.
Movies (in Theaters)
Saoirse. Florence. Timothée. Eliza. Laura. Meryl. I know these names better than I know my own grandmother's. Also, Emma Watson is in it. Greta Gerwig's adaptation of the Louisa May Alcott classic is positively gorgeous, and a landmark contribution to the #JusticeForAmy movement. These little women are the sisters everyone wants, and this movie will make you nostalgic for a small town Massachusetts childhood you statistically almost definitely didn't have.
There should be a warning posted outside of theaters showing Uncut Gems, because it will probably increase your blood pressure. It's also the unofficial Hanukkah movie of the season, even though it's more of a Passover movie. Adam Sandler plays a New York jeweler named Howard who gets his hands on (and off) a black opal that may or may not be metaphysically connected to his colon in Josh and Benny Safdie's follow up to Good Time. Julia Fox is a breakout as Howard's girlfriend, and Idina Menzel can still fit into her Bat Mitzvah dress, which is a very important detail. The Weeknd and Kevin Garnett co-star as themselves. You've probably seen the blingy Furby by now. Sneak some Chinese food into the theater on Christmas Day and keep your arms and legs inside the ride vehicle at all times. Go get those gems uncut.
Speaking of anxiety-inducing thrill rides, Cats is a haunted house. Cats is a freak show. Cats is the visual equivalent of food poisoning. Now's the time to see it, because Tom Hooper's crime against felinity will probably be disappeared from theaters and poofed into a barge in the Thames faster than you can say "Magical Mister Mistoffelees." Also, because he's not getting talked about near-enough, there is a bright spot and his name is Skimbleshanks the Railway Cat. If Skimble was in charge of this fiasco he would've never let it go off the rails.
Star Wars: Rise of the Skywalker
It may be too late to add a Babu Frik plushie to your wish list, but it's not too late to see Rise of the Skywalker, JJ Abrams' third and final installment in the third official Star Wars trilogy. Join the discourse!
Little Women's March girls aren't the only sisters celebrating Christmas on screen this year. If you're more of a Krampus type, you may prefer the Yuletide sorority slasher Black Christmas, a remake of a Canadian 1970s cult horror classic. Smartly, director Sophia Takal's update uses the setting to express rage at sexual assault and campus rape culture. You better watch out.
Who is Bombshell for? Your conservative family members will certainly bristle at the takedown of Fox News in this story of Megyn Kelly and Gretchen Carlson battling CEO and harasser Roger Ailes. More liberal ones will almost definitely point out its kitten gloves approach to Fox's mouthpieces and its intersectionality blindspots. Still, if you're following this year's awards season, it's required viewing. And it's definitely a Christmas movie, because we must never forget that Megyn Kelly has a deeply Grinchy relationship to the holiday.
Spies in Disguise … Spies in Di-Sguise …. Spies … in … the … SKIES! Get it? While this trailer briefly captured Twitter's interest when it first plopped down, early reactions suggest it's far more average animated kids fare than the trailer's goofy twist led us to believe. Also, why cast Tom Holland as a voice actor if you're going to have him just do an American accent? But if your kids are too young to see Star Wars or Little Women, Spies in Disguise is your friend.
Another Christmas Day release is this death row legal drama starring Michael B. Jordan as an Alabama lawyer up against a deeply racist justice system. We hope Santa brought you Kleenex.
And filling in this year's Clint Eastwood slot is Richard Jewell, the director's take on the true story of an Atlanta security guard wrongfully accused of bombing Centennial Park during the 1996 Olympics. Whereas you could take a nap in last year's boomer fuel The Mule, Jewell is tense and angry. Take the parents, if this is their bag.
Movies (Streaming)
Hustlers (Rent/Buy on Prime Video)
Hustlers isn't only one of the best movies of the year, it also happens to be a Christmas movie. How convenient! If you didn't capture Lorene Scafaria's true crime caper in theaters, you can now kick off your Louboutins and watch it from the comfort of your couch, ideally wrapped in mink. Jennifer Lopez is not only our vote for Best Supporting Actress of the year, but she may as well be Hot Mrs. Claus, taking the young ring of strippers under her wing and warmly showing them the ropes. It's a movie about family and capitalism, and isn't that what Christmas is all about?
Little Women (1994) (Rent/Buy on Amazon)
Gillian Armstrong's 1994 adaptation of Little Women would be a prime holiday pick even if there wasn't a new one in theaters, but lucky for us, we have both, which means we get two of everyone (and three Amys, deservedly so). The '90s version is a fair bit Christmas-ier, so it will be lovely to gather by the fire and watch. Just don't burn your dress. Or your hair. Or your manuscript. (Little Women has an obsession with fire that maybe borders on unhealthy.)
Comfort and Joy (Hoopla)
Here are three things that shouldn't go together: Christmas, ice cream trucks, and Glaswegian mafia wars. And yet! Bill Forsyth makes the story of hapless radio host and proto-Alan Partridge Alan "Dickie" Bird (Bill Patterson) and his accidental involvement in a true-life turf war one of the most uniquely compelling holiday movies you'll ever see. It's witty, it's thrilling, and it's a perfect companion piece to In Bruges, if you're in the mood for clever holiday crime sprees.
Note: this one's hard to find stateside, which is a shame because it's a gem. Borrow it for free on Hoopla, a public library streaming app! Who knew!
Tangerine (Hulu) 
Sean Baker's Tangerine runs like clockwork around Hollywood (emphasis on the holly) on Christmas Eve, and the pavement has never looked more blindingly hot. Sindee (Kitana Kiki Rodriguez) is on the lookout for her rapscallion ex Chester, and Alexandra (Mya Taylor) is stuck in Kiki's wake and spreading the word about her Hamburger Mary's Christmas concert. The movie's an even greater feat in retrospect: not only was it shot on an iPhone, but an iPhone 5s! He might as well have been using cave paintings, or a flipbook.
Can You Ever Forgive Me? (HBO Go)  
Not every New York-based queer female writer with a wit that gets them into trouble can be as aspirational as Jo March. In Can You Ever Forgive Me? Melissa McCarthy plays Lee Israel as a curmudgeonly Scrooge who forges letters by Fanny Brice and Dorothy Parker to sell to rare books collectors. Think of it as fan fiction, only illegal. The movie captures Yuletide New York from an anti-Ephron lens: impossibly lonely and unglamorous and heartbreaking. It's a Christmas viewing antidote when things get too saccharine.
Young Adult (Netflix) 
You're in your hometown for the holidays. You're going to the local bar to see who else from high school is there. You're reverting to your 15-year-old self, and also performing yourself more than usual. There's no better movie for these very specific holiday vibes than Young Adult, which features Charlize Theron giving one of the best performances of the decade as Mavis Gary.
The Two Popes (Netflix) 
Not all new releases require you to put on pants and get up off the couch! Some are straight-to-Netflix, hallelu! If you get the TV all to yourself while the rest of the family goes to Midnight Mass, you might as well keep it holy and watch The Two Popes starring Jonathan Pryce and Anthony Hopkins.
Smallfoot (HBO Go)
You loved her in Euphoria. She gave you life at the Met Gala. She was almost as cute as Tom Holland in Spider-man: Far From Home. Now, experience Zendaya as Mechee in the 2018 Yeti-flick Smallfoot, which shan't be confused with the 2019 Yeti-flick, Abominable. Watch this with the kids in the family, and then teach them their new favorite holiday carol, "Zendaya Is Mechee."
Us (HBO Go)
Santa knows your every move. He sneaks into your house under cover of night. He wears a red suit. Santa is a tethered. In this essay, I will… (1/48).
TV
"The Judy Garland Christmas Show" (Youtube) 
Judy Garland's black and white 1963 CBS Christmas special exists in its entirety on Youtube, and it is a trip, to say the least. The premise is that we're invited into Judy's sunken living room to celebrate a classy mid-century Christmas with her family and a few special guests. Judy sings her classic "Have Yourself a Merry Little Christmas" to the younger kids, and a teenage Liza shows up for a dance number. Jack Jones and Mel Torme also stop by. The show was taped a couple of weeks after the Kennedy Assassination, so if you really want to put yourself in the era, preface this viewing with Jackie. A great precursor to Renee Zellweger's Judy Oscar run.  
A Frasier Christmas Episode Marathon (Netflix) 
Frasier leaves Netflix on January 1, 2020, so now I finally understand the fear people felt before Y2K. Make the most of these few remaining days with Seattle's finest and celebrate Christmas, Crane-style. Season 5's "Perspectives on Christmas" and Season 6's "Merry Christmas, Mrs. Moskowitz" are highlights, with the latter doubling as a Hanukkah episode. Throw in "The Ski Lodge" for the high farce that Frasier does best.
Encore! (Disney+) 
The best thing on Disney+ is an original series, and it doesn't have a Baby Yoda in sight. The show is Encore and it centers on the greatest premise in the history of reality TV: adults come together to put on an encore presentation of their high school musical. This is genius. It's like a Christopher Guest movie come to life. Episodes are released weekly, with the most recent being the very seasonally-fitting "Godspell." Disney+ will also air a "Fiddler on the Roof" episode on the seventh night of Hanukkah. (December 27! Keep up!)
"Joe Pera Talks You to Sleep" and "Joe Pera Helps You Find the Perfect Christmas Tree" (Adult Swim Youtube)
Before Adult Swim produced the first season of the warmly funny Joe Pera Talks with You, the network produced two specials to showcase Pera's folksy humor. The first is Joe Pera Talks You to Sleep, a soothing monologue featuring a cartoon Pera in a cushy armchair next to a crackling fire as snow falls on cedars against a night sky. It's the only animated Christmas special you'll need. In the live action Christmas Tree special, he talks you through nine species of conifer. If these specials are totally your speed (which is to say, slow), many episodes of his series have a cozy, wintry atmosphere, as the show's set in Northern Michigan.
Emmet Otter's Jug-Band Christmas (Prime Video)
You know Frosty and Rudolph and Snoopy and Santa. But do you recall…. The beloved, underrated 1977 Jim Henson special, Emmet Otter's Jug-Band Christmas? If you find the usual Rankin Bass fare to be too played out, you can watch this charming puppeteered story about sweet little woodland critters and their Frogtown Hollow Jubilee Jug Band. It's perfect for fans of The Muppet Christmas Carol or the Country Bear Jamboree. Pair it with these adorable bloopers of Frank Oz riffing as Mama Otter. Also, while A Muppet Family Christmas (1987) is not currently on Disney+, it's not-not easy to find via a quick Google search. Wink wink.
John Mulaney and the Sack Lunch Bunch (Netflix)
Another all-ages viewing choice, but one unlike anything else on offer. Netflix released this children's special from John Mulaney just in time for family viewing, especially if your kids happen to be comedy connoisseurs.
Community, "Regional Holiday Music" (Hulu)
Taran Killam guest stars as Greendale Community College glee club instructor Mr. Rad, who infects the study group one-by-one with the curse of "GLEE!" and with the fear of not making it to "regionals." This episode aired when Glee was at the height of its power, but every joke still lands perfectly. Alison Brie and Gillian Jacobs both give hilarious, series-best performances, the songs are Crazy Ex-Girlfriend level great, and Troy and Abed's "Baby Boomer Santa" basically invented "OK boomer."
The Witcher (Netflix)
Remember Christmas 2018, when everyone was posting Bird Box memes, wearing down your defenses until you had to see what all the fuss was about? Netflix's new fantasy series "The Witcher" might be this year's version of that phenomenon. Might as well give up and binge.
South Park, "Woodland Critter Christmas" (Hulu)
South Park has no shortage of Christmas specials. Jesus, Santa, and most importantly, Mr. Hanky the Christmas Poo are all beloved holiday players. "A Jew on Christmas" is a better Hanukkah song than Adam Sandler's, and you can fight me about that. But no Christmas special left a more lasting, disturbing mark on my young, soft brain than 2004's "Woodland Critter Christmas." It's an awfully cute and troublingly Satanic tale about a bunch of critters summoning the antichrist, so it's a perfect companion piece to Midsommar.