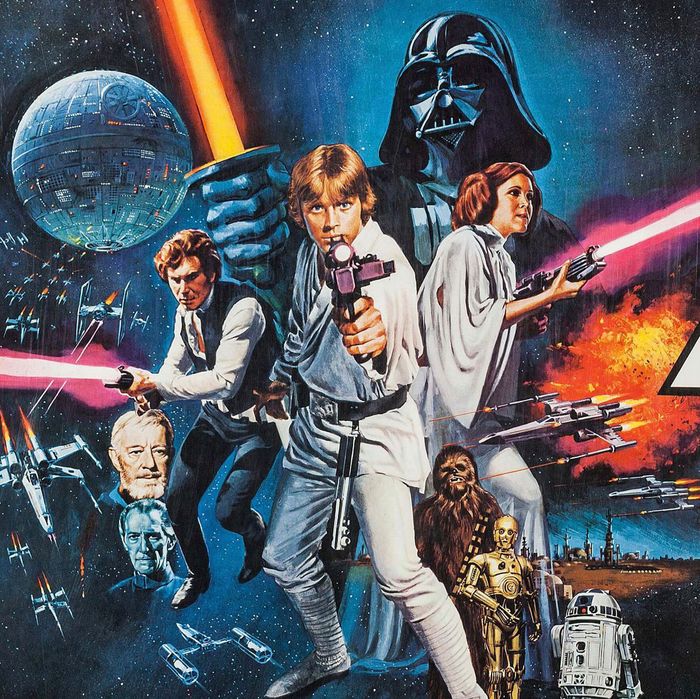 And also with the academy.
Photo: Lucasfilm
Are Star Wars fans crazy? At the very least, we can call them combative. The fanbase's slow, angry turn to the dark side — embodied by the harsh, sometimes racist and misogynistic reactions to Rian Johnson's The Last Jedi on some corners of the internet — was not without its early warning signs. But it wasn't always a morally compromised Luke Skywalker or female characters of color vexing the faithful. Once upon a time in a galaxy … well, here, the biggest enemy to Star Wars fandom was Diane Keaton in a necktie and pants.
In my home growing up, we never spoke of the 1977 Woody Allen film Annie Hall, except with derision. The Best Picture winner — along with Best Actress winner Diane Keaton — is generally regarded as one of the Academy's better choices, a rare win for comedy that's managed to somewhat withstand our great cultural reassessment of Woody Allen. But my parents and older siblings loathed the classic rom-com on principle — sight unseen, for the record! — and not for any kind of moral stance against Allen. No, they despised Annie Hall because it had "stolen" the Best Picture Oscar away from Star Wars.
I thought this was a peculiar quirk of my own childhood until I met a close, post-college friend whose brother called him in disgust one day to tell him, "So I just watched that movie." That movie being Annie Hall. It's as if Diane Keaton herself had ordered the Death Star strike on Alderaan. Since then, I've learned that for Lucasfilm faithful, "Annie Hall over A New Hope" ranks right up there with "Ordinary People over Raging Bull" and "Dances with Wolves over Goodfellas" in terms of supposed Academy injustices.
But if the Star Wars saga has been under-rewarded at the Oscars, it's not personal. The Academy has been indifferent to franchise cinema from the beginning. The exceptions are your Godfather Part IIs and your Return of the Kings; otherwise, the Academy loses interest in series quickly. (Unwavering devotion to serialized storytelling is the Emmys' bag!) You can see the steep drop off in Oscar's attention to sequels as early back as The Thin Man series of the 1930s, which started its run with a Best Picture nod in '34, only to see the first (of several) sequels receive one lonely follow-up nomination.
The James Bond films, which have their own fraught Oscar history, earned a couple Academy acknowledgments during its Sean Connery run (a sound award for Goldfinger, a visual effects citation for Thunderball), then went virtually unrecognized across the next several decades, only receiving a scant few nominations, mostly in the Original Song category, and zero wins. That all turned around with 2012's Skyfall, which got five nominations and two wins (for Adele's title song and sound editing; the latter award it had to share with Zero Dark Thirty). Bloated franchises like Transformers and Pirates of the Caribbean similarly had their moments in technical categories, but those never lasted long.
Seemingly against the odds, all ten films prior to Star Wars: Episode IX — Rise of Skywalker (whose golden fate is yet unknown) have received at least one Oscar nomination. Academy wins, though, are as scarce as the perpetually endangered Jedi themselves. So as we embark upon yet another awards season and another Star Wars release cycle, let's look back on how the series has been both embraced and cold-shouldered thus far:
Original Trilogy (1977-1983)
By the Numbers: 3 Films, 17 nominations, 7 competitive wins, and 3 special Oscars
The instant cultural sensation that was Star Wars Episode IV — A New Hope (1977) was impossible to ignore, even for the Academy, despite its much-discussed aversion to fantasy and sci-fi. The institution showered the film with honors. Despite losing Best Picture to that accursed Ms. Keaton, it picked up the most Oscar statues that year, seven all told, with six competitive wins (Art Direction, Costume Design, Sound, Film Editing, Visual Effects, and Original Score). It also received a special achievement "for the creation of the alien, creature, and robot voices," which was presented by C-3PO in a bowtie. (This type of honor would later get its own competitive category, now known as Sound Editing).
In addition to its craft nods, A New Hope received nominations for Best Picture, Best Supporting Actor (Alec Guiness), Best Director, and Best Original Screenplay — the only time the series has broken into these top categories. Long forgotten in the Star Wars Oscar story, though, is that George Lucas arrived at the competition with auteur momentum. American Graffiti, his film before Star Wars, had been a box-office smash and Best Picture nominee, earning Lucas himself two Oscar nominations (Screenplay and Director). Despite his early success, Lucas was famously indifferent, even prickly, about the notion of awards. According to the biography Skywalking, he only agreed to attend the 50th Academy Awards in the spring of 1978 as a plus-one, since his then-wife Marcia was nominated (and won) for co-editing Star Wars. By the summer of 1981, in fact, the man had resigned from the Academy, the Writers Guild, and the Directors Guild, all of which had honored him for both of his first two hits. (By 1983 he'd also resigned from Marcia, taking up with Linda Ronstadt for several years.)
Though The Empire Strikes Back (1980) is now often cited as the greatest of all Star Wars films, its reception in 1980 was cooler, amongst both fans and the Academy. It won only one competitive Oscar, Best Sound, which was handed out by Lando Calrissian himself (Bernadette Peters was Billy Dee Williams's co-presenter). Empire was also nominated for Original Score and Art Direction (Yoda's swampy home, see you we do!) Finally, Empire received a special achievement for visual effects. A New Hope had faced competition for the Visual Effects statue, triumphing over another instant classic, Close Encounters of the Third Kind. But its two sequels were given special Oscars, since they had no nominated competitors. While visual effects had been an area of filmmaking honored by the Academy as early as 1929 when Wings, the first Best Picture, also took a prize called "Engineering Effects" for its impressive dogfights, the category proved erratic for decades, only stabilizing into a dependable annual competition in 1991, when James Cameron's Terminator 2 triumphed.
Return of the Jedi (1983) was the first (of many) Star Wars films to win zero competitive Oscars, despite nominations for Art Direction, Original Score, and both sound categories. It did take home another special achievement Oscar for visual effects, the last Oscar given to any Star Wars film.
Prequel Trilogy (1999-2005)
By the Numbers: 3 Films, 5 nominations, 0 wins
It's hard to remember what it was like when the news that the Star Wars saga was returning first broke. Joyful madness prevailed! The expectations were insanely optimistic, and that included a potential return to Oscar's good graces. The harsh reality, of course, involved Jar Jar Binks, "yipee!," and midi-chlorians. Despite the rapid deflation of, let's say, qualitative expectations after the premiere of Phantom Menace (1999), all three films were still gargantuan box-office hits. And Academy voters were not sufficiently put off by all that trade-route business to deny Menace the mandatory* Oscar nominations: Sound Mixing, Sound Editing, and Visual Effects.
*Herewith a theory: Sound and visual effects honors are the baseline Oscar categories for all Star Wars films. You can tell how well-loved any particular "episode" was during its year by whether or not it received both visual effects and sound nominations, and if it was able to crossover into other fields. In short, the next two prequel films were comparative awards disasters (that steep drop off!) with Attack of the Clones (2002) receiving only a Visual Effects nomination and Revenge of the Sith (2005) becoming the sole Star Wars film to be shut out of the visual effects category altogether! Curiously, the latter was nominated for Best Makeup, a category no Star Wars film before or since has ever competed in — was it Anakin's burn-victim look? — though it's worth noting here that the Makeup and Hairstyling category was not a steady annual competition until 1984, one year after the original trilogy was in the rearview mirror.
Modern Star Wars (2015-2018)
Disney purchased the Star Wars brand for a paltry $4.05 billion in 2012 and began sprinkling Tinkerbell's fairy dust all over it. Soon the by-then beleaguered space opera was up and flying again. The Force Awakens (2015) was such a behemoth that it started a whole new wave of relentless stanning and made its price tag look like a steal. The passion wasn't just with the public but the media and industry, too. The Critics Choice Movie Awards, in their perpetual determination to predict the Oscars, infamously chucked out all decorum to grant it a retroactive Best Picture nomination since it hadn't screened until after their nominations were announced.
The Academy liked it too, but they were subdued in their love, denying it a Best Picture nomination. They gave it five nominations in total: the mandatory three, plus Film Editing and Original Score, marking the return of Star Wars' John Williams to Oscar's good graces. The legendary composer's career is awash in Oscar wins (five) and nominations (51!), and he had been nominated for all three original trilogy movies, but was subsequently shut out for all three prequels. Newly minted Jedi Daisy Ridley was also invited to present at the ceremony.
The Force Awakens was just the beginning of the current Disney frenzy of nonstop Star Wars content, but Oscar may already be experiencing a drop-off. The saga's most divisive entry, The Last Jedi (2017), received the mandatory three nominations plus one for Original Score. The two spinoffs, Rogue One (2017) and Solo (2018) fared less well, with Rogue One nominated for VFX and sound, and Solo's sole O(scar nomination) coming for visual effects.
Up Next: Rise of Skywalker (2019)
Can Star Wars: Episode IX — Rise of Skywalker, the 11th film in the Star Wars saga, restore the balance between light and dark? May the Force be with … the Academy again? We'll know for sure in January when the nominations are announced, but it's possible that the last five years of constant Star Wars content, including Disney+'s The Mandalorian, have diluted any urgency to honor a "final" installment that everyone knows won't be a real finale — billions of future dollars depend on more episodes, and Disney loves nothing more than billion-dollar movies.
For now, this long-running beloved saga is still waiting for its own Skyfall.