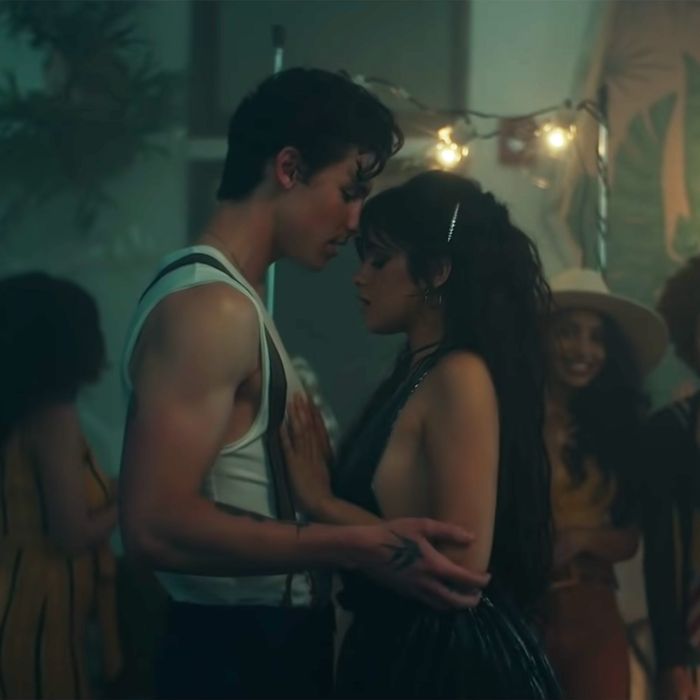 [
Fans self .
]
Photo: Vevo
For months, months, Camila Cabello and Shawn Mendes have been terrorizing haters and fans alike with their love. With every poolside kiss, every stroll through New York City, and every interview question answered with "I'm in love!" we learned more than we ever needed to know about their relationship. Shamila is all of us now. That's why it's totally fine for us to overanalyze the lyrics in songs from Camila Cabello's brand-new album Romance. What does it all mean? While some songs, like "First Man," talk about another relationship or love, in general, a few of Camila's new songs share details about Shamila we never knew. Camila and Shawn have had a tumultuous relationship, maintaining a friendship through boyfriends and girlfriends until the "Señorita" of it all drew them together. If they fell in love making "Señorita," what other secrets does the album hold?
"Should've Said It"
The first half of Romance is a push and pull. In "Should've Said It," Camila calls Shawn out for not pursuing their relationship before. To be fair, they were both teens, and teen celebrities at that, but we'll probably hear Shawn's side of the story when his next album drops.
So you want me now? That's funny / 'Cause you didn't give a … back then / Comin' back around, so sorry / 'Cause there's no room in my bed / And I'm all good now, someone else is gettin' all of me (Ah) / If you wanted me so desperately, you shoulda said it
Camila specifically says Shawn should've confessed his love two years ago, a number that appears in a few songs. It's kind of unclear what was happening two years ago that Camila desperately wanted Shawn in her life, but it's probably just that two years ago, she was in-between dating Michael Clifford from 5 Seconds of Summer and her most recent ex, Matthew Hussey. There was an opening and Shawn blew it! She holds this grudge for a few songs on Romance, then eases up.
"Señorita"
She simply loves it when he calls her señorita! And although it's a classic sexy trope, Camila and Shawn actually began their friendship with Spanish lessons. Camila would teach him some Spanish and he would teach her how to play guitar (that is, after he learned himself). Although it doesn't seem like Shawn Mendes actually learned much Spanish; she was definitely Señorita Cabello for a time. The rest of "Señorita" is a fantasy, but a little of the truth comes through. "You say we're just friends / But friends don't know the way you taste," they both sing. Okay, true! Let me unhand my pearls.
"Liar"
Sometimes you have to cheat on your man. Megan Thee Stallion said it and now Camila Cabello is backing it up. In "Liar," she loses herself and accidentally goes too deep with another lover. Thus, making her a liar. The rest of the song is pretty vague, but it does raise the question: Did Shamila kick off because Camila cheated?
"Bad Kind of Butterflies"
Now, she has to deal with the aftermath. In "Bad Kind of Butterflies," Camila is speaking to her current boyfriend, who we can read as her recent ex, love expert (ouch!) Matthew Hussey.
Bad, bad butterflies in my chest / There's something I gotta confess / Yes, somebody's stuck in my head
Camila sings about emotional cheating, thinking about being with someone else when she's supposed to be faithful to her partner, and alludes to something going on. The song follows a heartbreaking conversation with her boyfriend and has a heart-pounding beat to match.
I know I said we were friends / And when I said that, I meant it (Swear I meant it) / Somewhere between now and then / It became more than just a friendship (Mm)
Camila admits that she and this, uh, mystery crush started off as friends, but it suddenly became more. Perhaps while they were writing an incredibly sexy duet.
"Feel It Twice"
Camila is stuck in a love triangle. She's with someone, but her old crush reappears and suddenly feels the same way. In "Feel It Twice," she isn't very optimistic about love, which feels like it's in direct opposition to the way she's feeling about Shawn now. However, there is a hint that her unrequited love is Shawn. She sings, "That's when you said, 'How can I be your friend when I know the way you taste?' It's almost 2 a.m. and I can't ask you to stay,'" which is that infamous lyric from "Señorita." She ends the song saying she can't go back to him, but we know that just isn't true.
"Used to This"
"Used to This" opens with "No, I never liked San Francisco / Never thought it was nothin' special / 'Til you kissed me there." Shawn and Camila made a stop in San Francisco during their massive love-fest tour (caught kissing in San Fran, L.A., and Miami, just to cover their bases). The song follows Camila's transition from friendship to romance, noting how it feels to say his name and feel his guitar-string-callused fingertips on her skin. (Shout out to Taylor Swift's line "With every guitar string scar on my hand" — how crazy would it be if this was actually about Taylor Swift?)
"Dream of You"
A classic love song, "Dream of You" compiles all of Camila Cabello's swirling butterflies and wedding-bell fantasies. It's clearly about Shawn from the start, since he's known for being a "shy singer." Plus, she asks "So could you stay with me, lay with me / Talking about nothing?" which Shawn recently confirmed is their favorite pastime. It took Shamila and their publicists a lot to get to where they are now, so their lips deserve to kick back and relax.