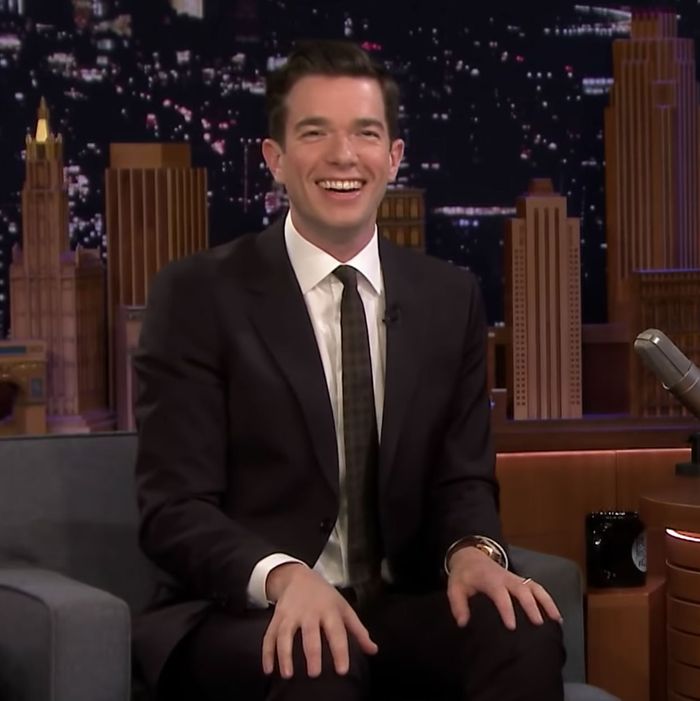 John Mulaney and Jimmy Fallon.
Photo: YouTube
It's the holiday doldrums — that time of year where people don't feel like doing anything because Thanksgiving just happened and Christmas seems so soon. Most of late night took half weeks or didn't show up at all this week, but those who did have live shows brought some much needed holiday cheer. The impeachment hearings are old hat; Christmas sweaters are the new hotness. Let's see who made our days merriest and brightest this week.
5. Jimmy Kimmel Gets Your Goat
Jimmy Kimmel might be the most ill-qualified elf since David Sedaris. Kimmel and Guillermo gave one child the gift of mistrusting authority. Jimmy and the child go back and forth forever over the concept of withholding information from an adult, and it's both cruel and cute. What's even cuter is the joy in a child's eyes when she receives her first pet goat. A Christmas tradition.
4. The Daily Show Cottons to Joe Biden's Jive
Maybe I'm just a sucker for an olde-timey PRESS hat, but this was my favorite take on Joe Biden's "No Malarkey" tour. It's the cat's pajamas when chin-waggers get hep to the lingo we reet petites are slingin' in the speakeasies of prohibition Chicago. Gams! I will dock points for not finding a way to call joints "giggle sticks," but we can't have everything.
3. James Corden's Starbucks Theater
"World's most exhausting theater kid" is James Corden's most successful character game. And running a close second is all of television's game that mentioning or setting your comedy in Starbucks isn't sponcon. This beautifully weaves the two together, with a thirsty Max Greenfield thrown in for good measure. This sketch is a testament to both the production staff of The Late Late Show and the graphic designers at Starbucks. The abstracted designs they've been doing on cups lately ingeniously turn into an abstracted Alaskan wilderness. Cold foams all around!
2. Conan and Kristin Chenoweth Trade "O Faces"
Conan O'Brien ostensibly set up a game where Kristin Chenoweth would harmonize with three random noises. But the game got derailed after sound No. 1 because Chenoweth is too salty and O'Brien is too goofy. If you've never seen Conan O'Brien's imitation of a megaphone crooner, it is too googly-eyed and way, way too horny.
1. John Mulaney's Holiday Opinions
We have a new textbook illustration of joy, and it's when John Mulaney realizes he has a hot take on something. Jimmy Fallon gave him chances to opine on various holiday things, and every time Mulaney was delighted to discover that he did, in fact, have a strong point of view on each. Plus, we learned something. On Rudolph the Red-Nosed Reindeer, Mulaney said, "Fame is not love. They're very different things. And I've done a lot work to get to that conclusion. And I hope Rudolph sees a therapist."