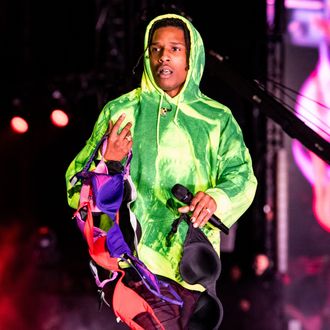 Photo: Timothy Norris/WireImage
Tough day for A$AP Rocky. An alleged sex tape of the rapper was leaked, and while he might not mind so much if the reviews were stellar, folks online have been having fun at the expense of Rocky's perceived, well, "performance." Search his name on Twitter and you'll find a long scroll of results, in a variety of languages, making jokes about his "stroke game" and sometimes expressing grave disappointment about broken fantasies. Rocky, however, will not silently sit by, and he's posted an all-caps response to his detractors on Twitter.
For a selection of sex-tape reactions, please see below:
A$AP and his penis will see you all in court.