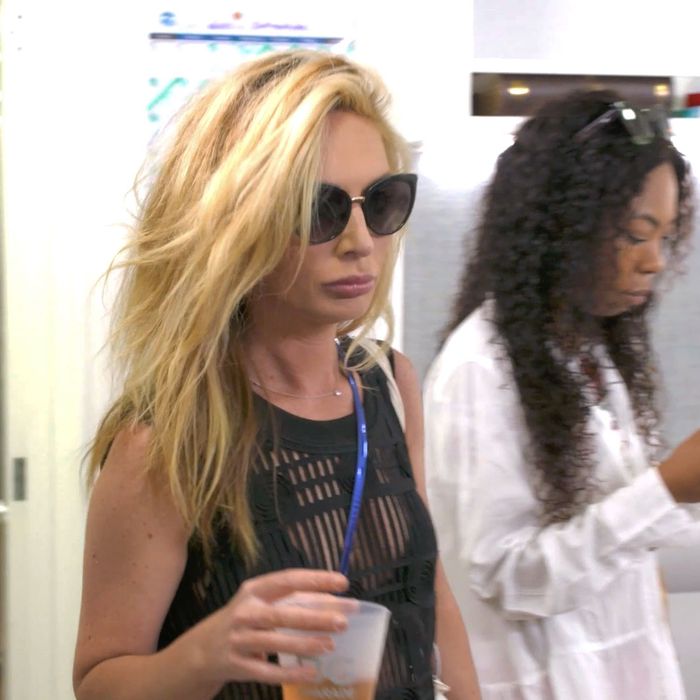 There are not enough stars in Vulture's rating system to properly acknowledge the brilliance of this episode and its interwoven story lines, each expertly exploring new lows of both human behavior and hotel pools. This footage should be archived at the New York Public Library for anthropologists and sociologists to study in 200 years, at which time the wage gap may finally have closed but most people will still struggle to understand why some men are so, so terrible.
The casting directors of Below Deck have a special talent for finding truly dreadful men for this show. Even the good ones, like Brian, become bad. This episode ends up as an apparent referendum on Kate and her likability, but it's really a referendum on the men on this boat and how they try to deflect criticism from their own terrible behavior by ganging up on women.*
We open with the conclusion of Kate and Simone's altercation. Kate has no sympathy for Simone, who's tired of doing laundry because, on her first yachting job, she spent two months in the laundry room. To prove it, the editors cut to photo evidence of her as stew in the underbelly of a boat wielding an iron like she's about to use it to sacrifice a seagull.
While Simone cries and puts drinking glasses away, Kate calls up Courtney to complain about Simone. Courtney listens to Kate empathetically but stares at her like she's butchering a live fish.
Back in their shared bunk, Rhylee tells Kate she wants to steal Brian from Courtney, who is "mousy." Kate says she and Brian are cute together and to leave them alone, but Rhylee says she doesn't care. Kate tells her she is "so sauvage." Rhylee: "I don't even know what that means."
The next morning, the guests praise Kevin's salted meat and stuff banana muffins in their faces. Kate asks Simone how she slept, then sends her to toil in the laundry room. Poor Simone says she's here to earn money and will try to suck it up for the rest of the charter. Tanner, who's about to make her life so much worse, goes to give her a hug and says as soon as the squad of moms is off the boat they're going to "get fucking lit." He always knows just what to say.
The boat docks with no drama or difficulty because its parking spot in Thailand could fit the Titanic. Nonetheless, one of the guests, who knows that docking a boat on this show means people could die, marvels, "You guys docked safely."
After the guests leave, Captain Lee sends the crew to an elephant sanctuary. Part of the getting-ready process involves drinking heavily, as if they expected the elephant sanctuary to come with a DJ and neon lights. To be fair, if anyone could find a place like that, it's the Below Deck producers.
Before they go to see the elephants, Tanner calls his parents, who worry about him if he doesn't check in regularly. Their enthusiasm and voices are eerily like Below Deck Med Colin's parents, only instead of saying things like "I can't wait to feed you lasagna when you get back!," Tanner's mom goes, "Oh, Tan! I miss you so much! Don't get any hookers pregnant!"
After Kate is late to join the crew to leave for the elephants, she and Kevin have a fight over a refrigerator. Kate wants to store wine there, but Kevin says it's his fridge and he likes it empty. Kevin says she could easily store her wine in the upstairs fridge if it weren't "crammed full of just crap." Kate puts her wine in the fridge anyway, then Kevin says he's going to get more beers. Kate's like, oh, where are those beers? And Kevin says, in the front. And Kate says, "Oh, my fridge?"
The crew divide into a boys' van and a girls' van, which allows Kevin to continue complaining about Kate. Kate spends the ride leaning against the side of the van with her shades on, while Rhylee pontificates about Kevin, wondering, "Does he need the V?" Then she tells a horrified Simone exactly what Tanner told her about their sexual activity.
Back in the boys' van, Tanner talks about going down on Simone again. "I'm fucking eating!," he says, miming eating with a spoon. "Chow town, dude!" The reaction is a cacophony of disturbing evil-man laughter.
The elephants are so cute and lovely, and I feel uncomfortable that they had to be subjected to the cast of Below Deck.
When they get back to the boat, Simone tells Tanner, about to light a cigarette in her face, not to tell other people about what they do in bed. He claims he never wanted to upset her, as though her feelings were something he actually considered for any length of time.
Simone goes to bed while Tanner smokes. He then stumbles back onto the boat and takes shots of coffee Patrón by himself. He tells Brian and Ashton that he believes Rhylee is acting as a "double agent" between the boys and the girls. Ashton, who is Rhylee's boss and should act as a unifier, agrees that "Rhylee can't be trusted." Tanner talks about specific sexual acts he performed on Simone — yet Rhylee can't be trusted.
After Brian and Courtney crawl into bed together, Tanner, still drunkenly wandering the boat, now with his ass crack showing, texts Simone, "Come into my room?" And she does, which is so upsetting. Especially because the next day Tanner claims he has no idea how Simone got into his bed, like this is Bewitched, where a nose wiggles and things just happen.
While the crew gets ready to go to the beach resort for the day, Captain Lee stares into a Tupperware container, extracts a piece of lettuce, makes a face of disgust, and casts it aside — a perfect allegory for what Simone should do with Tanner.
Dream Club is a horrifying place that includes a DJ, a swim-up bar, and in-pool platforms for go-go dancers and drunk people. While the boys play pool, Rhylee stares at them and comments on their figures. She calls out Kevin's "dad bod," then cleanses her eye by looking at Brian, who is "hot as shit." Courtney admits this makes her jealous, so she sidles up to Brian. Rhylee looks on agog and tells Kate she would "lick the sweat" off Brian's abs. "I'm a hunter," she says. "I'd fuck the shit out of Brian 'til he doesn't remember who Courtney is."
In the pool, Tanner and Simone make out, and Tanner says, "I love your ass. That's why I was attracted to you." Moments later, two poolside go-go dancers show up, and all the men in the crew turn to unabashedly stare at them as if they've never seen women before. You know those birds in Planet Earth that display brightly colored feathers when potential mates are around? Ashton is like that, only his version is becoming a poor man's Magic Mike. In a blink-and-you'll-miss-it shot from your Meatpacking District nightmares, his poolside gyrations are accompanied by a man standing on the bar in blue reflective shades playing the saxophone.
Ashton does a cannonball into the pool, splashing all of his co-workers, the entire pool bar behind them, and the DJ and his equipment. As the DJ tries to wipe the pool water off his computer, Tanner stares so egregiously at the go-go dancer wearing a red miniskirt and crop top that Simone eventually asks him, "Are you done looking?" And Tanner says, "Sorry, it's just amazing." And then, "I was thinking about if I should dance with her. Should I?"
Simone says no, but Tanner somehow manages to mount the dancer's little pool stage and dance his large floppy body up against hers. But maybe the saddest thing about this whole interaction is that the dancer chooses to leave him. The entire cast then tells him he did a stupid and horrible thing. Tanner says he'll make up for his actions and tries to ensnare Simone, who wants nothing to do with him, in his drunken, greasy embrace.
Everyone but Kate, who doesn't want to talk to these asshats on her day off, goes to the beach to watch the sunset. In a bromantic moment, Kevin and Brian wade into the surf. Once he has a captive audience, Kevin says, "Kate treats us all like bitches." Back at the bar, Kate and Kevin have an altercation over paying tabs. The most important part of this scene is that these people — not Bravo — pay their own bar tabs?!
They have dinner, and everyone agrees Tanner is a horrible person. On the way home, Kate and Brian get into a fight after Kate tells Brian he's a great yachtie. Apparently, Brian doesn't like being called a "yachtie" because it can be used as a derogatory term to describe someone who "makes a lot of money and doesn't work very hard." Kate, who has used "yachtie" every season on Below Deck in a non-derogatory way, says this isn't what she means at all. Brian then calls her a bitch.
Tanner, sitting behind Kate and clutching a bottle of white wine, says, "I've been called a bitch all the time, get over it." Kate gets out of the cab by a tree she recognizes and hustles back to the boat, where she finds Captain Lee enjoying his last moments of solitude in the crew mess. The rest of the crew returns to the boat, the guys not even trying to muffle their loud mocking of Kate.
Kate asks Captain Lee what his pants size is, then throws all the other freshly laundered and folded uniform pants on the floor. Kevin and Ashton find a deck on another part of the boat, where they can shout about Kate and her disrespect for Captain Lee behind her back.
Captain Lee sees this mess of emotions and pants unravel before him, and his takeaway is not that one side is right and another is wrong but simply: "Jesus Christ! They get a day off, and you come back batshit fucking nuts!"
To Brian's credit, even though he should never have called Kate a bitch, he goes to apologize to her while Ashton and Tanner rant and rave about how horrible she is. Lee decides to deal with everyone in the morning and goes to his cabin to drink a sensible amount by himself.
Next week: Lee tells his staff they're idiots, the family with salad-eating children returns to the boat, and Kevin may sink them all.
*My husband passionately disagrees with this recap's siding with Kate, and his reasoning about why she's in the wrong is valid: She thinks she's better than everyone else on the boat, which is why she has no regard for her co-workers, and she terribly mismanages Simone. I agree with these points but find the collective aggression from the men to be far worse than Kate's actions.