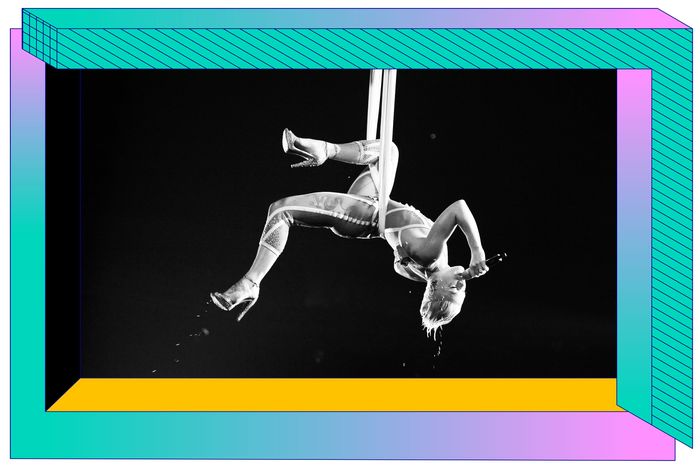 Pink raises the bar with "Glitter in the Air."
Photo-Illustration: Illustration by Ari Liloan; Photo by Getty Images
Do you know how much time you've spent watching three-hour-long awards shows the last decade? And let's be honest, they always run into the 11 o'clock news hour, so it's more like 3.25 hours. I just calculated it for you, and it's something like 8,760 hours. Which is 525,600 minutes. It's too many minutes for you to possibly remember all the best moments. Hence, this list. These are in no particular order, not exhaustive, were selected very scientifically, and are certainly not a reflection of the taste of any one writer — myself — in particular. A reminder before you @ me on Twitter: The Kanye West and Taylor Swift incident was in 2009.
Pink Suspended From the Ceiling at the 2010 Grammy Awards
Quite literally raising the bar for awards-show performances, Pink performing "Glitter in the Air" at the 2010 Grammys is an insane display of breath control and core strength.
Neil Patrick Harris Hosting the 2010 Tony Awards
More specifically, the closing number in which Harris performs a rap written in real time about the night's show, which he pulls off in such a way you'd think he'd had, you know, time to practice. It's chaotic and annoyingly good. Now, you might be asking yourself why we chose this Tony Awards moment from Harris as opposed to the much beloved "Make It Bigger" opening number from the 2013 Tonys. It's less showy, sure, but it's an even better flex. This one is better and we will not be taking any questions at this time.
Beyoncé's Baby-Bump Mic Drop at the 2011 VMAs
Following a perfect performance of "Love on Top," Beyoncé dropped her mic and unbuttoned her purple sequined — perfect — tuxedo jacket to display the would-be Blue Ivy to the world.
Jennifer Lawrence Trips at the 2013 Academy Awards
I don't really want to put this on here, but I feel obligated. It happened. A lot of people tweeted about it. We stan a relatable queen.
John Travolta Welcomes 'Adele Dazeem' at the 2014 Academy Awards
Say it with me: "Idina Menzel." Very good. John Travolta, while introducing the singer to perform "Let It Go" from Frozen, did not do it quite so well. ("Let It Go" went on to win for Best Song that year.)
Steve Harvey Announces Wrong Winner at Miss Universe 2015
A delightful, cringey moment for those of us who are not Steve Harvey, Miss Colombia, or Miss Philippines — the latter of the three being crowned the rightful winner of the 2015 contest after Harvey corrected his mistake.
Meryl Streep Cheering on Patricia Arquette at the 2015 Academy Awards
Arquette gave an eloquent speech while accepting the Oscar for Best Supporting Actress in Boyhood. When she took the final moments of her speech to talk equal pay, Meryl Streep, seated alongside an equally enthusiastic J.Lo, stole the show with her cheers and pointing and general "Can I get an amen?" vibe.
Nicki Minaj Calling Out Miley Cyrus at the 2015 VMAs
During her speech for Best Hip-Hop Video for "Anaconda," Nicki Minaj uttered the now-infamous "Miley, what's good?" Cyrus, the host of the 2015 show, made a comment about Minaj to the New York Times in the run-up to the show, about Minaj's complaints about being snubbed. "You made it about you. Not to sound like a bitch, but that's like, 'Eh, I didn't get my VMA.'"
Cynthia Erivo at the 2016 Tony Awards
Dear God, Cynthia Erivo, we are not worthy. That's it. That's the whole blurb. (Please watch and gape at Erivo's award-winning performance of "I'm Here" from the revival of The Color Purple.)
Winona Ryder's Face Journey at the 2017 SAG Awards
While co-star David Harbour delivered a moving speech following Stranger Things' win for Best Ensemble in a Drama Series, Winona Ryder stood beside him making a series of faces, from emotional joy to existential despair, that completely stole the show.
Moonlight Wins Best Picture at the 2017 Academy Awards
Warren Beatty errantly announced that La La Land had won for Best Picture, mistakenly reading from the card for Emma Stone's win in the Best Actress category. "Guys, I'm sorry, no, there's a mistake. Moonlight, you guys won Best Picture," producer Jordan Horowitz said after the La La Land team took the stage. The kind of drama that makes your glad you stayed up far too late watching a very dragged-out awards show.
Emma Stone Introduces "Four Men and Greta Gerwig" at the 2018 Academy Awards
Nominated for Lady Bird, Greta Gerwig was the only woman in the Best Director category at the 2018 Oscars. Emma Stone shadily introduced the category by announcing the list of "four men and Greta Gerwig." The comment, which echoed Natalie Portman's introduction of the "all-male nominees" at the Golden Globes earlier that season, later came under fire for lacking intersectional awareness, as Gerwig's fellow nominees included eventual winner Alfonso Cuarón and Jordan Peele.
Spike Lee Finally (!) Wins an Oscar at the 2019 Academy Awards
Following his win for Best Adapted Screenplay for BlacKkKlansman, Spike Lee jumped into Samuel L. Jackson's arms while taking the stage to accept his award. He'd previously won an honorary award in 2015, but had never won a competitive Oscar. It was delightful, and there's not much else to say that Lee doesn't say better himself, so just watch the clip and grin.