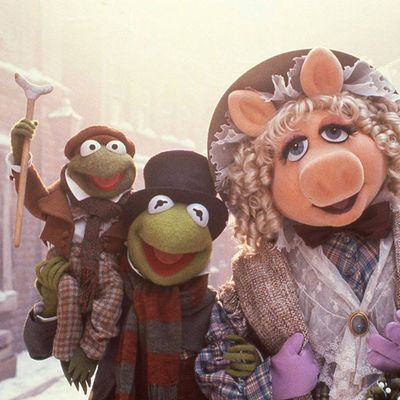 Hark!
The Muppet Christmas Carol
is on Disney+.
Photo: Buena Vista Pictures
It's the most wonderful, streaming-est time of the year! Holiday movies are everywhere this season, including new, original films on Disney+, Netflix, and Hulu to go along with some of your family's favorites. That's the good news. The bad news is that a lot of the classic holiday movies that you know and love by heart aren't available for your subscription fee. You can go to services like Amazon or iTunes and pay to rent films like Elf, A Christmas Story, National Lampoon's Christmas Vacation, The Polar Express, and even Die Hard — but you won't find any of them included for free on your favorite streaming service. But there are still great Christmas movies to be found! We've put together a guide to the 20 best holiday movies and specials across the four major streaming services for you to watch. Pick your favorites, make some eggnog, and settle in.
Disney+
It shouldn't be too surprising that Disney+, the streaming service aimed squarely at families, would have the best selection of holiday movies. Sure, they don't have the seemingly endless supply of Hallmark/Lifetime movies as their competitors, but they do have some modern classics, and even a new title that's kind of cute.
Home Alone (1990)
No one could have expected the adventures of 8-year-old Kevin McCallister (Macaulay Culkin) to become the worldwide phenomenon that is Home Alone, a family holiday comedy that's still beloved and consistently referenced almost three decades later. The film's physical comedy is what really made it such a phenomenon, but there's a nice emotional undercurrent here too, reminding young viewers that what really matters around Christmas is being with your family and being kind to your fellow man. Well, that and Joe Pesci and Daniel Stern almost being killed by a child.
The Muppet Christmas Carol (1992)
The first film to be developed after the death of Jim Henson proved that the legacy of the Muppets could still be powerful in the hands of Jim's son Brian. The fourth Muppet movie is one of the most beloved, casting puppets we know and love as characters that have been a part of the international conscious for generations. Kermit plays Bob Cratchit, Gonzo voices Dickens himself, and Michael Caine is wonderful as one of the best variations on Ebenezer Scrooge the big or small screen has ever seen.
Mickey's Christmas Carol (1983)
This may be a short film, but it's a major one in Disney history. This was the first time that Mickey was in a production like this in three decades, as the short premiered in Christmas 1983 with the rerelease of The Rescuers, although most people have probably seen it in one of its many television airings over the years. Of course, Scrooge McDuck plays his namesake, but it's seeing the rest of the Disney icons like Mickey as Bob Cratchit, Goofy as Jacob Marley's ghost, and Jiminy Cricket as the Ghost of Christmas Past that make this such a memorable holiday experience for Disney fans.
Noelle (2019)
Bill Hader and Anna Kendrick star in a film that will always hold a special place in history as one of the launch-day original titles for Disney+. The two immensely likable actors play the children of Santa Claus. In this variation on the legendary big red guy, Saint Nick passes his powers and duties down to his first-born son (Hader), although it appears that his daughter (Kendrick) may be better suited to the job. It's a little slight (most holiday comedies are) but it's got a big heart, and Kendrick admirably gives it her all, finding the right degree of holiday cheer without making her character too saccharine.
The Santa Clause (1994)
Toy Story isn't the only franchise that Tim Allen helped create, and all three films in this series are sitting right there on Disney+ for your holiday viewing pleasure. The first is easily the best, starring Allen as Scott Calvin, a regular dude who basically falls into becoming Santa Claus after the big red guy falls off his roof. The physical comedy here is funny, but the charm is really the message that we should all be a bit more like Santa in our normal lives, especially when it comes to keeping the magic of Christmas alive for our kids.
A Nightmare Before Christmas (1993)
Tim Burton's 1993 stop-motion classic is the only movie we can put on both Halloween and Christmas lists. Most people forget that it only did modest box office when it was released in 1993, but the story of Jack Skellington has become more popular in the quarter-century since its release. Don't believe us? Go look at the amount of Nightmare merchandise out there from toys to games to clothes. Even Burton couldn't have guessed the extent that people would pass this film down from generation to generation. It's a modern holiday classic.
Netflix
The ugly truth is that Netflix likes to fill their catalogue with things that you can watch while you're doing other activities like playing with your phone. And so, a lot of their holiday movies are disposable background noise, most of them having aired on basic cable in the past few years. No offense to people who dig the melodramatic variation on the holiday movie, but those are largely interchangeable. Just pick one and go. These are for when you're trying to be a little more discerning.
Klaus (2019)
Sergio Pablos directs this year's best new Netflix holiday film, a hand-drawn affair that looks more like the classics of our youth than what gets released today. (It's no coincidence that Pablos worked on '90s hand-drawn films like The Hunchback of Notre Dame, Hercules, and Tarzan.) Jason Schwartzman voices a young man forced to establish a post office in one of the northernmost towns in the world, in this reimagining of the legend of Santa Claus. He meets a hermit toy-maker there and encourages kids in town to write him letters to get him to make more toys for good behavior. Great voice work and even better visuals make this one of the more memorable modern holiday films in a long time.
Dr. Seuss' The Grinch (2018)
We can't get enough of Dr. Seuss's most iconic creation, already adapted into a Jim Carrey vehicle, and more recently, as this Illumination animated hit. Benedict Cumberbatch voices the Grinch, who lives above Whoville, annoyed by the Christmas cheer in the town below. He hatches a plan to ruin Christmas for them forever, but eventually finds his heart growing three sizes that day. While this isn't anyone's favorite version, it's got that modern look that a lot of kids like, and it made over $500 million worldwide last holiday season. People seemed to take to it. Every generation needs its own Grinch.
The Grinch Who Stole Christmas (2000)
Ron Howard directed this 2000 blockbuster version of the Dr. Seuss classic starring a heavily made-up Jim Carrey as the title character. This was actually the first Seuss book to be adapted into a full-length film, and the movie made a few variations on the relatively short source material. (The biggest artistic license: making Cindy Lou Who a bigger character.) Some of the humor and visuals haven't aged well, but Carrey's performance carries it with his go-for-broke energy.
A Very Murray Christmas (2015)
Sofia Coppola directed this original Netflix special that landed on the streaming service way back in 2015 and remains like nothing else you could watch this holiday season. Bill Murray and Coppola are working from an old-fashioned "get the gang together" template like Bob Hope used to employ for holiday specials. The gang in this case includes George Clooney, Amy Poehler, Michael Cera, Maya Rudolph, Rashida Jones, and Miley Cyrus. Sounds like a memorable holiday party to us.
White Christmas (1954)
There aren't many classic films on Netflix in general, but they do have one holiday gem, Michael Curtiz's 1954 film starring Bing Crosby, Danny Kaye, Vera-Ellen, and Rosemary Clooney. Here's some trivia for your holiday party: The song "White Christmas" isn't original to this movie — it actually originates from a different Crosby film, 1942's Holiday Inn (which you'll also find further down this guide). After World War II, a pair of veterans become successful artists and producers in New York City before falling for a pair of sisters with dreams of Broadway themselves. The music by Irving Berlin keeps the film catchy and light.
Christmas With the Kranks (2004)
They can't all be comedy masterpieces. Sometimes you just want to unwind with some goofy humor, and Tim Allen, Jamie Lee Curtis, and Dan Aykroyd provide exactly that in this 2004 hit that was based on a John Grisham novel. Allen and Curtis decide not to celebrate Christmas one year when their daughter is gone — but their neighbors don't take too kindly to that, forcing holiday cheer upon them. Most critics absolutely hated this movie more than a kid getting coal in their stocking, but it did well at the box office and has developed something of a cult following over the years.
Hulu
Maybe the best way to use Hulu for your holiday needs is to go digging for the Christmas episodes of your favorite shows. For example, great holiday episodes of The Simpsons and Bob's Burgers are there waiting to be rewatched when you're done decorating the tree. If you're looking for a movie instead, the selection is a little slight, but we found a few worth highlighting.
Home for the Holidays (1995)
Jodie Foster's sophomore directorial effort is this wonderfully cast dramedy starring Holly Hunter as a woman in the midst of a midlife crisis who comes home to spend the holidays with her deeply dysfunctional family. The reason this movie works and has a legion of die-hard fans is its remarkable ensemble, including Hunter, Robert Downey Jr., Anne Bancroft, Charles Durning, Dylan McDermott, Geraldine Chaplin, Steve Guttenberg, and a young Claire Danes. It made almost nothing in theaters, but fans have watched it every holiday season since.
I Want a Dog for Christmas, Charlie Brown! (2003)
There are generations that grew up on the classic Peanuts holiday specials — this isn't exactly that, but it's a fun, clever, sweet holiday adventure with Charlie Brown and Snoopy. Originally airing on ABC back in 2003, it tells the story of Rerun van Pelt, brother to Lucy and Linus, and how badly he wants a puppy for Christmas. The modern Peanuts specials may not have the timeless quality of the originals, but it really doesn't feel like the holidays until someone plays "Christmas Time Is Here."
Into the Dark: A Nasty Piece of Work (2019)
Those who aren't horror fans may not know that Blumhouse and Hulu have produced a series of original films based on the holiday of the month in which they've been released. This being the second season of Into the Dark means we've had two Christmas horror movies, 2018's Pooka! and this just-released horror-comedy from Charles Hood. Julian Sands stars as a boss who doesn't give his employees Christmas bonuses, choosing to pit them against each other on one long crazy night at his house instead. It's kind of like Christmas Vacation meets The Game. Yeah, you know you want to see that.
Saturday Night Live Christmas Special (2016)
Some of the funniest sketches in the history of Saturday Night Live have come around the holiday season. Once you've wrapped all the Christmas presents and are ready for the big day, why not pop this on and sing along to "Dick in a Box" or "Hanukkah Song"?
Amazon Prime
Amazon Prime has a great interface to rent all your favorite holiday movies that aren't available on Netflix or Disney+, but their selection of free-with-subscription holiday flicks is pretty dire. We'll do our best.
Bad Santa (2003)
There aren't enough adult comedies around the holiday season. Need a break from the sickly sweet taste in your mouth from all the decorations, carols, and general holiday cheer? Check out this Billy Bob Thornton comedy classic on Amazon Prime. Thornton is fearless in this still-very-funny movie, and you'll even get a little bit of holiday poignancy by enjoying the truly missed Bernie Mac and John Ritter, both great in supporting roles.
Holiday Inn (1942)
Irving Berlin handled story and music duties for this 1942 musical starring Bing Crosby and Fred Astaire, which gave the world the song "White Christmas," one of the season's most beloved tunes (and an Oscar winner for Best Original Song). Crosby plays a retired performer who wants to open a holiday-themed entertainment venue on his farm. More than just a Christmas movie, this one features songs and scenes about Valentine's Day, Easter, and even Lincoln's birthday. You can watch it all year long!
It's a Wonderful Life (1946)
Any list of the most beloved holiday films of all time has to include Frank Capra's all-time classic about the man who wished he was never born. Jimmy Stewart plays George Bailey, who is saved from suicide by his guardian angel, showing him the impact he has had on the world around him. Why do we return to this movie every single year? We all want to believe that we've made the world a better place, and Stewart's performance here is one of the best from the acting legend. You don't need us to tell you this is a great movie for any time of the year.
The Miracle on 34th Street (1955)
The original 1947 version of a little girl who believes in Santa Claus again after meeting a department-store big red guy who claims to be the real thing is one of the first titles people think of when they hear the words "holiday movie." This is not that movie. You can rent the original for only two bucks on Amazon or just watch this 1955 TV adaptation of it for free on Prime. Often included on the physical releases of the original, this is a shortened version of the classic that still carries the heart of a movie people rewatch every holiday season.