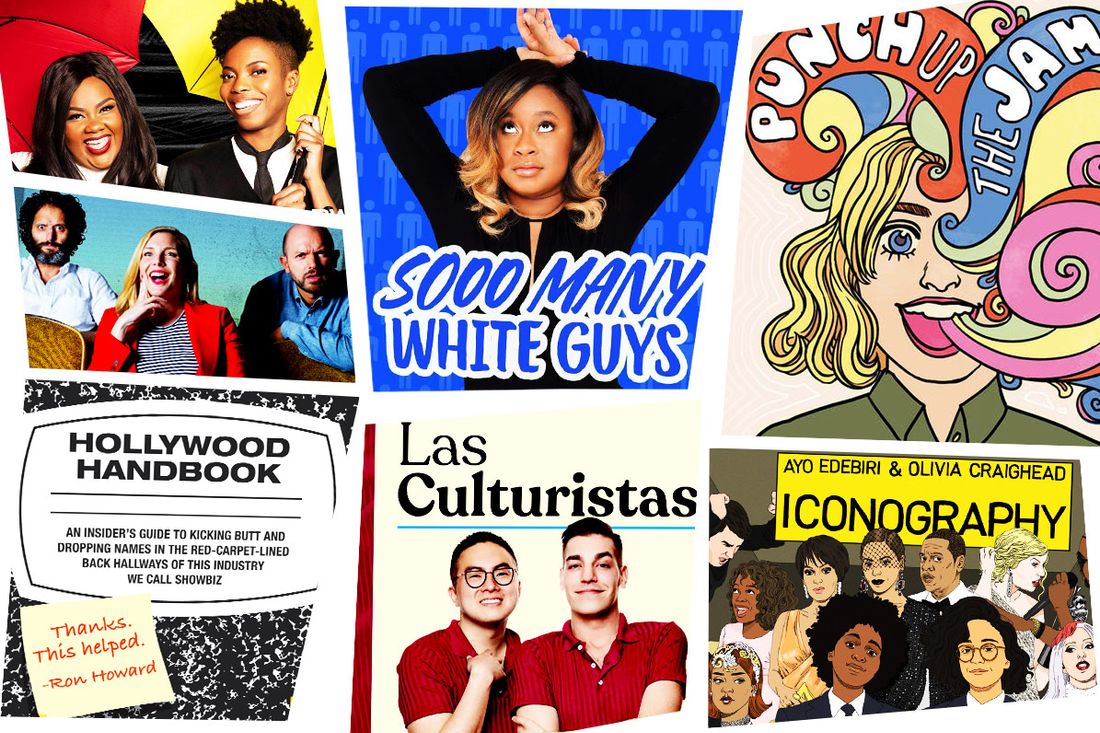 Photo-Illustration: Vulture
If 2018 was the year podcasts came to television, 2019 is the year television came to podcasting. As Variety so keenly pointed out, some young upstart named Conan O'Brien basically invented podcasting this year. Virtually every cult television show gained its own official or unofficial tribute podcast — Office Ladies is even hosted by two of The Office's original stars. The proliferation of comedy basketball podcasts has also been a welcome development for NBA fans. Scripted comedy pods have been hit-or-miss in the past, but 2019 was a strong year for scripted shows, with This Is Branchburg, The Complete Woman, Scattered (nonfiction), the recently debuted Fuck Hut Music School for Teens, and the upcoming National Lampoon Radio Hour leading the charge. And we can't forget to celebrate the old as well as the new — WTF With Marc Maron and Yo, Is This Racist? both celebrated their 1,000th episodes.
Meanwhile, as the roster of hosts and guests may have gotten bigger, other shows got even smaller. There is now a dark corner of the charts for anything a listener could possibly want to explore, whether it's tarot, bad video games, porn, the Friday the 13th series, self-care, the science of self-care, scams, or one very bad '80s morning cartoon show.
The business side of podcasting also made headlines this year. Brand-new network Earios added a whole catalogue of must-listens, while heavy hitter Luminary stirred up controversy from day one. After the Crime Junkie plagiarism scandal, many shows finally started properly citing their sources. In addition, the support for paying podcast guests reached a new high, with Bernie Sanders himself even chiming in.
It's a lot to keep up with, so as we've done in years past, our weekly reviewers have sifted through another packed year of podcasting episodes to select the funniest, most interesting, and most important comedy podcast episodes of 2019, divided by a handful of superlatives (because the award for Best Paul F. Tompkins Appearance is important!) as well as our picks for the best episodes of the year.
Superlatives
Most Triumphant Return — Thirst Aid Kit and The Jeselnik & Rosenthal Vanity Project (Tie)
Thirst Aid Kit 
After a separation between Thirst Aid Kit and BuzzFeed in 2018 left listeners parched for nine months, the popular podcast landed at Slate this year. And we drank it up from the very first episode, which reunited us with hosts Bim Adewunmi and Nichole Perkins, who were thirstier than ever and ready to "dig deep into the various ways women express their thirst; asking: Why do we desire who we desire?" Thirsting on everyone and everything from "smokeshow extraordinaire" Dan Levy's fabulous eyebrows and his on-point comedic timing to the "weird and wonderful" Lakeith Stanfield's wiry frame and ace acting ability, Adewunmi and Perkins proved they hadn't lost their thirst or their touch for showcasing shameless and sex-positive expressions of female desire. Highlights also include a twofer episode where the hosts dive into both Jason Mantzoukas's and Jason Sudeikis's comedic careers, which reinforces that Thirst Aid Kit is as much about the laughs as it is the lust. Speaking of which, the bawdy fanfic segments, which are also still going strong, continue to offer a humorous and heartfelt reprieve from reality. Cheers to the return of Thirst Aid Kit, and may we never experience its absence again. —Becca James
Listen: Spotify | Apple | Website
The Jeselnik & Rosenthal Vanity Project
In the last 15 minutes of Anthony Jeselnik's 2015 special Thoughts and Prayers, the master of hilariously repugnant one-liners dropped his mask to speak at length about Comedy Central forcing him to delete a joke about the Boston Marathon bombing. As a younger comic, Jeselnik might've felt that being earnest, honest, and vulnerable would cheapen his onstage persona. But since that closer, Jeselnik has continued to gradually open up in interviews like Vulture's Good One, his talk show Good Talk, and his podcast The Jeselnik & Rosenthal Vanity Project. It's a reboot of 2015–2016's The Rosenthal & Jeselnik Vanity Project, an NFL-themed podcast hosted by Jeselnik and NFL.com writer Gregg Rosenthal that served as a vessel for Jeselnik to get his longtime best friend fired. For the new version, which premiered in late 2018, the NFL conceit was swiftly dropped after one episode, allowing Jeselnik to bounce his rants off Rosenthal and producer Erica Tamposi without regard for a football connection. Sometimes it's angry, as it is whenever Jeselnik speaks about Comedy Central, the producers of his podcast and TV show. Sometimes it's tender, like the episode devoted to the late Brody Stevens. But it's always wildly funny. He's not skipping opportunities to make fun of a screenwriter getting hot diarrhea dumped on her or a teacher who dressed in blackface to impersonate Common's Microsoft commercial. But you'll also find segments from the once-aspiring novelist devoted to the latest Ottessa Moshfegh novel. Jeselnik's giving you a slight peak behind the mask, but the devilish grin behind it remains. —Pablo Goldstein
Listen: Spotify | Apple | Website
Best Longtime Podcast We Said Goodbye To — Put Your Hands Together
In January 2013, Cameron Esposito stepped onstage to replace Comedy Bang! Bang!'s spot on UCB's Tuesday night lineup. Six and a half years later, she and fellow comic Rhea Butcher ended up hosting one of the most positive, inclusive spaces for both comedians and audiences in person and around the world. Though a lot of wild shit has happened in that time, PYHT was a constant. Each week, our good pals Cam and Rhea brought us fresh sets and greenroom interviews from comics of all ages, races, sexualities, and experience levels. We heard sets from Maria Bamford, Paul F. Tompkins, Sasheer Zamata, Emily Heller, the Lucas Brothers, Jen Kirkman, and many, many, many more. We've also been lucky enough to have a unique window into Butcher and Esposito's lives, both separately and together. PYHT helped launch the careers of countless comedians, but more importantly, it was an opportunity for folks in places who couldn't get to comedy shows to get one every week. Even though it ended in August, you can skip to any of the hundreds of episodes (now on Stitcher Premium) and automatically feel at home. Thanks, Cam and Rhea — we're all ready to clap. —Anna Marr
Listen: Spotify | Apple | Website
Monkey-est Paw (Best Podcast the Hosts Wished They'd Never Started After Only Two Episodes) — How Did This Get Played? 
Like its sister podcast How Did This Get Made?, How Did This Get Played? answers the question "What are the worst video games of all time?" while raising even more questions, like "Why spend hours playing the worst video games of all time when there are so many good video games?" Nick Wiger, Heather Anne Campbell, and producer Matt Apodaca have committed to self-torture by playing through cursed titles like Michael Jackson's Moonwalker, Leisure Suit Larry, Duke Nukem Forever, and the nightmare-inducing Seaman. Basically, any game that deserves a five or less on the HDTGP rating system (out of a million) is fair game. Instead of making the hosts' lives better by doing the logical thing — canceling the podcast and going outside — the show added a "70 Seconds in Gaming Heaven" segment to speak about good video games for 70 seconds and NOT A SECOND LONGER. Innocent guests like John Hodgman, Colton Dunn, and Christine Nangle have all been roped into this cruel experiment, to hilarious results. The show's surprise highlight, though, is the recent appearance by comedian and member of the Cowlitz Indian Tribe, Joey Clift. What was meant to be a review of the highly offensive Atari 2600 game Custer's Revenge turned into an uncomfortable but extremely necessary confrontation about the tokenization of marginalized groups in podcasting and the media in general. —Mark Kramer
Listen: Spotify | Apple | Website
Best New Network — Earios
From The Alarmist to Filling the Void to The Margaret Cho, we found ourselves becoming increasingly fond of the comedy podcasts coming out of new network Earios this year. Founded by Maria Blasucci, Amanda Lund, and Priyanka Mattoo and funded by a successful Kickstarter campaign, Earios is "dedicated to content created by women, for everyone," born out of the creators' wish to "make it easier for women to share their ideas with a like-minded community" in a medium dominated by men. Filling the Void had an especially strong run. Hosted by Lesley Arfin (Love), the show sets out to discover what Afrin's friends "do for pure, simple joy." It helps that her friends include people like comedians Vanessa Bayer and Kate Berlant, who enjoy knitting and scamming, respectively. It's a fun way for people to talk about their hobbies while addressing the emptiness of the human condition. The Alarmist also illuminates darker aspects of life with humor as host Rebecca Delgado (The Good Place) "sits down with a guest to analyze and scrutinize history's greatest disasters." Aiming "to find out what went wrong and who is to blame," it's an amusing study of the past. With a debut year this strong, which includes Margaret Cho's intimate interview podcast, we can't wait to see what Earios has in store for us next year. —Becca James
Listen: Website
Best New Concept — The Supergroup and Get Rich Nick (Tie)
Earwolf brought it this year, debuting, among others, The Supergroup and Get Rich Nick. Both are so clever, they tied for our Best New Concept superlative. First up is The Supegroup, which sees Tawny Newsome (Yo, Is This Racist?) and Alex Kliner (Cards Against Humanity) "invite a comedian and musician to write and record an original song with them over the course of a week." The result is a sonic journey through the writing, rewriting, recording, and mixing of a song that provides just as much insight into the lives of the participants as it does the creation of the single. The inventive and playful process will make you laugh, while the product, which consistently ends up being a total jam, is sure to move you. Take for example, Open Mike Eagle, Eric Slick, and Kristian Bruun's soulful "Pardon My Junkyard Approach," recorded under the name Furniture Store. Get Rich Nick also sees its participants taking on unfamiliar tasks with hosts and comedians Nick Turner and Nick Vatterott trying "every side hustle, odd job, and get-rich-quick scheme under the sun" in an attempt to cash in while providing money-making tips to listeners. Think of it as a helpful and humorous guide to the gig economy that follows the Nicks as they jump from one job to another. Mastering TaskRabbit, for example, can earn you some money, whereas opening your own sandwich pop-up probably isn't going to bring home the bacon. A direct product of America's current job market, Get Rich Nick adds some much-needed levity to the uphill battle that is capitalism. Both podcasts prove that Earwolf is attune to listeners' need for shows that supplement their lives, whether that be in the form of auxiliary entertainment or additional income. —Becca James
Listen: Spotify | Apple | Website
Listen: Spotify | Apple | Website
Best Homecoming to the Podcast World — Neal Brennan, How Neal Feel
It's time to roll out the red carpet and bow down to Neal Brennan, homecoming king of 2019. Since saying farewell to the podcast world in 2016 when ending The Champs, a noticeable hole in the marketplace has been present. At the time, there hadn't been a more surprising abdication of a throne since King Edward VIII left England in 1936. (Sorry, I'm just getting around to The Crown now.) Luckily for us, and as the saying goes, absence makes the heart grow fonder. With the resurgence of Brennan in the medium, his return is marked with a new co-host in Bianca Sia. Having listened to every episode this year, I'm convinced we all care so much about how Neal feel because we equally care about what Binky thinky. The two have proved to be an incomparable match for debating all things pop culture, politics, social, and racial. Short of any surprise announcements that the show will be ending, I predict this new rule will be a long and prosperous one. Hear, hear, and long may they reign! —Tom Rainey
Listen: Spotify | Apple | Website
Best Political Comedy — The Underculture With James Adomian
It's become popular for critics of late-night comedy to claim, "This administration is so crazy, how do you parody it?" As Anthony Atamanuik's prematurely canceled The President Show proved, the key is to heighten these monsters far beyond the limits of a traditional late-night format. Atamnuik's sparring partner James Adomian has managed to successfully carry the torch into 2020. Parts sketch, character showcase, and interviews, The Underculture has reinvented what political comedy should look like. Bernie Sanders (who even got to interview the real Bernie on a recent episode) is just one of the figures the Comedy Bang! Bang! favorite voices, with Adomian's beloved insanity imbued into each one. Take Rudy Giuliani, who butt-dials a conversation with Herman Cain where he brags about his longtime support for the NRA (National Restaurant Association). Tesla CEO Elon Musk has leaked episodes of "The Muskcast" as well, sharing ideas somehow more ludicrous than tube-based transit. Alan Watts, Vincent Price, and Ian McKellen are just some of the random luminaries that drop in, alongside Adomian classics like Paul Giamatti and Jesse Ventura. A rotating cast of sharp comics like Alice Wetterlund, Joel Kim Booster, Jon Daly, and Atamanuik have helped make The Underculture a weekly staple of progressive comedy. —Mark Kramer
Listen: Spotify | Apple | Website
Best Satire — Mega
This year, Mega took us to church. Started in 2018 and hosted by comedians Greg Hess and Holly Laurent (or Gray and Halle as they're known here), the improvised and skillful satire caught its stride. Riffing on the cultural phenomenon of megachurches via the fictional house of worship Twin Hills Community Church in the "equally fictionalized" town of Broad Ripple, Indiana, Mega connects listeners to the megachurch's staff. Joined by a wide range of talent from 2019 opener Edgar Blackmon (Alone Together) to Lennon Parham (Playing House), the cast works to outdo an already outrageous movement of headline-making churches, and they consistently meet the mark. Favorites from this season include Elisha Cupe (Eliza Coupe of Happy Endings), the church's parking-lot paver and snow plower who nonchalantly explains losing her tooth in a hockey tournament as getting "pucked hard," and Tim Middleman (Thomas Middleditch of Silicon Valley), a 73-year-old legally blind pilot who has "a passion for faith, flying, and finding God in the sky." Both showcase the podcast's ability to get goddamned goofy before crescendoing into a particular strain of dark humor that resonates with listeners looking to laugh at the absurdity of such a crowded congregation. —Becca James
Listen: Spotify | Apple | Website
Best Podcast Miniseries — This Is Branchburg
A man stuck in the walls of his house whose wife can't afford to free him because they just paid for home renovations. A principal who drains the school's entire budget for his nine-bus personal motorcade. A businessman who helps men tie their ties before they head off to work. These are just three of the many eccentric folk who make up the township of Branchburg, New Jersey, the real-life town satirized in Brendan O'Hare and Cory Snearowski's This Is Branchburg. Produced by Abso Lutely and championed by Tim Heidecker, O'Hare and Snearowski's comedy is a direct descendant of Tom Goes to the Mayor's absurdist take on Pennsylvanian suburban ennui and the minutiae of local government. Each 15-minute episode features several brief monologues about daily life in Branchburg from earnest characters who deliver disarmingly funny lines like "My family would have no bread for dinner … and they would have no son to enjoy dinner with." For fans of quiet, understated comedy like Joe Pera Talks With You and the world-building of Parks and Recreation, this is a must-listen for your next long car drive through sprawling stretches of American nothingness. —Pablo Goldstein
Listen: Spotify | Apple | Website
Best Video Podcast — Podcast But Outside
You might think it's pointless to watch a podcast that you could just listen to while you cook or commute to work. But if you're only listening to Podcast But Outside, a show where hosts Andrew Michaan and Cole Hersch interview random strangers on the streets of L.A. for $1, you're missing out on half the fun. The show's simple premise has been reenergized in the last few months by a string of hilarious episodes that build on the show's potential. There's episode No. 26, where Michaan meets and interviews his stepmom for the first time at his dad's wedding. Or Episode No. 28, where Hersch goes on an awkward first date with a very confident porn star. And episode No. 25, recorded outside of the popular Emo Nite dance party in Echo Park, where the first random guest they pull off the street happens to be superstar SoundCloud rapper Lil Xan. Edited with just the right amount of zoom-ins, graphics, and flashbacks to past episodes to keep it from being visually stale, Podcast But Outside has found its groove after less than a year since its launch. And with a nearly limitless amount of locations and events to record at, you should be following along with both your earholes and eyeballs. —Pablo Goldstein
Listen: Spotify | Apple | Website
Best Replacement for ESPN — Dunktown 
Ever turn on Around the Horn and wish the goatees would stop yelling? Or found yourself filled with anger because Skip Bayless called someone "soft" for sitting out for his child's birth? Look no further than Dunktown, a soft (in a good way!) and toxic-masculinity-free accompaniment to the NBA and WNBA schedule. In just over a full season, Agata Monica and Anastasia Vigo have gone from rookies to crafty vets with thorough analysis of all the cuties and cuties' butts an NBA fan could dream of. Recurring segments like "Let's Meet the Boys" and "Previously, on Basketball" keep the pace up to help make each week's episode a consistently entertaining listen. Extra credit goes to producer Gabe for hilarious segment drops that recent guest and hoops podcast veteran Shea Serrano dubbed the best of any basketball pod he's appeared on. The only way for Dunktown to make its next leap is for Monica and Vigo to fulfill their dream of rubbing elbows with Jack Nicholson at the Staples Center. Someone get these two courtside seats already. —Mark Kramer
Listen: Spotify | Apple | Website
Best Continuation of a Podcast Universe — Adulting
In the beginning, there was 2 Dope Queens. Then emerged an unofficial "third dope queen," and WNYC said, "Let there be Late Night Whenever With Michelle Buteau." WNYC saw that the podcast was good, so it created a new live show and called it Adulting. And, yeah, it was dang good! Hosts, comics, and longtime pals Michelle Buteau (First Wives Club, Always Be My Maybe) and Jordan Carlos (Black Mirror, Divorce) built upon the high-energy, live late-night format of Late Night Whenever to take the logical next step: a podcast for us to "grow the fuck up together." If LNW was a rosé brunch party, Adulting is group therapy. Buteau and Carlos share stories about taxes, kids, and paying rent on time in a city where no one helps you out of the subway tracks. They welcome your favorite performers — like Phoebe Robinson, Arturo Castro, and legend Vanessa Williams — to answer audience questions on the major issues adults face, like "What is an acceptable amount of money to spend on pillows?" and "When does a Venmo request become petty?" (Stories from Wyatt Cenac and Samantha Bee are major highlights!) Sadly, WNYC didn't pick up Adulting for a second season, but there's no doubt that this pair's work — and this podcast universe — will continue to grow. After all, part of growing up is learning how to say good-bye, right? —Anna Marr
Listen: Spotify | Apple | Website
Best Debate — "Drop Dead Fred: LIVE!" on How Did This Get Made?
There were no shortage of debates in 2019, but none quite as explosive as the one that erupted this summer on the Drop Dead Fred episode of How Did This Get Made? Listeners have come to know HDTGM as a show that deconstructs movies that are, give or take, universally considered bad. Or at least that's what the show was up until this summer. In what has got to be their most divisive episode to date, hosts June Diane Raphael, Paul Scheer, and Jason Mantzoukas were joined by Casey Wilson and sides were drawn: Is this 1991 film a beautiful depiction of childhood, or is it absolute garbage? While June and Jason passionately represented Team Fred and Casey and Paul adamantly defended Team Sanity, marriages and best friendships were put to the test. Regardless of side, no one was afraid to touch these big issues: What or whom "Fred" is a manifestation of? Did Carrie Fisher's character really need to live on a houseboat? What point is the movie making about women's sexuality? What the hell is a gladiola? And at the end of the day, is this an insightful film about women misbehaving, or is it a heap of trash about a pedophile? No matter where you stand, there's no denying things got emotional, contentious, heated, and everything else you could possibly want from a debate, making it not just a highlight of the year, but an instant classic in the HDTGM cannon. —Leigh Cesiro
Listen: Spotify | Apple | Website
Best Recurring Wrap-up Segment — "Hills We'll Die On" on Hysteria
In a time when our values and priorities are tested daily, we need to know the hills we'd die on. These are not them. Hysteria's "Hills We'll Die On" are "adamant stances on things that don't really matter." Each week, host Erin Ryan (It's Always Sunny in Philadelphia) and a rotating panel of co-hosts and special guests take darkly comedic stances on today's news, which is why they need to end on something even more ridiculous. So, they reveal, in total seriousness, "Hills" like these: Shishito peppers are an ingredient, not an appetizer; don't use your speakerphone in public places; iced coffee doesn't work; and the Game of Thrones finale was fine. It's so popular with listeners that there's now a regular listener-submitted "Hills" section, with beleaguered voice-mails from highly opinionated regular people who believe, for example, that father-daughter dances are creepy as hell. As Ryan notes, most "Hills" "would be a good back tattoo." It's the heated, passionate discussion after every "Hill" that makes this palate cleanser particularly effective, though. A legitimate argument about shared small plates is surprisingly soothing after a debrief on internet trolls. I'm not yet ready for a back tattoo, but I'll take a T-shirt of "Just use your turn signal when you want to get over" any day. —Anna Marr
Listen: Spotify | Apple | Website
Best Podcast to Listen to at Work — Entry Level With Brooks Wheelan
If you've ever looked up from your desk and thought, God, why do I work here?, then do we have the podcast for you! Brooks Wheelan has turned the mind-numbing, mundane nature of entry-level work into something of a profession. Each week, Wheelan and his guests commiserate over the pre-entertainment-industry jobs they've previously held. Instead of shining a light on the negative memories though, these jobs are usually celebrated for their absurdity. Whether guests reminisce about restocking shelves at Blockbuster Video or talk about an elaborate way to steal olives from a restaurant, each episode hits a very specific nostalgic part of the preprofessional days of adulthood. The thing I've grown to love about the show is that it always has a happy ending. Whether it be quitting a horrible job or telling off a bad boss, each episode wraps up when our guest is able to make it as a working comedian, actor, or writer. If anything, Entry Level is a podcast about hope. It shows equal parts struggle and achievement. Now, in honor of Entry Level, download every episode and exclusively listen instead of filling out that expense report. —Tom Rainey
Listen: Spotify | Apple | Website
Best Podcast to Teach You About Friendship — Doughboys
Although the Best Friends podcast is an obvious choice for this category, let's focus on a more trying friendship — one that has been on display for us to see through the highs and lows. Over the years, Mike Mitchell and Nick Wiger have had what can best be described as a contentious relationship. From the infamous fry fight of 2016 to Wiger's accusation that Mitch is not a "common man but a common fool," the two have been at odds more times than the Hamburglar and Ronald McDonald. As the years go on, however, where there once was an adversarial affair, a meaningful friendship has started to blossom. A kinship that feels more familial than anything. Relationships can be hard to navigate. Through thick and thin — both in the form of difficult times and milkshakes — our Doughboys have slowly grown into Doughbrothers. In previous years, it was evident that the podcast was weighing on our hosts and could end at any time. This year, however, things felt a bit different. Where true arguments used to be, a more playful understanding is present. With a recent live show in Mitch's hometown of Boston being somewhat of a milestone episode, you could feel the genuine love and appreciation Wiger and Mitch have for one another. Let's all raise our glasses and thank the Doughboys for showing us what a five-fork friendship can look like. —Tom Rainey
Listen: Spotify | Apple | Website
Best Hiatus Filler — "Deep Dive With Dana Carvey" on Conan O'Brien Needs a Friend
Sometimes when a podcast takes a break, it just disappears for a while. Sometimes it will fill the gap until it returns by replaying previous episodes. In the case of Conan O'Brien Needs a Friend, which had an incredibly popular first season, the host clearly didn't want to lose momentum before picking up the microphone again for the second season. So he cornered comedian and friend Dana Carvey in a room and knocked out six (roughly) half-hour episodes of Deep Dive, enough to span a month and a half at the end of the summer. It's a great way to get a solid dose of these two comic wits just spinning freestyle. "I met Dana in 1988 and after all this time he still has one of the most outrageous, creative, and cartoonish brains in comedy," says O'Brien about his podcast partner in this miniseries. For his part, Carvey told me that "Conan and I always have a great time, especially when we get together when it has nothing to do with show business. So we thought this would be a fun way to hang out a little bit more, but with microphones." The first episode picks up with O'Brien and Carvey reprising a bit they did on the host's regular podcast: Carvey plays Paul McCartney talking to O'Brien's Paul McCartney who is in the afterlife, not understanding what is happening on earth. By the time they hit the third episode, they're getting into the weird weeds that O'Brien loves: "Dana's impression of Johnny Carson talking himself out of a DUI in 1976 is one of the funniest things I have ever heard. I also die every time he does his impression of Jimmy Stewart being orally pleasured." Carvey says of this experience, "There are things we get into during each of the shows that makes my brain happy. And the style of these shows may start to give people a little insight about how my comedy mind puts things together." —Marc Hershon
Listen: Spotify | Apple | Website
Best PFT Appearance — Superego Season 5
Can we really call this one with any accuracy? As one of podcasting's most frequent guest on shows (not including his own like Spontaneanation and Threedom), Paul F. Tompkins is in demand because he's just that good. All the time. Every time. My rough count puts him popping up in no fewer than 37 episodes on various podcasts in the last year, including Three Swings, Blank Check, Improv Yak, Comedy Bang! Bang!, and so many more. Because Superego came roaring back to life with such concentrated improv goodness this year, we decided this made for a six-episode "collective appearance" on the part of PFT. And whether he's flying an X-wing as part of the Brown Squadron, heeding the rallying cry as a member of the G.I. Joes, or popping up as a fading southern belle at a weird photo studio, Tompkins always scores. On some shows he visits, other players can sometimes have trouble keeping up with his rapid-fire wit and slightly twisted improv choices. But the rest of the Superego gang, where Tompkins has been a regular for the past few seasons, are always right there, staying right with him and keeping him playing at the top of his game. —Marc Hershon
Listen: Spotify | Apple | Website
Most Prolific Host — Nicole Byer 
If Nicole Byer has a goal to dominate all entertainment platforms, she's making great headway at an impressive pace. After conquering Netflix with Nailed It! she's taken her hosting talents to all corners of the podcast universe with four different shows this year alone. First, there's Why Won't You Date Me?, a show where she and a guest try to get to the bottom of why she's single. Then, there's Best Friends, a show she co-hosts with Sasheer Zamata, her — you guessed it — best friend. And moving on to the reality-TV portion of her oeuvre, there's 90 Day Bae about 90 Day Fiancé co-hosted with Marcy Jarreau, and earlier this year there was Drag Race recap show What the Tuck? with Joel Kim Booster (now Drag Her! with Mano Agapion). No matter the show, she's dependably delightful and hilarious. For the uninitiated, you can jump in anywhere, but why not start with this episode of Why Won't You Date Me? where this newly crowned podcast royalty is joined by the reigning king of podcasts himself, Paul F. Tompkins? Bottom line: Nicole Byer is very good at talking with anyone about anything. And if four consistently funny shows aren't proof enough for you, well, I just don't know what is. —Leigh Cesiro
Most Episodes Per Podcast — The Daily Zeitgeist
While most comedy podcast hosts love to moan and groan about the impossible logistical pressure of putting out four episodes per month, Jack O'Brien and Miles Gray churn out episodes of The Daily Zeitgeist (you guessed it) daily, sometimes more than once a day. That's what you have to do when you're committed to covering every topic that ever dared to trend, from Shaq's quest to take Papa John's back from neo-Nazis to how to clean your Apple Card. With daily, nightly, and weekly Zeitgeists, plus afternoon Dezeits, TDZ boasts more episodes per podcast than any other, and they're perfect for driving to work in the morning (wow your co-workers with nuanced takes on the news) and driving home in the evening (wow your family with how wowed your co-workers were with your nuanced takes on the news). Two years in, TDZ has passed 500 episodes. You'll never be fully caught up, but you can jump in anytime and feel super informed for one random afternoon. Kill two birds with one stone: Take a break from Michael Barbaro and delete your Twitter entirely; they can both be replaced with The Daily Zeitgeist. —Kate Doyle
Listen: Spotify | Apple | Website
MVP (Most Valuable Patreon) — The Flagrant Ones
Despite Hayes Davenport, Sean Clements, and Carl Tart's die-hard Celtics and Clippers fandoms, they give Patreon subscribers all around the globe their money's worth. The Flagrant Ones will often spend entire episodes flipping through all 30 NBA teams in painstaking detail. They're equally as likely to spend ten minutes joking about Kawhi Leonard as they are role players like Dillon Brooks or Khem Birch (who?). They've even punched up each team's hashtag, all for less than a third of the cost of League Pass. And unlike some other NBA comedy podcasts, The Flagrant Ones back it up with real hoops cred: Long before their fallback careers as TV writers, Davenport was a Boston Celtics blogger and Tart was getting dunked on by James Harden at Hamilton High School in L.A. Hollywood Handbook stans will feel right at home hearing casual fan and engineer Andy play the consummate punching bag. New subscribers should note that the back catalogue of non-topical odds and ends like "Assigning New Team Names" and "Guessing Players' Favorite Movies" make little to no sense and are well worth catching up on. —Mark Kramer
Listen: Patreon
Best Episodes of the Year
Best Friends — "Sasheer Will Repeat Your Dumb Question"
It wouldn't be an episode of Best Friends without some requisite pole talk — pole-dance classes are a central pillar of the Best Friends–iverse — and "Sasheer Repeats Your Dumb Question" is the platonic ideal of an episode. Best Friends debuted this year, but conversation comes so naturally for real-life long-term best friends Nicole Byer and Sasheer Zamata that it feels like they've been recording it since the beginning of time. In their best installments, Byer learns something new (in this case, that "mayo" and "mayonnaise" are the same thing), and Zamata gets angry about something Byer does (in this case, wearing a swimsuit as underwear while sleeping). The same way you can talk about anything and everything with your best friend, they can cover the extremely silly (deciding which Disney villain they would be) and the deeply serious, grappling with real problems like how to ghost a new friend. —Kate Doyle
Listen: Spotify | Apple | Website
Hollywood Handbook — "Masked Engineer," "Masked Guest"
The "Masked Engineer" episode is a tentpole episode for Hollywood Handbook: The Earwolf engineer crew got to show off its own, rightful comedy chops to Davenport and Clements in a high-concept Masked Singer parody after years of world-building, humanized and tormented as unfocused burnouts, various types of sex pests, and vocal performance graduates. Several months later, the equally ambitious "Masked Guest" episode capped off their promotional gambit "Try Month" to slightly less fanfare. It brought together a Who's Who of classic Handbook guests, including Tawny Newsome nailing "Down With the Sickness" and the Boys correctly guessing their Flagrant Ones co-host Carl Tart's identity before the track began. Together — and especially thanks to producer Chef Kevin's masterful get of Engineer Cody, the first-ever Hollywood Handbook engineer, to cap off the first round — it was a one-two punch of genuinely surprising, joyous comedy that won't soon be forgotten among those in the know. —Noah Jacobs
Listen: Apple
Iconography — "Carly Rae Jepsen With Brandon Wardell"
Coming right out of the gate in July with an assured concept, breakneck pace, and one-of-a-kind perspective, Iconography is the podcast reinvigorated. It first turned heads when shitposting forefather Brandon Wardell joined for a contentious third episode, exposing the relatively new voices of Ayo Edebiri and Olivia Craighead to his wider audience and playing some small part in crystalizing their style. Between the revelation that Carly Rae Jepsen follows Wardell on Instagram because he replied "wyd" to one of her posts, Craighead nominating her menstruation chin hair as her icon of the week, and the frantic energy that builds through their celebrity-as-currency segments, Iconography was destined for success. And in a media market that gets more saturated by the day, the young, goofy, intersectional identities of Edebiri, Craighead, and their usual contributors are increasingly rare but forever necessary. —Noah Jacobs
Listen: Spotify | Apple | Website
Las Culturistas — "Maggots or Magic With Betty Gilpin"
How do you possibly pinpoint a standout episode of a show that rarely, if ever, has a dull moment? Well, as Matt Rogers tells guest Betty Gilpin, with Bowen Yang emphatically agreeing, "Sometimes we get just the right guest at the right exact time." And that is how you get one of the best podcast episodes of the year. In fact, it's a sentiment that is so on the money, it's shocking that it's not an official rule of culture. The GLOW star speaks candidly about fame, the artifice of late-night appearances and anecdotes, and the importance of finding your people. It's 90 minutes, packed to the gills with so many thoughtful insights on how to wade through the world, figuring out which stuff is bullshit and which stuff is meaningful (hence the maggots versus magic). Listening will no doubt make you want to figure out what your dinosaur in the lobby is, throw a coat over your head, and walk confidently into 2020. And, if you really want to make a meal of it, this episode pairs nicely with the Betty Gilpin episode of sister podcast Seek Treatment. —Leigh Cesiro
Listen: Spotify | Apple | Website
Punch Up the Jam — "'Believe' by Cher With Nicole Byer"
Perhaps all you need to know is that Cher's "Believe" has been Nicole Byer's ringtone for 15 years. Yes, this was an all-around good year for Punch Up the Jam, but this may have been its smartest move ever. Hosts Demi Adejuyigbe (The Good Place) and comedian-musician Miel Bredouw (Euphoria) invite Byer (you must know who she is by now) to swim in the fountain of youth that is 1998's breakup dance pop hit, "Believe." Byer couldn't be a more perfect guest. She can (and will) walk you through every moment of Cher's concert. Even though the entire structure of the podcast, in which they dissect an iconic song bit by bit, threatens Byers's only goal — to listen to the song all the way through — she bravely pushes through in what can only be described as practicing edging. By the end, she completely takes over the podcast, and the three confirm that the song is perfect. So, how could Adejuyigbe possibly punch this up? That's why you listen to the end, and it's also the answer to one of Cher's most iconic tweets: "Whats going on with mycareer." —Anna Marr
Listen: Spotify | Apple | Website
Sooo Many White Guys — "Phoebe and Vanessa Bayer Invite You to Brunch"
It comes as no surprise that we could've chosen any episode from this fourth season of Sooo Many White Guys. What it comes down to is the fact that actor-writer-comedian Vanessa Bayer (SNL, the upcoming Big Deal) is one of the funniest people host and comedian Phoebe Robinson (2 Dope Queens, Ibiza) has ever met. Combine Robinson's sincere admiration with the fact that they recently came off filming a movie together and their shared Cleveland origins, and you've got chemistry worth bottling. They of course reminisce about Ibiza, particularly their thirst for Julia Roberts, before Bayer shares her experience of having leukemia in high school. Whether or not you can relate to feeling like you're a young person in "an old lady's body," her honesty and humor make her story an accessible entry point into dealing with illness. Not to mention that her Jared Leto–related Make-A-Wish story is definitely the best Jared Leto story you've ever heard. Also, since you're listening in the future, you'll be able to nab yourself a copy of Bayer's first children's book, How Do You Care for a Very Sick Bear?, while you listen! Oh, and don't worry — there's plenty of path-to-SNL tidbits and a jaw-dropper about the after-parties. —Anna Marr
Listen: Spotify | Apple | Website
Yo, Is This Racist? — "We Solved Racism Special" (Episode 1,000 With Edgar Momplaisir, Carl Tart, Kirby Howell-Baptiste, Brodie Reed, Solomon Georgio, Dani Fernandez, Gaby Dunn, Joey Clift, Kara Brown, Naomi Ekperigin)
Not many podcasts reach 100, let alone 1,000 episodes. And even fewer shows can brag that they've solved racism. The Yo, Is This Racist? 1,000th episode spectacular features a parade of guests celebrating the end of racism as we know it. Relieved hosts Andrew Ti and Tawny Newsome spend over two hours trying to come up with new things to talk about on the show, now that its premise has become irrelevant. Each guest takes the opportunity to poke fun at all the other podcast genres in what amounts to a big meta-commentary on the larger podcast universe. Of course, it's all a big laugh — racism is still alive and kicking. Just ask Apple Podcast user Joke100116, whose recent review reads, "Lots of finger pointing, lots of contradictions, lots of vocal fry and question speak. Lots of complaining with no offering of any solution. I give it 3 stars cause I imagine a lot goes into production." You must have missed episode 1,000, Joke100116! Joke100116 jokes aside, the "We Solved Racism Special" is a hard-fought celebration of one of the longest-running and most beloved shows in podcasting's decade-old history. —Mark Kramer
Listen: Spotify | Apple | Website
Honorable Mentions
American Arts & Culture Review — "My Name Earls Season 2, Disc 2 With Sandy Honig"
Listen: Spotify | Apple | Website
The Best Show — "Best Show LA Returns! Jonah Ray! Hayes Davenport!"
Listen: Spotify | Apple | Website
Beyond With Mike Kelton — "WIFI IN HEAVEN"
Listen: Spotify | Apple | Website
Blank Check — "Assassin's Creed"
Listen: Spotify | Apple | Website
Call Chelsea Peretti — "Kentucky"
Listen: Spotify | Apple | Website
David Tennant Does a Podcast With — "Jon Hamm"
Listen: Spotify | Apple | Website
Dexter Guff Is Smarter Than You — "Why Meditation Makes You Weak"
Listen: Spotify | Apple | Website
Doughboys — "Delta Sky Club With John Hodgman"
Listen: Spotify | Apple | Website
The Dumbbells — "Carl Tart"
Listen: Spotify | Apple | Website
Dr. Gameshow — "Manolo's Hidden Talent With Alden Ford"
Listen: Spotify | Apple | Website
High and Mighty — "Vacations With Jake Weisman and Matt Ingebretson"
Listen: Spotify | Apple | Website
Lindsay — "One Goddam Name"
Listen: Spotify | Apple | Website
Off Book: The Improvised Musical — "Matt Rogers in a Gay Rock: The Musical"
Listen: Spotify | Apple | Website
Office Ladies — "Health Care With Rainn Wilson"
Listen: Spotify | Apple | Website
Podcast the Ride — "Raging Waters With Rachel Bloom"
Listen: Spotify | Apple | Website
Public Domain Theater — "'Adolescents Only' by Irving Cox Jr. With Nick Wiger"
Listen: Spotify | Apple | Website
Raised by TV — "MOO YORK CITY With Betsy Sodaro"
Listen: Spotify | Apple | Website
What a Time to Be Alive — "Big Beautiful Wario"
Listen: Spotify | Apple | Website
Why Won't You Date Me? — "Having Sex in Drag (Live From DragCon 2019 With Vicky Vox)"
Listen: Spotify | Apple | Website
WTF — "David Letterman"
Listen: Spotify | Apple | Website
*This article appears in the December 23, 2019, issue of New York Magazine. Subscribe Now!