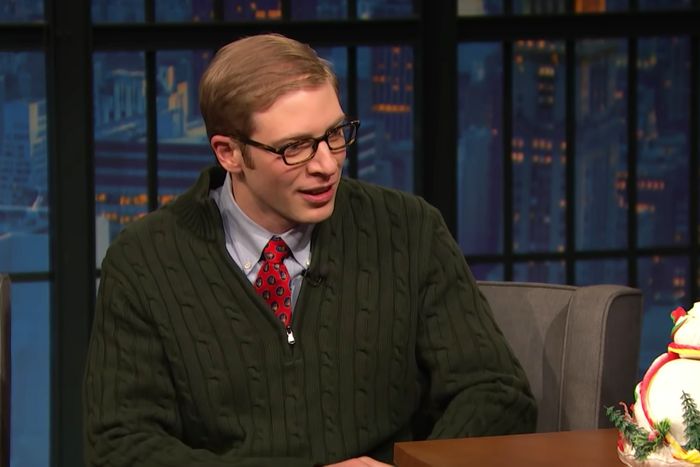 Joe Pera on
Late Night
is always a treat.
Photo: YouTube
The holidays are coming up, and we're all rushing to get stuff done before everyone stops looking at their emails. Impeachment sneaked under the wire, as did the Star Wars and Cats promo cycle. The two big movie events dominated the guest slots this week, but impeachment weirdly lost monologue time to the Hallmark/Zola snafu. Let's see who else finished their mad preholiday dash.
BONUS: Trump's Toilet Trouble
Most of the impeachment coverage this week made the easy, spurious joke that Nancy Pelosi and her cohort were stoked to impeach Trump. Guys, do you remember like three weeks ago when Pelosi was stonewalling her fellow Dems? Leaving-the-Squad-out-to-dry Pelosi, remember her? Seth Meyers's "A Closer Look" segments on both Wednesday and Thursday captured the political moment we're in best, because Meyers was so cranky while doing them. "A Closer Look" underscored how dumb of an era we're in by showcasing all of Trump's crimes as well as his rants about toilet flushing.
5. Kids Say the Darndest Star Wars Spon
Disney bought Star Wars and ABC, so now every time a Star Wars comes out, Jimmy Kimmel devotes a whole episode to it. The cast of Rise of Skywalker played "Family Feud," answered questions about notably absent Adam Driver, and answered kids' Star Wars questions. That was definitely the best part, almost entirely for the kid who ate the microphone and kept punching a picture of Emperor Palpatine. The Force is strong with that kid.
4. Jimmy Fallon Gets Fired
With Cats in the air, everyone's got musical fever. Second-most-musical late-night host Jimmy Fallon played gamely with the most theatrical stars of our age, Lea Michele and Jonathan Groff. Everybody got a spotlight moment, everyone desperately worried that their career might be over, and it felt weirdly more urgent and true than Cats or The Tonight Show's impeachment coverage.
3. Stephen Colbert Takes Hallmark to Task
It's nice to see someone calling out Hallmark for having the most retrograde Christmas movies. Personally, my favorite TV Christmas movie is A Gift Wrapped Christmas, which stars Search Party's Meredith Hagner. And it's a Lifetime joint! Colbert recapped the whole mess perfectly: "Just before Christmas, big-city Hallmark executives had to decide between a high-stakes advertising account and love. There was drama, they broke up, they got back together. A wedding was involved, and everyone was white. Man, they do have just one plot line."
2. The Kid Mero's Favorite Thing …
… Is jerkin' it. It's cranking one out, y'all. Desus & Mero is on terrestrial TV hiatus until February, but they're putting out digital bonus clips every week. This week, the boys broke down Oprah's Favorite Things of 2019, and how they can be used as masturbatory aids. It's this perfect clowning on clips that got the show another well-deserved season. February can't come soon enough.
1. Joe Pera's Melting Snowman
Joe Pera tried to do a nice thing by bringing Seth Meyers a snowman cake with Seth's name on the top hat. But Pera didn't take the hot TV lights into consideration, so the head kind of sloughed off like a particularly festive Bones cold open. It's a bravura performance from Pera, starting with the melting snowman cake and seamlessly segueing into worrying that both he and Meyers don't pay their shared actor/cameraman enough. If you need a TV clip to ease you into interacting with well-meaning but awkward family members, this is it.