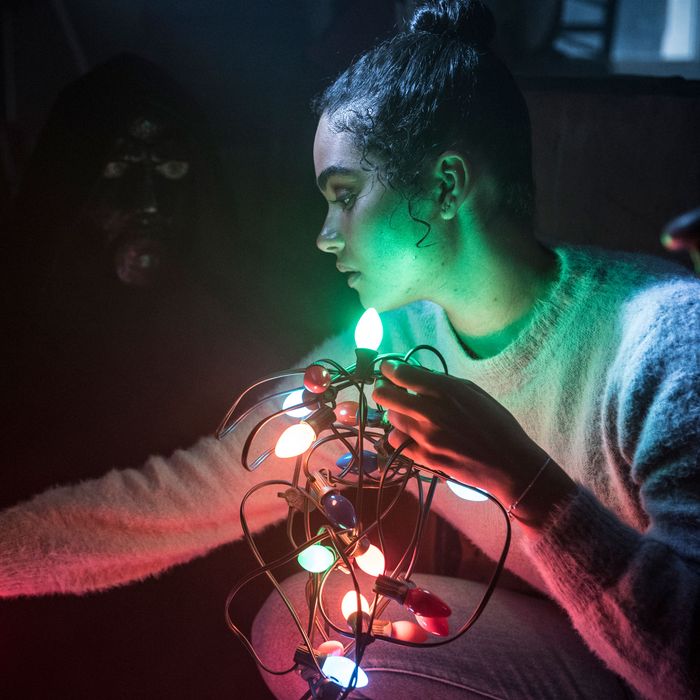 Director Sophia Takal and co-writer April Wolfe are behind this reboot of a cult classic.
Photo: Kirsty Griffin/Universal Pictures
Imogen Poots's wide, yearning eyes are one of the greatest weapons in Black Christmas, a loose remake of the 1974 Canadian slasher classic. As they dart across rooms carpeted in blood, suspense ratchets up higher. In other moments, their warm gaze communicates a world of history shared between sorority sisters. Poots's gaze anchors the film with a fluid energy that speaks to the ways women struggle to heal, in this case in the wake of sexual assault.
Poots plays Riley, a college student haunted by past abuse at the hands of a graduated frat boy, Brian (Ryan McIntyre). Years after her rape, which too few people believe happened, Riley refuses to remain silent. Alongside her sorority sisters, she performs a holiday-tinged callout of Brian and his ilk, for whom consent is still not a barrier when it comes to getting their way on campus. Around the same time, fellow MKE sister Kris (an incandescent Aleyse Shannon) circulates a petition to remove a statue of the university's notoriously misogynist founder, much to the chagrin of Professor Gelson (Cary Elwes), who quotes Camille Paglia screeds and favors the work of white male authors above all else. As holiday break approaches, Hawthorne College feels like a powder keg, particularly when sorority members start mysteriously disappearing.
Director Sophia Takal and co-writer April Wolfe are behind the reboot of a cult classic, which in two previous iterations also featured sorority sisters, albeit in much different collegiate environments. Takal and Wolfe distinguish their film with an in-your-face fury aimed at contemporary campus culture's negligent approach to sexual assault and the ways in which women are forced to deal in its aftermath. If the righteous retelling ever feels heavy-handed, it's Poots's command of her role and the cast's electric chemistry that make this a reckoning fit for our fantasies.
Much of the film's delight is in the ensemble setup. The characters in Black Christmas are intimately interwoven; they cook together, study together, handle DivaCups together. Their bodies and personalities spill across one another's spaces. On an individual level, Riley and Kris get the most distinction, making me wish Wolfe and Takal spent a little bit more time crafting the other sisters' particulars. Nonetheless, their shared sense of sharp humor makes the horrors that come later feel all the more galling. When the sorority members become the targets of an unknown killer, Riley can't look away. And when she observes an especially disturbing fraternity ritual, she senses something even more nefarious is afoot.
Black Christmas is filled with tension thereafter, even if it lacks bona fide many scares. It mines the kind of quiet, constant fear women face on, say, a walk home alone at night — that prompts clenched fists spiked with house keys. When Riley and her sisters are accosted by a masked intruder one night, they have to fight to survive until morning. Takal fills the film's long corridors and darkened rooms with menace, using bits of cheery Christmas ephemera (an icicle as a deadly weapon, for one) to haunt rather than comfort.
I don't know that the story required the supernatural elements that follow; the fraternity house would have been a haven of villainy with or without them. But in the end, there's something heart-swelling, cathartic even, about watching college-age women pick up bats, fists, and bows and arrows against gender-based discrimination. What does it reveal about the ways we're forced to battle sexual assault and patriarchy as women in the real world? Maybe nothing more than a simple proclamation: It's sheer terror. Even with that question lingering in the back of my mind, I couldn't help but be dazzled by the audaciousness of what was happening onscreen.